Thai Papaya & Chicken Blend Salad
---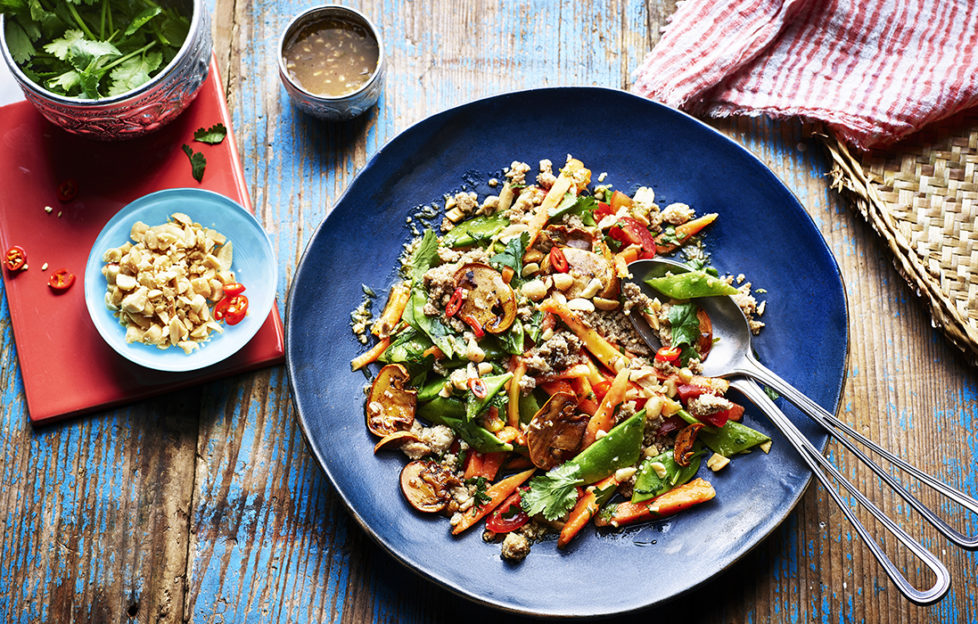 For something totally different and zinging with lime and oriental flavours, why not try try this fruity, nutty, meaty Thai salad? It's a lunch to wake up your tastebuds!
Preparation Time: 15min
Cooking Time: 7-10min
Serves: 3-4
Whisk together the garlic, lime juice and zest, fish sauce, sugar and shrimp paste. Set aside.
Heat a sauté pan with a dash of oil and cook the chopped or minced chicken for 1-2min, stirring well to break it up.
Blitz the mushrooms in a food processor, or chop finely by hand, then add to the sauté pan and cook until the liquid has evaporated. Drain in a sieve to remove any excess liquid then leave to cool while you assemble the Thai salad.
Mix together the papaya, mangetout, coriander and tomatoes. Stir in ¾ of the dressing then top with the peanuts.
Gently stir through the chicken and mushroom blend. Serve your Thai salad immediately with the remaining dressing and some extra coriander leaves.