Perfect Wines For Your Picnic, Chosen By An Expert
---
Picnics are more popular than ever as people turn to safer socialising outdoors. We have a wonderful spread of Bank Holiday outdoor eating recipes in My Weekly's current issue… and what picnic would be complete without a bottle of wine?
Head of Fine Wine at Cult Wines, Lukas Kolodziejczyk, shares his tips for which styles of wine are among the most picnic-friendly.
Rosé – a perfect partner
An obvious choice, perhaps, but rosé is a popular picnic accompaniment for a reason. Its lightly acidic, floral flavours pair well with picnic fare such as cheese and crackers, cold chicken and salad, and it goes down well on its own.
If you're not sure what's on the menu, you won't go far wrong with a dry rosé from Provence. This will offer a wonderful blend of fruit, brightness and herbal character.
Good quality rosé is often inexpensive, too, so you can splash out on a few bottles for your afternoon in the sun.
Vinho Verde – refreshingly different
Vinho Verde (which literally translates to 'green wine', nodding towards 'young wine') originates from the historic Portuguese province of Minho.
While it's found acclaim with some pockets of wine lovers, it's often overlooked in favour of other Portuguese offerings. This is a shame, as it has all the hallmarks of a perfect picnic wine.
While it can be made in white, rosé and even red styles, its white variety offers a hint of particularly refreshing effervescence. It often has a lower alcohol content than other whites, too, making it well-suited to sipping all afternoon long.
Riesling – a huge range of possibilities
Riesling is one of the most food-friendly wines out there. Produced in styles ranging from bone dry to unctuously sweet, it can be paired with everything from spicy chicken wings to a cold fruit salad. Its high acidity also means it's great with rich, fatty foods such as cheese and pate.
Germany is the go-to region for a classic Riesling. But if you feel adventurous there are some great examples from the US, in particular those from Washington State, California and New York's Finger Lakes.
Cava – bring on the bubbles!
A celebratory picnic (do you really need a special occasion?) wouldn't be complete without a bottle of something fizzy. However some might argue that Champagne is a bit stiff and formal for a casual al fresco get-together.
Prosecco is a popular alternative, but Spanish Cava is certainly closer to classic Champagne bubbles in terms of taste. Plus it pairs beautifully with appetisers, light sandwiches and even fried food.
And you won't have to worry about a corkscrew!
Sangiovese – European style
We don't automatically associate red wine with outdoor daytime drinking. But there's no reason they should be excluded from the picnic, provided you choose with care. A glass of red is a lunchtime staple in countries throughout Europe, after all.
Opt for thin-skinned varietals and fruitier styles from warmer climates. An Italian Sangiovese is bright, breezy and will tie together all of your picnic elements beautifully.
Find out about wine investment here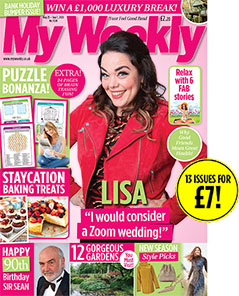 Trifles, cheese scones, a flan, beautiful mini pork pies… You'll find them all in our wonderful Bank Holiday bumper issue of My Weekly, with a total of eight wonderful recipes that are just perfect for a picnic. Plus we have gardens to visit, autumn fashion, bumper puzzles, extra fiction and much more! Just £2.20 for 100 packed pages, or subscribe for a great money-saving offer.