A Special Ann Cleeves Extract Read by Brenda Blethyn
---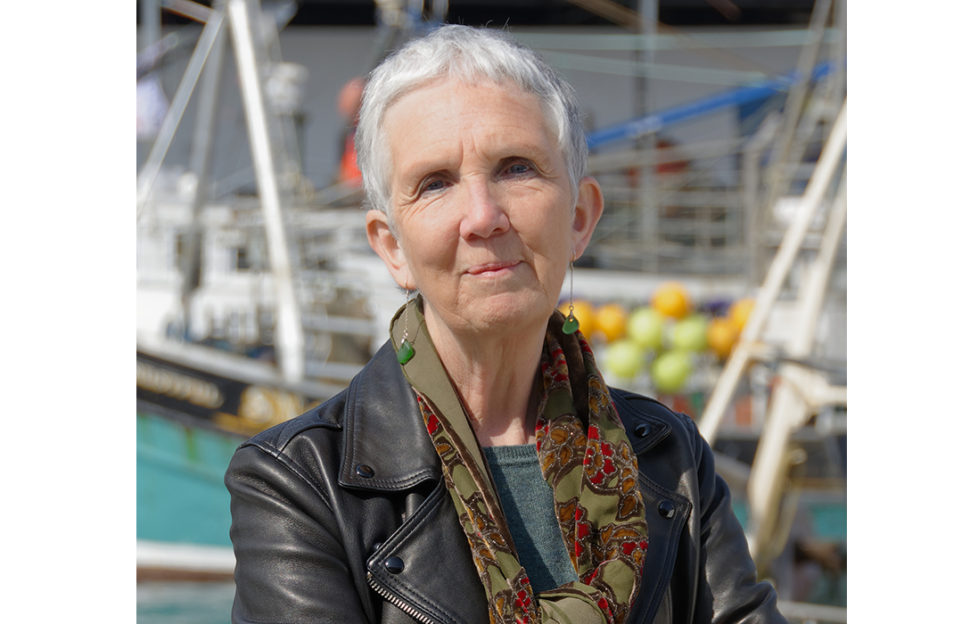 Author Ann Cleeves Pic: David Hirst
What a treat we have for you! To celebrate the book launch of The Darkest Evening by Ann Cleeves, featuring the return of DCI Vera Stanhope, one of Ann's best-loved characters, we have a special reading of Chapter 1 from none other than Brenda Blethyn, the brilliant actress who plays Vera in the ITV series…
Brenda Blethyn reads for you…
Ann talks about her writing, and what she's working on now…
When did you first start writing fiction?
I've always been a story teller. Before I could read and write, I can remember running a narrative in my head describing what was going on around me.  I think stories help us make sense of our world.  My novel, A Bird in the Hand, was my first completed written work, though when I lived on Fair Isle, I wrote lots of letters and later, they would provide the inspiration for the Shetland books.
What inspired the idea for your first novel?
I was living with my husband on the tiny tidal island of Hilbre, which lies between the Wirral and North Wales. We'd been married for less than a year and we were the only residents. My husband was warden of the nature reserve. There was no mains water or electricity and access to the mainland was by foot across the mud and the sand at low water or by a rusty old tractor. If you're not into natural history, and I'm not, there wasn't much to do, so it was a perfect place to start writing. In that book, I killed off a birdwatcher in a hide, by hitting him over the head with a heavy telescope. It probably saved my marriage…
How did you feel when you heard the news that your first novel had been accepted for publication?
I was very relieved! We'd moved off the island by then – it took a long time for the book to be finished – and we had two young children. My husband was working for a conservation charity and earned very little. Our car had broken down and we couldn't afford to get it fixed. The advance paid to get it back on the road. I can still remember the postman delivering the letter from the publisher.
What do you hope readers will love about The Darkest Evening?
I hope readers will enjoy learning a bit more about Vera and her family. We already know that she had a troubled relationship with her father, but we hadn't known so much about her other relatives. In this book we meet them in the grand, but crumbling house of Brockburn, a minor stately home. I hope readers will get to know rural Northumberland too, and the very special communities who live and work there.  I love it, the space and the huge skies.
What tips would you give to aspiring novelists?
Find your own voice! The worst thing to do is to create for the market, to write the book, which you think might become a bestseller.  New writers should read a lot and read widely.  Most of us write the sort of book we'd enjoy reading – we spend a long time working on it, after all – so it's important to understand how the authors we admire practise their craft. Finally, get to the end of your first draft as quickly as you can. There's a temptation to polish and tweak the first chapter. That feels safer than pushing the story on, but it's much better to edit once the framework of the story is complete.
Where do you find your writing inspiration?
Everywhere! From scraps of overheard conversation and people I meet, in cafes and pubs and on trains. It's been tough during lockdown for someone like me, who's an inveterate eavesdropper. I've had to become a real writer and to depend much more on my imagination. To be serious though, much of the inspiration comes from place. I love to explore the links between landscape and the communities and individuals who grow from the places where they live. Perhaps because of my social work training, I'm also interested in digging into a family's past, in trying to explore patterns of behaviour that repeat or are reacted to over the generations.
What's next? Are you working on another book?​
Yes, at the moment I'm working on a second novel in the Two Rivers series. The first of these was The Long Call and it featured a new detective: Inspector Matthew Venn. Matthew grew up within a very strict evangelical community and when he lost his faith, in effect he lost his family and his community too. The series is set in North Devon, where I grew up, and it was interesting to go back and see the place where I'd been so happy as a teenager with adult eyes. After spending months in the Northumberland hills with Vera, it's been a great pleasure to return to the North Devon coast in the middle of a heat wave, in my head at least. There are worst places to be in lockdown!
What's it been like seeing your work adapted for screen?
It's been terrific fun! When the books were optioned, I decided that I wouldn't interfere with the creative process. I believed that the production team understood my books and trusted that they'd stay true to the essence of my characters and the stories. I didn't know anything about making television and they were very experienced! It was important to me that the dramas should be filmed in the places where the books are set, and I think that's added to the popularity of both Vera and Shetland.  I've been so lucky with the finished films; I love watching them.  The cast on both shows have been very generous and we've done some great literature festivals together.
You've written books set in Shetland, Northumberland and North Devon. Is there anywhere else to capture your imagination?
Not yet for a novel at least. I can't imagine setting a book in a place that I don't know well. However, I do write short stories with other backgrounds. In a short story it's possible to capture a first impression of a place, that excitement of seeing a city or a landscape with new eyes, which can be lost with familiarity. For the moment, for the longer works, I'll be sticking with Matthew and Vera, Devon and Northumberland.
The Darkest Evening, a classic country house mystery with a contemporary twist, is out now, Pan Macmillan (£18.99), and available from Amazon.