How To Get the Cottagecore Look
---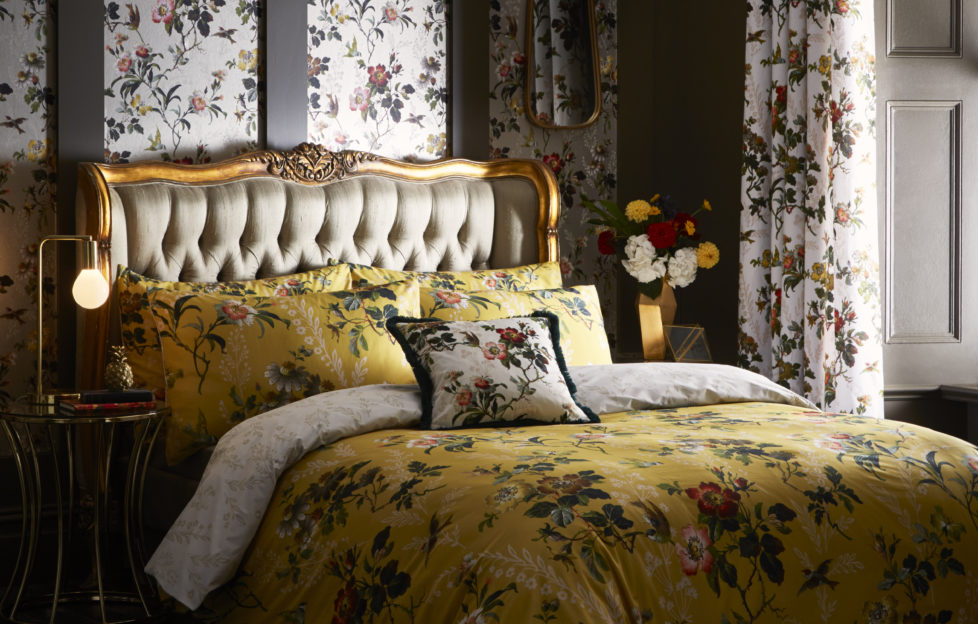 From The French Bedroom Company at ufurnish.com
According to a recent ufurnish.com survey, 'better furniture' is the change over a third of us want to make as our focus inevitably turned to self-sustainability and creating the dream home during lockdown…
Social distancing has birthed a new generation of home bakers and nature lovers, so it's no surprise that the latest interior trend hitting the nation, cottagecore, is reflective of the simple lifestyle many of us have embraced during the pandemic. 
u.Furnish.com Founder, Deirdre Mc Gettrick, shares her expert tips to  achieve the latest interior trend sweeping the nation.​
What Is Cottagecore?
The cottagecore aesthetic is simply defined as 'a romanticised interpretation of rural life'. Visualise idyllic country life with cosy interiors such as traditional-style fabrics, floral covered prints and ruched materials, a whimsical charm sculpted by the use of furniture pieces and decorative accents. Cottagecore is also about the clutter of life, imagine a country cottage kitchen, it's a small space with plenty of jugs, plates and glasses on display. The use of colour is essential with brightly painted windows on the outside and coloured patterns inside reflected in the delftware or textiles.
Stateside
'Cottagecore in the UK is quite different from the US. For the US version think of a wooden clad cottage with large windows and a big wrap around verandas. The cottage is surrounded by a big grass meadow with little manicured gardens. The UK Cottagecore is more dainty, think of a smaller cottage, perhaps with a thatched roof, small windows and a manicured garden with plenty of flowers, roses, bluebells and lilacs surrounding the cottage. On the inside the US cottagecore uses more traditional patterns in materials, such as bedspreads and rugs. It feels much more bright and airy due to the larger windows which let in a lot of natural light.
Home Style
The UK Cottagecore look is rooted in intense patterns such as florals. The rooms feel very cosy as they are smaller in size and typically have lower ceilings giving a potential cluttered feel when all the furniture is added. UK cottages date much further back in history and the smaller size, with thicker walls and smaller windows reflect the climate difference of trying to keep the cold out.
Covid Effect
Covid19 has undoubtedly increased the interest around #cottagecore. Unsurprisingly this is driven by more time spent in the home and with more time available people are returning to traditional skills and crafts including flower arranging, baking and pottery to pass the time. For many people locked down in small apartments in big cities, it is related to nostalgia of youth and the associated freedom, creating an aesthetic in their home that reflects this is bringing people comfort during the challenging lockdown days.
New Nostalgia
No doubt the influence of social media is driving this excitement for younger people, in the absence of new clothes donned for a night out with friends and shared on social media, people are sharing imagery from their current surroundings. With many going back to their homesteads during Covid19, a return to the outdoors and potentially slighted dated interiors or their parents, grandparents or neighbours homes is giving them the perfect opportunity to share something different on their social media. As more people share #cottagecore imagery, this in turn gives the confidence to others to share their version.
Hygge v Cottagecore
Whist the core of Hygge is all about creating 'cosiness' or 'the art of creating intimacy' the way in which it achieves this is different from Cottagecore. Hygge is a minimalist style, creating a feeling of warmth yet more paired back in terms of clutter, with a neutral colour palette; think white, beige and creams. Cottagecore is all about your floral patterns and the clutter of life, imagine a country cottage kitchen, it is a small space with plenty of jugs, plates, glasses on display, this contrasts with the minimalist style of Hygge. The use of colour is more dominant in Cottagecore with brightly painted windows on the outside and coloured patterns inside reflected in the delftware or textiles.