Celebrating Sir Sean Connery
---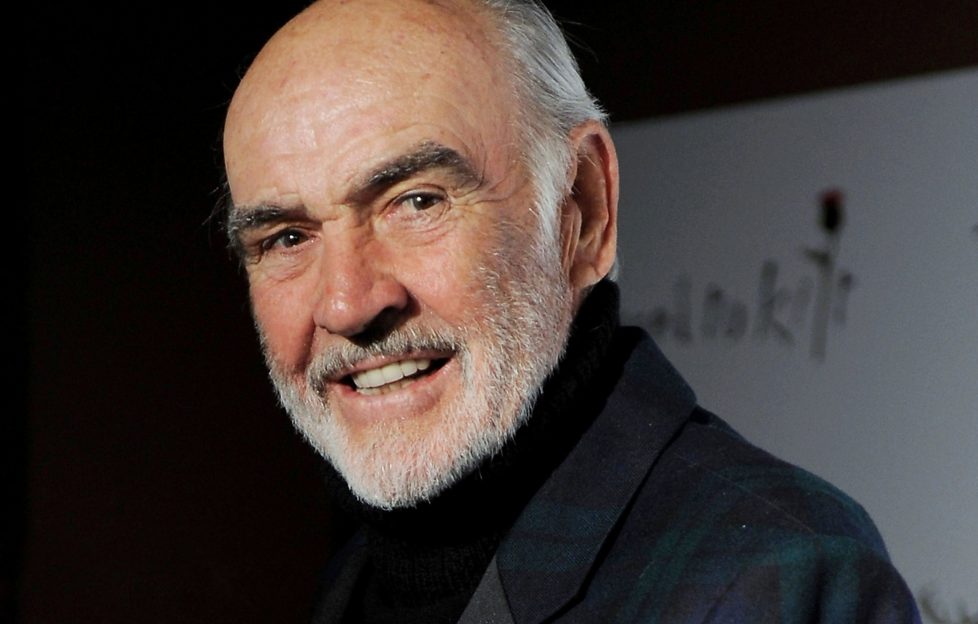 Screen legend Sir Sean Connery died on October 31 at his home in the Bahamas. Photo by Evan Agostini/Invision/AP/Shutterstock
In August this year we published a special tribute to Sir Sean Connery to celebrate his 90th birthday. The Edinburgh-born actor passed away at his home in the Bahamas on October 31 so we thought it was the perfect time to share the piece again…
Younger Years
Sean was born Thomas Sean Connery in rather impoverished Fountainbridge, Edinburgh, in
1930. Speaking about his early life, Sean once said, "My childhood was less than auspicious. When I was young we didn't know we lacked anything because we had nothing to compare it to, and there's a
freedom in that."
He left Scotland as a young teen to train with the Royal Navy in Portsmouth but his career was cut short when he was given a medical discharge at 19 because of stomach ulcers. He returned to Scotland and did various jobs including a coffin polisher and lifeguard – and professional bodybuilder! He also started supplementing his income by working backstage at Edinburgh's King's Theatre.
Before Bond
It's hard to imagine there was a time before Bond for Sir Sean but there was, and it was busy. His first proper stage role was in the musical South Pacific in 1954. The story goes that he auditioned for the part on a whim while visiting London for a bodybuilding competition! He went on to have minor parts in No Road Back (1957), the BBC's Dixon Of Dock Green (1956) and Requiem For A Heavyweight (1957) before moving on to the big screen.
His most famous early role was opposite Lana Turner in the 1958 hit Another Time, Another Place, in which he playedyoung reporter Mark Trevor who embarks on a steamy wartime affair with Lana's character Sara Scott.
Bond, James Bond…
Sean was the first – and arguably the best – to utter the words "Bond, James Bond" on the big screen. His first movie portrayal of the secret agent was in Dr No (1962), which included one of the most famous Bond girl moments with Ursula Andress as Honey Ryder. He became an instant heartthrob with his low,
gravelly voice, thick eyebrows and charming but wry smile. Bond author Ian Fleming, a former Navy intelligence officer, was supposedly initially underwhelmed by Sean's casting but was reassured by his girlfriend of the time that the 32-year-old relatively unknown actor was a good fit.
Dr No was a massive success – becoming one of the most popular films of the year in the UK despite being made on a small budget – and the actor earned Ian's seal of approval. The writer went on to incorporate Sean's Scottish heritage into his novels. You Only Live Twice, which came out two years after the Dr No film, included reference to Bond's father coming from Glencoe in Scotland. Sean donned Bond's trademark tailored three-piece suit in a further five films: From Russia With Love (1963), Goldfinger (1964), Thunderball (1965), You Only Live Twice (1967) and Diamonds Are Forever (1971) cementing his place in cinema history as one of the greatest actors of our time.
Retiring Bond – And Himself
After six appearances as 007, Sean left the franchise. He reportedly didn't like being pigeonholed and went on to star in The Man Who Would Be King (1975) alongside Michael Caine, one of his lifelong friends; Indiana Jones And The Last Crusade (1989), The Hunt For Red October (1990) and The League Of Extraordinary Gentlemen (2003). Bond fans were thrilled when he agreed to reprise the role for a final time in 1983's Never Say Never Again.
The Scotsman has a reputation for being rather forthright, especially when it comes to showbusiness. On accepting his American Film Institute Life Achievement Award in 2006 (when he announced his official retirement) he said, "Making movies is either a utopia or it's like shovelling s**t up a hill!" He's currently retired with his wife Micheline Roquebrune in the Bahamas, and has kept his promise to never make another film.
The Tough Guy
Sean has always had something of a reputation for being a tough guy. In 1957 he was filming with Hollywood star Lana Turner when her volatile mobster boyfriend Jonny Stompanato turned up on set brandishing a gun. As the story goes, her co-star Sean stepped in to wrestle the gun from him, and sent him packing. On another occasion Sean was attacked by six members of one of Edinburgh's most violent gangs while partying at the Palais de Danse. According to Andrew Yule's autobiography of the actor, Sean Connery: Neither Shaken Nor Stirred, he managed to fight them all off by cracking heads together, and they never messed with him again!
*Originally published in My Weekly magazine on August 29, 2020.