The Big Freeze
---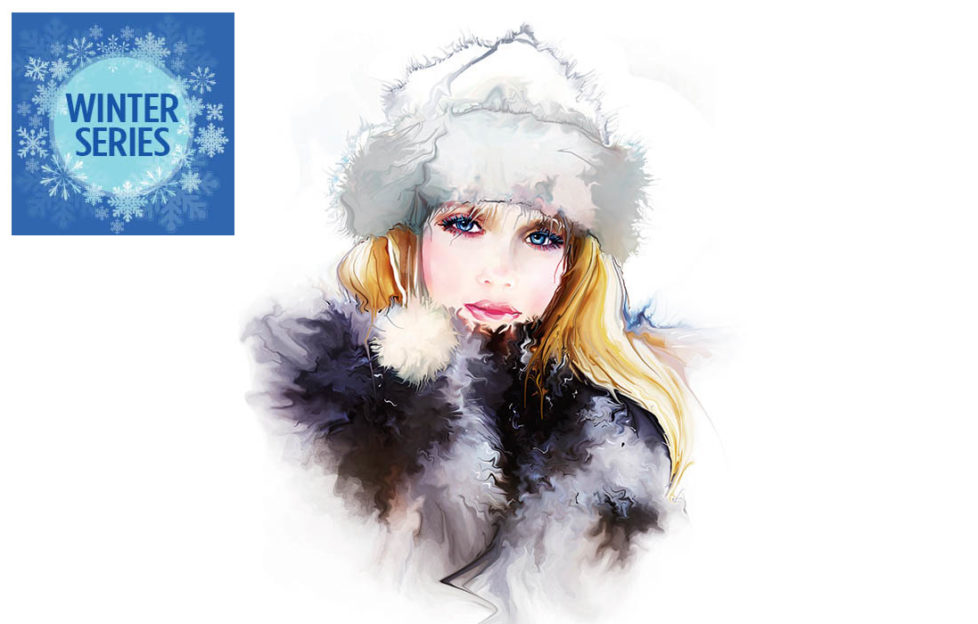 Was it just stubbornness that stopped me following Jack to his next dream location – or something that went deeper?
Yesterday the sun hung low in a bright blue sky. It was a huge ball of pale yellow light and it looked warm and inviting from the window of the cottage, but as soon as I stepped outside I was struck by an icy wind.
This morning, the sky reminded me of the marble tiles in our old flat: swirling layers of shades of grey.
When we chose them I thought they looked sophisticated and elegant, but they were just cold.
I'd pulled on a pair of wellies to creep outside to get some wood, but then I spotted Bert pottering in the garden next door.
I tried to reach the wood stack without him seeing me in my furry hat, pyjamas and my grey, fluffy dressing gown. I could see a few small pieces that I could put in the stove, but most of the logs needed splitting.
He stopped what he was doing and leaned over the fence.
"I'm sending young Rob round to sort that out," he said.
"It's fine. I've got an axe in the shed," I said, trying not to look cold and pathetic.
He gave me a long, measured stare and then said, "You seen that sky?"
I looked up at the threatening clouds.
"You feel that wind?" he went on.
I wrapped the dressing gown more tightly about me.
"That's a snow wind," he declared, "and when the snow wind blows, we know how to look after our own. You go back inside and keep warm."
I didn't stay to argue. There wasn't any point.
That was how it had been from the moment Jack and I moved in.
Jack hated it, but it reminded me of the street I grew up on, where everyone knew everyone and small, random acts of kindness were taken for granted.
---
I went back inside the cottage with the few bits of kindling I'd found on the woodpile and lit the stove.
It took a good half-hour to get going but once it began to throw out some heat into the room, I settled down to work at the kitchen table at my laptop computer.
I quickly replied to some emails, but my stomach was growling like an angry yard dog.
So I made toast and set about brewing coffee on Jack's super-smart machine that I'd saved from a bonfire.
On the day that he left, he made a list of all the things he wanted me to forward on to him.
He was driving straight to the airport and claimed he didn't have time to pack it all up.
He said, "I'm not going to be one of those people who insist on sharing out everything equally, but there are one or two things that I particularly want to have. I hope you're not going to be difficult about this, Fi?"
As soon as his car had disappeared over the brow of the hill, I took the list from where he'd left it under a magnet on the door of the fridge, put everything on it into a box and carried it to the bottom of the garden with every intention of setting light to it.
Before I had chance to strike the first match, Bert called over the fence.
"You'll not make much of a bonfire with that, Fiona, love."
"Stay out of this, Bert," I said.
His head appeared, followed by the rest of him.
"I'm just making an observation," he said. He peered into the box. "That looks like one of those new-fangled coffee machines."
"It's just stuff we don't want," I said testily.
"Well, you can strike as many matches as you like but you won't burn what's in there."
I snatched up the box and stamped back up the garden path.
Of course the cottage was full of Jack's stuff.
The bedroom floor was littered with his clothes; the bathroom full of half-used gels and lotions.
Even the bookshelves in the room we called an office still held his books and papers.
Moving to a cottage in the country had been his big idea.
"Seriously?" I'd demanded, when he'd laid out his plans for us.
"It'll be great," he'd enthused. "I've been working at TravelBug for eight years now but I've always wanted my own business. This new firm makes it possible for me to work from home."
"What about me?" I'd demanded.
"Well, you've always said you could do your job from the inside of a cupboard, if you had to."
"Yeah, but that doesn't mean I want to," I'd been quick to reply.
---
To begin with, I just didn't get it.
I'd loved living and working in town with bars and cafés on our doorstep. Nor was I won over by the promise of long walks and log fires.
No. It was the notion of waking up and knowing that I could decide if I wanted to work or if I wanted to just chill out; that I could organise my life exactly as I pleased.
Of course, on a day like today, that's not difficult to do.
When I woke up and looked out of the window, and saw that the sky was the colour of a city street, I simply crawled back under the duvet. The droning wind even sounded like the early morning hum of busy traffic.
When I eventually heaved myself out of bed to do some work – because you can do that in your pyjamas when you work from home – I realised pretty quickly that the wood stove had burned itself out.
It used to be just another reminder that I'd been left to fend for myself, but I was a different person from the one that Jack walked out on.
He wasn't the only one whose life had moved on.
His initial enthusiasm to work from home had slowly dwindled. At first, we simply spent too much time not working – it was too easy to just lie in for an extra hour, or bunk off early to go for a walk, because the sun was shining, or we felt like taking a bike ride to the pub in the next village.
The wake-up call came when the bills arrived in the post and we were running out of money to pay them. Too used to a pay cheque at the end of the month, Jack found it hard to adjust to the new lifestyle.
"What did you think it would be like?" I asked him one day.
"I didn't think it would be like this!" he snapped back at me.
Then the phone rang but he ignored it and sloped off to the garden.
I followed him outside.
"You were the one who wanted this, Jack," I chided him gently.
His face crumpled.
"I know, but it's different from how I'd imagined it would be. The joke is – we're surrounded by nosey neighbours, but I've never felt so – so isolated."
I reached up and kissed his cheek.
"They're not nosey. They're just trying to make us feel welcome."
He shrugged.
"Better get back to work."
---
I probably should have noticed that something had changed, but I'd taken to working on my own in the kitchen.
When the phone didn't seem to stop ringing in the office and Jack's mood began to brighten, I just thought business was picking up.
When he told me he'd been offered a job in Barcelona, I was dumbfounded.
"Barcelona? Seriously?" I exclaimed.
"I thought you'd be happy," he said.
"I'm a website designer," I protested. "I don't speak Spanish so how can I work in Barcelona?"
He looked a bit sheepish but just said, "TravelBug has offered me the chance to open up a new office for them. It's a great opportunity for me, and you've always said that you could do your job wherever it suited you."
I spread my arms to encompass the cottage and the garden and the village surrounding us.
"But you wanted this life," I said angrily. "You asked me to leave everything behind to follow you here. Now you want to move to Spain?"
"I'm supposed to be going in six weeks, Fiona, and I want you to come with me," he pleaded.
"Just like that?" I demanded. "Just pack up my life all over again and go? Well, I won't do it!"
It was easy to say, and in the weeks that followed I must have changed my mind a dozen times.
We argued back and forth, but for Jack it was already a done deal; he was moving to Barcelona and I could go with him, or I could stay.
---
I chose to stay. I packed up everything that Jack had asked for – everything except the coffee machine. The village shop sells most things that I need, but I still miss that early morning caffeine fix that I used to get from the bistro on the corner of the street when I lived in town.
Unsurprisingly, it didn't take long for Bert to spread the word that I was on my own.
And then I wasn't on my own any more, because a small village is like a big family.
People are always dropping in; asking for favours or offering to help.
Since Jack left, I've been invited to attend a wedding, held a friend's hand at a funeral, baked cakes for a christening party and helped organise a barn dance in a barn on Bert's brother's farm to celebrate his seventieth birthday.
I've shared my neighbours' joys and laughter, their tears and sorrows, and the months have simply melted away.
I was sipping hot coffee and contemplating how my life had changed when I suddenly heard the sound of wood being split with an axe. I looked outside and saw a familiar, good-looking guy in a camouflage jacket demolishing my woodpile.
Without thinking, I stepped outside.
"Hi, Rob!" I called out to him.
He stopped chopping wood, slowly looked me up and down and then grinned.
"What's so funny?" I said.
"I don't know what I like best," he replied with a twinkle in his eye, "the fluffy dressing gown or the black silk pyjamas. Uncle Bert said you were working, but you look like you've just crawled out of bed!"
"Actually, I am working!" I shot back at him. "And anyway, I'm wearing my fur hat – that's sensible."
The wind was really gusting and as I turned to go back inside, the first flake of snow settled on my face.
I looked up at the sky. It was filled with whirling, twirling, billowing sheets of snow, and I suddenly remembered Bert's words.
"You'd better come inside," I said. "I'll make you a coffee, if you like?"
He gave me the thumbs-up sign and followed me into the kitchen.
"Machine still working OK, then?" He let out a roar of laughter. "I can't believe you tried to kill that thing on a bonfire!"
I let out a groan.
"There's nothing I do that escapes your Uncle Bert's notice."
Rob glanced around the kitchen and saw my solitary plate and mug on the table.
"You still living here on your own, then?" he asked more gently.
I expected to feel a little stab of pain in the region of my heart but instead there was a rush of joyful anticipation.
"It's still just me here," I said. "How come you're not working on your dad's farm today?"
"Oh… I got asked if I wanted to rescue a damsel in distress, and it sounded like an offer too good to refuse."
He flashed me another cheeky grin.
I glanced out of the window at the woodpile and was surprised to see that the snow wind had already transformed the garden into a winter wonderland.
Turning back to Rob, I smiled.
"I think I might just have to rescue you right back," I said.
We're sharing a selection of uplifting winter-themed short stories from our archives, every Monday and Thursday during November. Look out for the next one – and pick up My Weekly magazine for lovely new short stories every week. Subscribe here – and you'll receive a free gift too!