Chinese Mince Pie Dumplings
---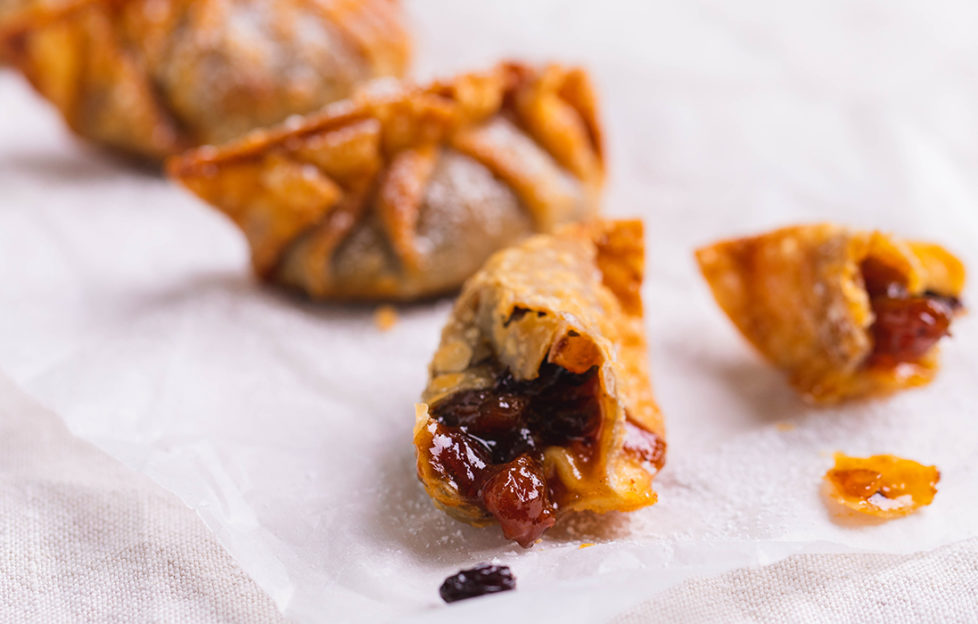 The UK's largest Oriental supermarket Wing Yip has created a series of festive Oriental-inspired dishes that will definitely be a hit! These Chinese mince pie dumplings provide the perfect balance between savoury and sweet, with a crispier bite than the traditional version.
Preparation Time: 20min
Cooking Time: 24min (approx)
Makes: 36
Set up a large plate loosely covered with cling film and a small bowl of cold water. You'll need cling film or a damp cloth to cover the unused gyoza too, to stop them drying out.
Place 1½tsp mincemeat in the centre of the gyoza wrapper. Lightly wet the edge of the wrapper using the water and close the dumpling any way you like. To pleat, hold the wrapper in half and pinch firmly in the centre. Then take ½cm of the top edge of the wrapper, fold towards the centre and pinch to close. Repeat twice more until you reach the edge of the dumpling. Repeat on the other side. You should have 6 pleats across the top.
Take the dumpling and lightly press down on the work surface to create a flat bottom. Place on the plate and cover loosely with the cling film. Repeat step 2 until you've either used all of your filling or made all 36 dumplings.
Heat the oil in a fryer, or a wok, to 180°C using a thermometer. Fry the dumplings in batches for 3-4min until crispy and golden.
Remove from the oil using a slotted spoon and place on kitchen paper. Keep warm in a low oven, around 120°C, until ready to serve.
Arrange your Chinese mince pie dumplings on a  plate and dust with icing sugar just before serving.