Festive Raspberry Wreath Pavlova
---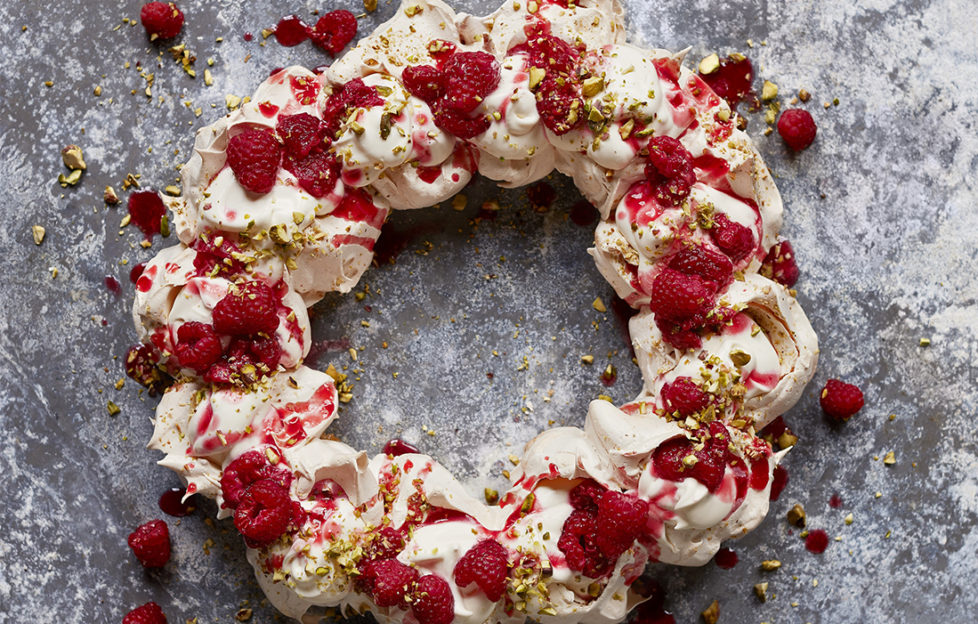 A simple and relatively speedy pavlova recipe that sings Christmas, shaped just like a traditional holly wreath. It's not too sickly sweet, thanks to the rich pistachios and tart raspberries, and so will please both kids and adults alike.
Preparation Time: 45min + cooling
Cooking Time: 1hr 35min
Serves: 6-8
Heat 150g raspberries in a small saucepan with 1tbsp caster sugar and 1tsp lemon juice, until they release their juices (about 1-2min). Press through a fine sieve set over a bowl and discard the seeds. Cool completely.
Preheat oven to 150˚C/130˚C fan/gas 2. Using electric beaters, whisk the egg whites with a pinch of salt in a clean bowl, until they form foamy, soft peaks. Whisk the 240g sugar into the egg whites, a few spoonfuls at a time, beating well (about 20sec) between each. Beat for a further 3-4min until stiff, shiny peaks form and the sugar has mostly dissolved. Beat in cornflour and remaining 1tsp lemon juice. Whisk for a few min more.
Cut a sheet of baking parchment to fit a large, flat baking tray. Draw a 25cm circle (use a plate or bowl as a guide). Flip over and dab a little meringue mix in the tray corners to help the paper stick. Scatter ½ the coulis and chopped pistachios over the meringue mix and fold once to ripple. Dot large spoonfuls of meringue just inside the circle on the parchment paper. With the spoon, swirl and connect the blobs, creating a wreath shape.
Reduce oven heat to 140˚C/120˚C fan/gas 1 and cook for 1½ hours, or until the outside is crisp. Cool in the oven for at least another 1hr.
To serve, whip the cream with the vanilla and remaining 1tbsp sugar to soft peaks. Spread around the wreath. Dot with the remaining 300g raspberries and 50g chopped pistachios. Drizzle with the reserved coulis.
Eat, drink and be merry this Christmas with Dobbies' delicious festive food and drink. Browse the online range, find your nearest Dobbies foodhall, and find more seasonal recipes and advice at www.dobbies.com