Scandi-Style Christmas Table
---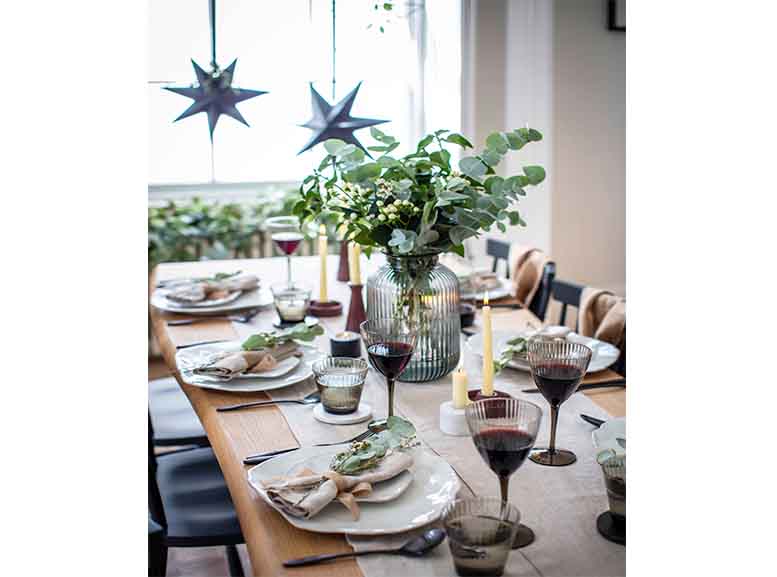 Homeware by Garden Tradng
Catharina Björkman, lifestyle expert at Swedish wood burning stove brand, Contura, gives her tips on decorating the Christmas table Scandi-style.
The Julbord
"Sharing meals is at the heart of a Scandi Christmas," says Catharina. "Julbord translates as 'Christmas table' and plays a vital role during the festive season.
"To decorate your julbord in traditional Scandi style, stick with natural materials and neutral colours as much as possible.
Lighten Up
"The right lighting is crucial to set the tone for the table. Most Swedes prefer to use white lights, rather than coloured lights, as these are more versatile when it comes to complementing other elements of the decor. Table lamps look far softer than harsh overhead lights – these can be added to a side table if your main table is looking crowded!
"Candles are very popular in Swedish homes and especially so at Christmas, so stock up on different sizes and shapes for use over the festive period. Stick with neutral colours (white is best) and position in the centre of the table.
Christmas Buffet
"In Sweden, it's traditional to enjoy a smorgasbord buffet on Christmas Eve; a large feast that includes multiple staples of Swedish cuisine, and this is the main event for us at Christmas. Why not try creating your own smorgasbord feast for any Christmas guests? Popular cuisine includes pickled herring, gravlax (salmon), paté, knäckebröd (crispbread), ham, meatballs, beetroot salad and lutfisk (dried fish). Be sure to serve a range of Swedish drinks too, such as glögg (Swedish mulled wine), julöl (dark beer served at Christmas) and julmust (non-alcoholic drink made from sugar, spices, malt and water).
"Your table will go through a lot of use at Christmas, so pile up plates and glasses and keep these close to hand to help make entertaining a breeze."
For more information, visit www.contura.eu