Diary of A Modern Gran | Granny Flies a Kite
---
Illustration: Istockphoto
It's nearly Christmas. The doorbell rings. Not once but three times. It's either the Amazon man or George (3) and Millie (5) . It's a ritual that they each rush to our front door to see who can get there first. That's why one of my first jobs of the morning is to spray it with disinfectant before I do the door handles and staircase! This time last year, I wouldn't have done this on a daily basis but times have changed….
"Can we decorate the Christmas tree now? Please," pleads Rose.
"Of course," I say pointing to the bag of decorations. "Look, I've got it all ready."
Rose has got to the end of her isolation period without showing any signs of the virus. Regular readers might recall that a large part of her village school had to finish term 10 days early because someone tested positive.
Many of you have probably had this with your own grandchildren. But it's a nail-biting period. We are all aware that children can spread this horrible virus without showing any signs of having it themselves. My husband is having an operation in the middle of January so we need to be careful.
"Of course they must still come over for Christmas lunch," he says. "We've been part of their bubble, haven't we? But maybe I should keep away from them after the New Year."
Meanwhile, my eldest son who is been living with us until he can return to Spain, spends Christmas Eve night with his sister, her husband and the little ones.
"Rose and George woke me at 7:30 in the morning!" he says sleepily when he rings on Christmas morning to say he'll be back for breakfast soon.
I have to laugh. "7.30 is late! You lot used to be up at 4am!"
"It was worth it," he says. "You should've seen their faces, Mum. They loved their bikes."
My son-in-law's parents, who live in Wales, had given Rose and George a new bike each for Christmas. They'd been camouflaged upstairs at our place (under sheets) for the last month! It involved quite a lot of secrecy in getting them out, into a car and then shrouded in a blanket until the big day.
But now, judging from the squeals of delight at the other end of the phone, Millie and George are having a brilliant time test-driving them across the small living room floor.
"We'll be with you at 1 o'clock with the food," said my daughter. What a treat! This year, we've agreed that she will cook at her place and bring it round in the car. All I have to do is lay the table. Oh and wrap the presents!
Every year I tell myself I'm going to cut down but I can't help spoiling them all a bit. Especially as they've had a tough year. I'm not sure how I would have managed as a young mum if I'd been stuck at home with two small children, unable to go out during isolation.
No wonder they've got so much energy. It's as though they have demob frenzy!
And now here they are!
"Can we open our presents?" they say, their eyes widening as they taken my very badly-wrapped gifts.
"Let's have lunch first, shall we?" says my daughter. "Then the food won't get cold and they can have a lovely play afterwards."
Oh dear. It does seem tough to make them wait. But I also see her reasoning. It's better to spread it all out. When I was a child – I know we're always using that phrase but I can't help it, can you?  – we opened one gift before lunch and the other, after. The first was usually a book and the second was a new jumper. I always loved both.
My daughter has made an amazing meal but I can't help feeling terribly guilty. Just over the road, my German friend who has been on her own for years, is spending Christmas without anyone. She usually comes to us or back to Berlin to see her son. This year she can't do either because of the situation.
I also feel sad because my youngest son can't be with us. His lovely girlfriend is working on Christmas Eve and Boxing Day and the distance means they can't get down for such a short time. But even if they could, the new tier rules would have forbidden it.
So we Zoom instead. It's not quite the same but it's better than nothing.
My German friend and I were going to go for a Christmas afternoon walk but when I ring to confirm, she explains she has a bit of a sore throat. "I don't think it's anything," she says, "but I'd rather be careful. I don't want to pass on anything."
I see her point and I'm grateful she's so considerate.
After lunch, it's present time!
"Just one at a time," I suggest. "Then we'll know who has given each other what."
Last year, I managed to lose my sister's present to my youngest son's girlfriend. I still haven't found it and I've got an awful feeling it might have been thrown out in the rubbish…
"Oh no," says my daughter suddenly. "Where's our bag of presents to you?"
My son-in-law goes back  to their house (just round the corner) but it's not there. "Maybe Father Christmas has taken it back," says George worriedly.
No! It's all right. It turns out to have been in the car after all! Phew! It might not seem that important considering that the rest of the world is in chaos. But when you've all worked to make Christmas special for the family, you want everything to go smoothly.
It takes me back to the days when I was a young mum, with three children. My parents were divorced and meeting up together was out of the question. So my then-husband and I and our little ones would spend the day (lugging nappies and other paraphernalia) between them and also my grandmother and my mother-in-law. Lovely as it was to see them all, we were on our knees with exhaustion on Boxing Day.
This year, I am painfully aware that my grandchildren aren't able to see their other four grandparents because of the rules. I feel incredibly lucky but also guilty.
"A train set!" gasps George as he unwrapped his present from us.
I have to say that this has caused a few complications! There isn't room to keep it at my daughter and son-in-law's house so I've had to persuade my husband that it can live alongside the exercise bike in the dining room.  it doesn't matter. I don't think we'll be hosting any supper parties until we're all vaccinated.
"Thank you!" sings out little Rose as she unwraps an ice cream van. Apparently they're all the rage. One of her Welsh cousins, whom she idolises, has one. Rose is already playing with all the little figures and pieces.
"Make sure the dog doesn't eat anything," I warn.
When the children were small, our old dog swallowed a play brick. He had to have an emergency operation and although he recovered fully, I really don't want to go through that again! Especially not on Christmas Day with Covid…
I'd also made a "pass the parcel" with presents for both adults and children. But everyone's pretty tired now. So they set off home.
Then something occurs to me. "Shall I do tea and bath time while the two of you have a bit of time to yourselves?" I say.
"That would be great, Mum. Thank you."
The children are still full of excitement. I want to bottle it up so they have it forever. I have to say that Christmas and New Year is a difficult time for me because that's when our parents separated. My sister and I were teenagers. Things like that leave their mark.
But when you have small children, you have to put that behind you.
"Shall we ring great-grandad," I suggest when they're in their pjs.
I've already spoken to Daddy once this morning but he might like to chat to the children, providing he is awake after his nap.
"Happy Christmas, great-grandad," trills Rose.
"Happy Christmas," repeats George.
My father's voice sounds tender. "Happy Christmas, both of you."
Before I had grandchildren, friends would say that one of the perks of being a grandparent is that you can give them back.
I'm not sure I agree with that. I love every moment with my two. But I also have to confess that there's something to be said in being able to sit down on the sofa in the evening without having to listen out for a baby alarm or wait for a teenager to come back late.
So that's exactly what my husband and I did on the night of the 25th.
Boxing Day, and a change of plans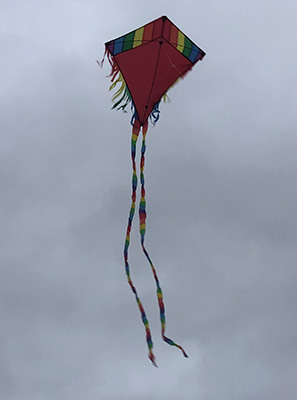 We'd plan to spend Boxing Day with my sister who lives four hours away but with the new rules this was not to be. Instead we had – yes, that's right – another zoom call! I have to confess to feeling a little flat afterwards. I'd been so looking forward to seeing her, her husband and my niece.
Then the phone rang. "Mum," says my daughter. "How do you fancy flying a kite this afternoon?"
Flying a kite! It turned out that my sister had sent one to them. Immediately my mind goes back to the days when we were little and our father used to make kites for us out of balsawood and Christmas wrapping paper.
"Yes please!" I say feeling as excited as a child. My eldest son comes too.
"I'm afraid I can't make it," says my poor husband who isn't very mobile at the moment because of his back. "But you must go. I'll play some of my loud music that you don't like."
I feel rather bad about leaving him at home but I must admit it does us all a lot of good. Rose and George's mouths are open as they hold the string and watch the kite swoop up in the sky.
"Now it's Gan Gan's turn," says my daughter kindly as she hands the string to me.
Wow! I'd forgotten what a thrill this is. Just look at the purple and pink kite swooping and diving into the air!
"We ought to do this on New Year's Day," I say to my daughter.
"What's is New Year's Day?" asks Rose.
"It's a day when another year starts and we make wishes for the future," I say.
I know that's not an exact translation of "resolution" but I thought it might be more child friendly!
"Can we wish that the world will get better?" asks Rose.
I hold her little hand tightly as we watch George run around with the kite. "Yes," I say. "That's a really good idea."
---

Jane Corry is the author of five top ten best-sellers. Her latest novel I Made A Mistake is about Betty, a grandmother who lives with her son's family. Published by Penguin, £7.99 in paperback and also available as an e-book and audio, narrated by Emilia Fox.  http://bit.ly/IMadeaMistake OR https://www.hive.co.uk/Product/Jane-Corry/I-Made-a-Mistake/24376830