What Went Wrong? Diagnose Your Cake Mistakes
---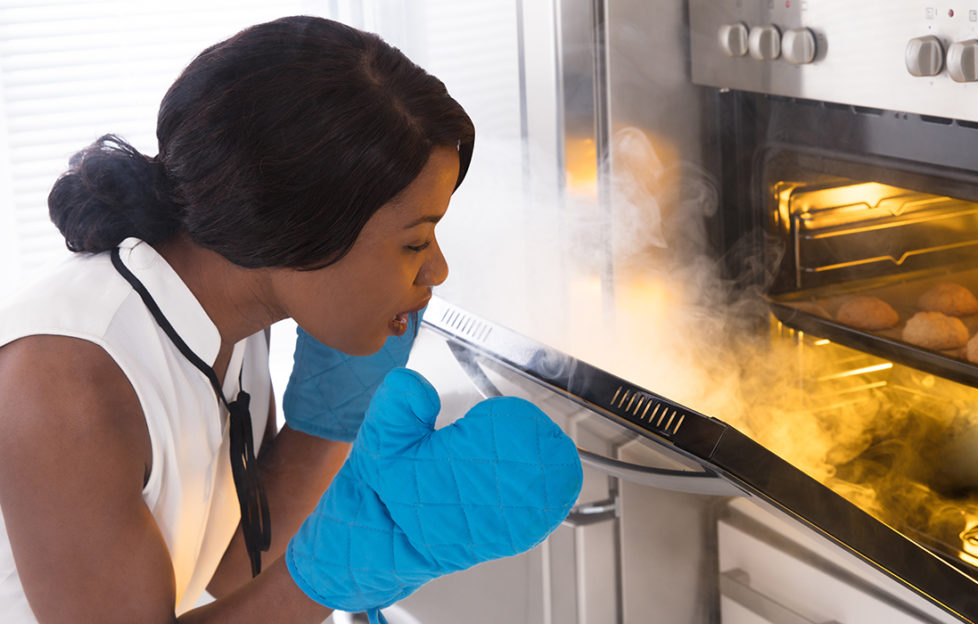 Well, the cookies look OK but what's that in the bottom? Pic: Shutterstock
Have you ever pulled a sponge cake out of the oven and wondered what's gone wrong?
We know from Bake Off and Masterchef that things don't always turn out perfectly, but in our own kitchen it's not always clear why.
Well, our handy new guide has eight of the commonest issues covered! It's an easy to digest, problem-solving chart compiled by the experts at Dr. Oetker.
To identify the areas that home bakers struggle with the most, we trawled through Google search data and found the most-asked questions around the topic of baking cakes.
What happens if you tweak the recipe…
We then made eight cakes using exact same recipe, but tweaking each slightly to recreate those undesirable outcomes.
Conundrums like 'why did my cake sink?' and 'why is my cake dry?' are easily answered in this expert visual guide.
From adding too much flour to not enough egg, it's easy to perfect your cake bake and diagnose where you might have gone wrong by matching up your baking attempt to the photos.
More advice from Dr Oetker here!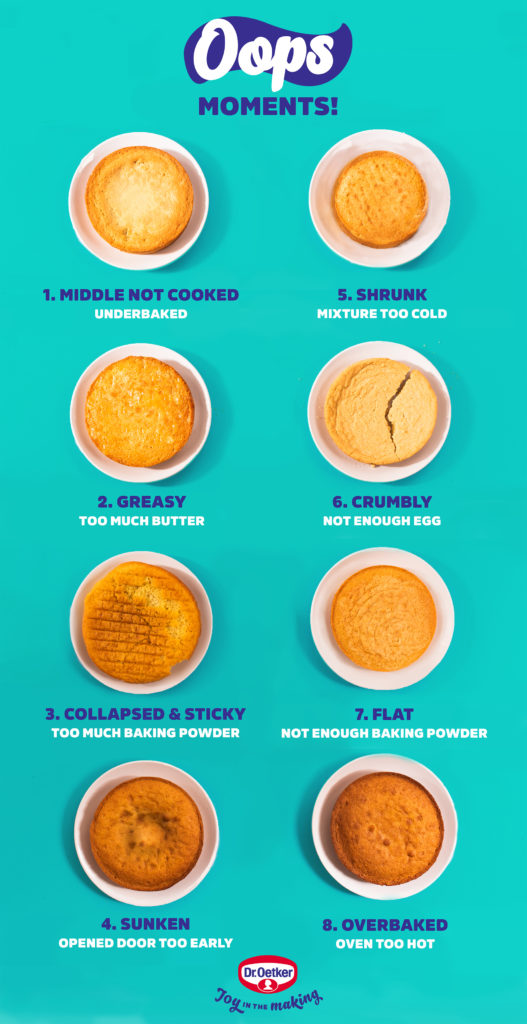 Watch your quantities (and other tips)
Other things to be careful of include spoon measurements. Unless the recipe states a "heaped teaspoon", assume it should be level.
It sounds obvious, but never mix metric and imperial measurements. If you're measuring liquid ingredients in millilitres, then make sure you stick to grams for the dry ones.
Those faffy details – "sift flour and baking powder together", "fold in with a metal spoon", "place tin on a pre-heated baking tray" – are all included for a reason!
The heat setting for a fan oven is usually 20°C lower than for a conventional electric oven – but not always! Check carefully, and ensure the oven is fully pre-heated before putting in your cake.
If you're using gluten-free flour, make sure you include some xanthan gum or another binding agent (if the flour mix doesn't already include it).
If your cakes are still turning out sunken or collapsed, remember they will taste great – and icing can cover a multitude of sins! Look out for our occasional Masterclass cookery features in My Weekly magazine, where our expert home economists take you through a classic recipe step by step.
We'd love to share in your baking triumphs or disasters – show us on social media, or email a photo to the address in My Weekly magazine for a chance to win £25!