How To Build A Gallery Wall
---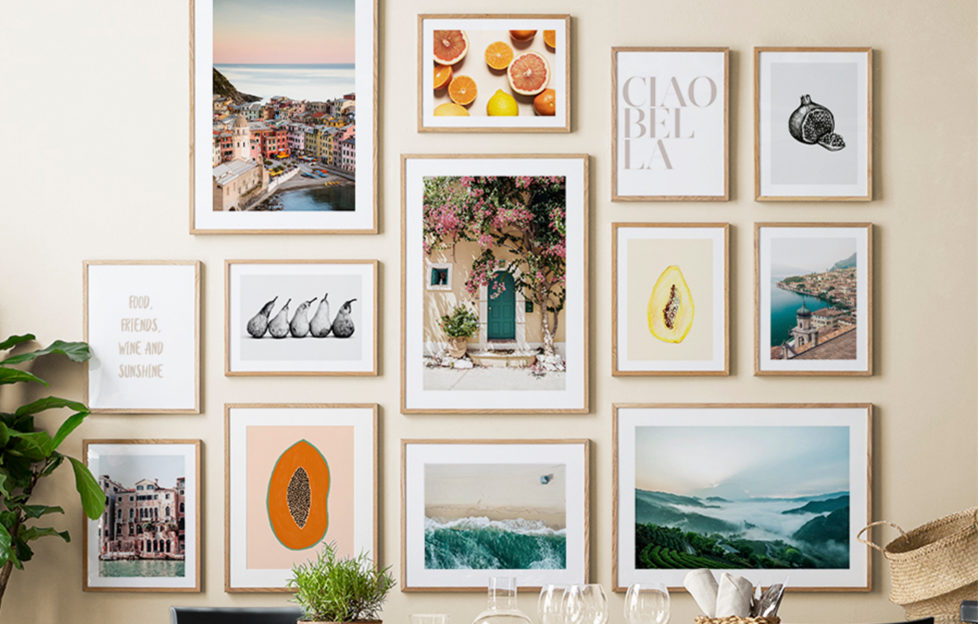 Gallery Wall by Desenio.com
Gallery walls are an interior design feature that will never go out of fashion and the perfect way to showcase all of your favourite imagery. If you're wondering where to begin, Clare Moreton, photo expert at CEWE, has shared her top tips on how to create a simple yet stylish gallery wall in your home
Uniting Theme
Choosing a common theme across your displayed artwork is a great way to showcase your unique style. Select photos from your holiday alongside nautical paintings for a fresh seaside theme or mix favourite photos with inspirational quotes – providing a perfect platform to showcase your unique personality.
In The Mix
The best part of creating a photo wall is being able to experiment and get creative! Hexxas style prints allow you to do just that – you're free to mix and match them according to your taste. Whether you want them to be symmetrical or slightly more abstract, you can tailor them to suit the style of your home – the design possibilities are endless!
Nature Inspired
Wood prints are a unique piece of art that can really help to bring out the natural beauty within a photograph. Made using the natural texture of wood, it adds a rustic, homely touch to any gallery wall. They're perfect to display landscape, nature focused pieces of wall art and make a unique alternative to a canvas print by bringing out the warmer tones in photographs. These really are a unique way to brighten up any white wall.
 Get Creative 
Show off your creative side by designing a gallery wall that's eclectic with a mix of styles, sizes and types of print that will transform any room into a bright, eye-catching space. Utilise a variety of wall art by combining framed photos with typographic prints and art deco style canvases. Use a mixture of colours and patterns to offer a really modern, unique look that will catch your eye every time you walk by. This type of gallery wall will need to be more freeform, so we'd suggest placing your largest item in a central position first and then adding smaller items around it.
Personal Touch
This trend has really taken off in 2020 and is something that could be tapped into if you want to create a really unique and special gallery wall. Choose an inspirational quote, song lyric or phrase that resonates with you and get it printed in a stylish frame or onto a  canvas print. If you want to go the extra mile and have a piece of typography art that is completely personalised, you can create your own using the CEWE Creator Software. Add your own text that means something to you in your own style and display it in your home – a totally unique way to transform any room.
Panoramic Prints
Make the most of panoramic prints to showcase landscape views, picturesque scenery or impressive architecture. This type of wall art is the perfect way to display a cityscape or a piece of artwork – combine a few within a certain theme and you're sure to brighten any wall. Vertical panoramic canvases are a  modern and versatile way to introduce colour and style into difficult to fill spaces.
Vintage Style
Opting for a vintage look to your gallery wall is a really on-trend and unique way to transform any room. This style would be perfect to display adorable baby pictures or black and white photos of your family 'through the ages' which can make a lovely addition to your gallery wall. These photos  will evoke a positive emotional response when you see them, putting a smile on your face each day.
Pattern Plus
A design trend that is currently big is geometric prints, so why not embrace them and include them in your gallery wall? This doesn't necessarily mean big bold prints, if that's not your taste you can also opt for more subtle, minimalistic designs in this style. This type of wall art is really eye-catching and completely different to a normal photograph or print – perfect for homes with a modern, slightly quirky flare.
Multi-panel Prints
Embracing this style of wall art can be a creative way to add a new perspective to your photography and art work – creating a really unique feature on any wall. Multi-panel canvas prints are a statement in their own right and have a really modern feel to them. They're perfect to display landscape photography or scenic shots. Try hanging them with a one inch gap between each canvas and you'll find they make a beautiful statement piece for your home.
Travel Pics
Travel photos are the perfect images to use to create a gallery wall as they hold some of your most treasured memories, as well as being visually beautiful. Experiment with different styles, textures and tones to bring your photos to life. Each time you see the photos on display you'll be transported back to the sunny scene or the active adventure you went on – instantly putting a smile on your face!
Big and Bold
Using acrylic prints is a modern, stylish and simplistic way to create a really bold look that will stand out and transform your gallery wall. If you have a contemporary home, this look is perfect for you. With a high gloss finish, they work beautifully for photographs that contain bold colours. Choose prints that complement your home's colour scheme and you'll see a bright bold transformation.
Line Art
This is a eally effective way to make your gallery wall stand out and is also really on trend this season. Line art has been described as 'every minimalists dream' and would complement a modern, minimalistic home beautifully. This type of art is visually simplistic but eye-catching and is extremely versatile – it would look good as a stand-alone piece or integrated with other pieces of art work to complement your gallery wall.
Black and White
Most of the time we think colour and bright striking images when creating a gallery wall, but this doesn't always have to be the case. Sometimes, the best pieces of wall art are simple and embrace black and white tones. This look creates a really chic and stylish look and is perfect for something different. If you have a coloured wall in your home, utilising this style of print will make them stand out on a colourful wall.
For more information about the range of wall art CEWE have to offer, please visit: https://cewe-photoworld.com/wall-art