Marian Keyes Shares Her Ultimate Comfort Reads
---
Marian Keyes
Marian Keyes, the best-selling author of Grown Ups, shares her reading list to support indie bookshops. Picked to inspire, engage and entertain, these books might be just what we need in these challenging times…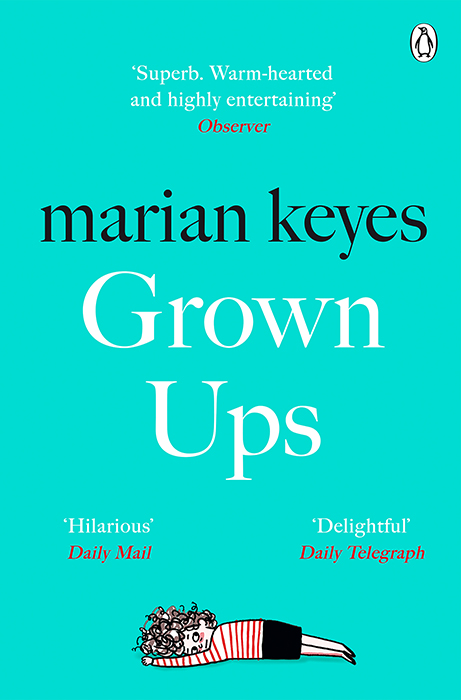 International bestselling novelist Marian Keyes (Watermelon, Rachel's Holiday and The Break) has revealed her Ultimate Comfort Reads for challenging times, with a curated list shared on Bookshop in support of indie bookshops, and to mark the paperback publication of her globally acclaimed Sunday Times No.1 novel, Grown Ups (Penguin Michael Joseph, £8.99).
Marian's recommendations offer readers some much-needed solace and escapism during lockdown, and beyond. From Booker-nominated debut novels to fiercely funny memoirs, and from heart-warming stories turned into much-loved TV series to feminist retellings of traditional fairy tales, Marian's curated list aims to inspire, engage and entertain, as an antidote to the difficult times we're living in.
Marian's selection includes: Stella Gibbons's Cold Comfort Farm, a classic comedy novel named one of BBC '100 Novels That Shaped Our World'; The Surface Breaks by Louise O'Neill, a feminist reimagining of The Little Mermaid; My Sister, The Serial Killer by Oyinkan Braithwaite, the sensational debut novel nominated for the Booker Prize in 2019; Love, Nina by Nina Stibbe, a laugh-out-lout memoir adapted into a popular BBC series by Nick Hornby; Eligible by Curtis Sittenfeld, a Pride and Prejudice catapulted into our modern world; and the WWII romance The Morning Gift by Eva Ibbotson, based on the author's own experience as a refugee.
The list has been released by Bookshop.org – for shoppers wanting to support independent bookshops when they shop online.
Marian said,
Life is very challenging at the moment and personally, I'm desperate for a holiday from reality and from my head. I've put together a collection of titles that I've found engaging, uplifting, distracting and entertaining. I hope that some of them give you enjoyment and respite. I am thrilled to share this list on a platform that supports the vital work of independent bookshops.
Marian Keyes' Ultimate Comfort Reads – how many have you read?

The Secret Countess by Eva Ibbotson (Pan MacMillan)
Oh My God, What A Complete Aisling by Emer McLysaght and Sarah Breen (PRH)
I Never Said I Loved You by Rhik Samadder (Hachette)
Gravity is the Thing by Jacqueline Moriarty (Atlantic)
Standard Deviation by Katherine Heiny (Harper Collins)
Love, Nina by Nina Stibbe (PRH)
Professor Chandra Follows His Bliss by Ranjeev Balasubramanyam (PRH)
Writers and Lovers by Lily King (Pan MacMillan)
The Surface Breaks by Louise O'Neill (Scholastic)
The Loveliest Chocolate Shop in Paris by Jenny Colgan (Little, Brown)
Cold Comfort Farm by Stella Gibbons (PRH)
Filter This by Sophie White (Hachette)
The Diary of a Provincial Lady by E.M. Delafield (PRH)
My Sister, The Serial Killer by Oyinkan Braithwaite (Atlantic)
The Bookish Life of Nina Hill by Abi Waxman (Hachette)
If I Never Met You by Mhairi McFarlane (Harper Collins)
Odd One Out by Lissa Evans (Simon & Schuster)
Such A Fun Age by Kiley Reid (Bloomsbury)
The Switch by Beth O'Leary (Hachette)
The Cazalet Chronicles by Elizabeth Jane Howard (Pan MacMillan)
Dear Mrs Bird by AJ Pearce (Pan MacMillan)
Brother of The More Famous Jack by Barbara Trapido (Bloomsbury)
The Morning Gift by Eva Ibbotson (PanMacMillan)
Eligible by Curtis Sittenfeld (Harper Collins)
All titles are available from Bookshop.org.