All About Ensuites
---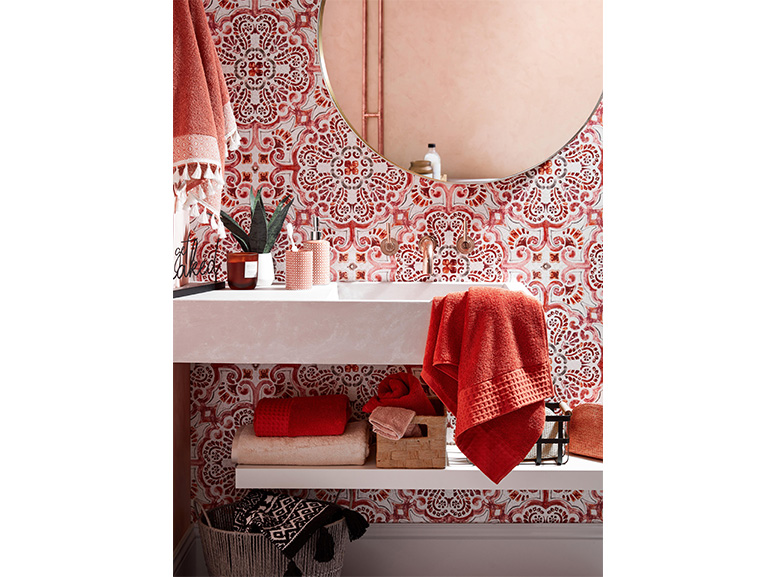 Bathroom Accessories £2.50-£35, B&M
There's no doubt that ensuite bathrooms are a luxurious addition to any bedroom. Whether you're installing a new one or updating an existing one, read on for some top tips by the experts!
Make a Connection
Sam Baldry, Head of Design at interiors specialists Swoon says, "An en-suite should always feel like an extension of your bedroom and the design should effortlessly flow from one room to another. So, to create a sense of continuity, it's best to opt for a scheme that complements them both. For example, if you want to paint your bedroom in a soft shade of grey, paint your bathroom a deeper shade of grey to make it individual yet connected.
Must-have Accessory
"The most important styling accessory in any en-suite is the mirror. After all, most of us spend time in our en-suite styling our hair, applying makeup, and getting ready for the day — all of which require the right mirror. What's more, it can mimic the role of a window and create the illusion of extra space. An interior faux pas within the bathroom is a mirror that is too short. So, to create the look of a spacious and open en-suite, opt for a mirror that starts at the top of the vanity unit right to the ceiling.
See here for further information on Swoon Editions and its partnering bathroom brand, Swoon's, bespoke en-suite and bathroom product range
Bathroom Sanctuary
Lee Frost, Director of Waters Baths of Ashbourne,  adds "As 2020 evolved into a time very much centred around the home and how it was used, we saw the bathroom flip from purely functional to a place of escape; perhaps the only room to retreat to where it could almost be guaranteed to find some peace from the surrounding stress.  Bath time became a pause, a time to relax and indulge.  An opportunity to build self-care and wellbeing into the landscape of the day which the coming year's designs will bear testimony to.
Quality Matters
Whereas a larger room can be more forgiving, in a smaller space the intelligence of design and quality of material of each element is vital.  Compact shower baths, space-saving back-to-wall baths and scaled-down freestanding baths have the quality and comfort of standard / over-sized counterparts.  Opt for a shower bath that delivers the luxury bathing of a freestander with the versatility of a shower – like those in our Space Collection.  Made out of 100% recyclable lucite acrylic, the Flow, Ebb and Mini Ebb offer a way to maximise space, function and luxury whilst economising in other ways.
Personal Space
With more and more people starting to design their homes and bathrooms for themselves, a demand for more characterful and colourful bathrooms has emerged, creating very personal spaces.  The trend of nature-inspired palettes hone in on warm earth tones and forest colours punctuated by neutrals, greys and whites continue to gain popularity; beautifully suited to softer, more organic fluid forms that baths and basins are taking.  Even the most purist schemes can be characterful with the addition of contemporary finishes – fluted or opaque glass, warm metallic accents or bold colour on fittings, furnishings and styling.
Bathe In Style
Lee finishes, "For those wanting the luxury of a freestanding bath for their ensuite but space prevents it, why not opt for a freestanding bath within the bedroom, with a separate shower in the ensuite. The sculptural form of a beautiful statement bath is often too wonderful to hide away behind doors. As long as you ensure there is adequate ventilation and install splash-proof flooring around the bath, it's a wonderful space-saving fix and seems a natural turn of the wheel to revert siting a bathtub into the intimate setting and comfort of a bedroom."
Space Plus
David Osborne, CEO of shower specialists Roman adds, "The most important consideration for most people is maximising the space in their bathroom – blending accessibility with functionality, whilst being fashionable at the same time. There are so many options now for Shower Enclosures in terms of size, shape and entry point or style, that there will definitely be a perfect solution – research and planning are key.
Perfect Fit
"Don't be afraid to move other objects such as basins or radiators as that is all straightforward as you can't let anything compromise the focus! Start by choosing the door and entry style that suits your space most and then move on to the maximum size you can fit in. There are now so many cleverly designed space saving options that you might be very surprised at what you can actually achieve.
Finishing Touches
David adds, "Once you are settled on style and size, think about glass thickness for the enclosure – and frame colour. The design world is no longer Chrome as there is now a plethora of choice in taps, shower valves and enclosures – Matt Black being particularly on trend. Don't let accessories be an afterthought that spoils your look (and make sure that your shower tray is anti-slip!). Crittall-style and fluted glass shower enclosures are stunning options in adding value and there are plenty of stylish accessories, baskets and shower blades to choose from which make the perfect finishing touches."