SPAM® And Leek Pie
---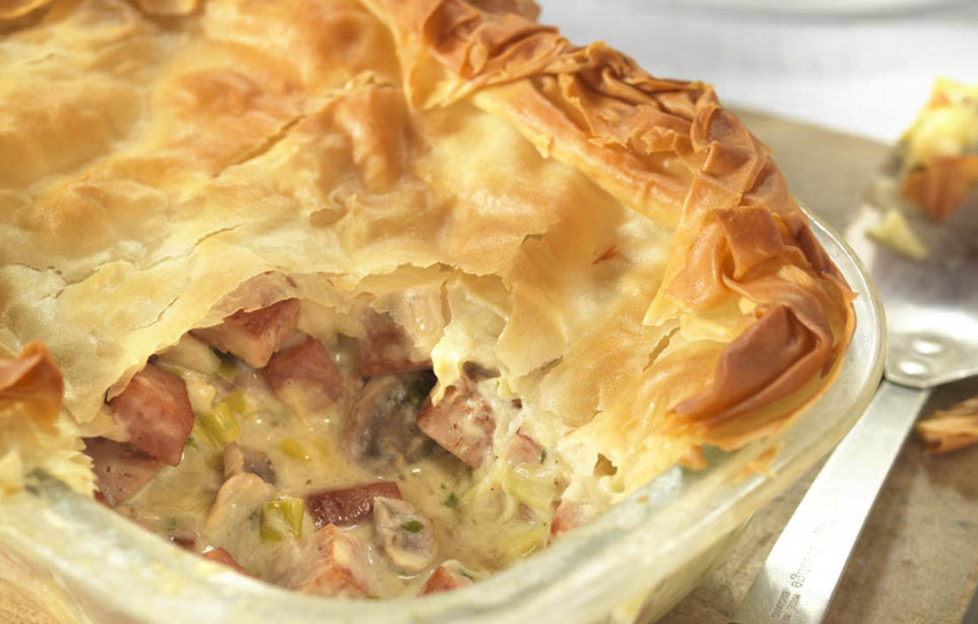 Tasty, comforting and full of vegetables, this is a wonderful family meal celebrating a great staple ingredient! Click here for a chance to win some great SPAM 80th anniversary goodies.
Preparation Time: 15min
Cooking Time: 50min
Serves: 4
Preheat the oven to 190ºC/170ºC Fan.
Heat the butter in a sturdy frying pan and fry the leeks, without colouring for 5min.
Sprinkle over the flour and cook, stirring all the time for a further 2min.
Add the chicken stock gradually, stirring well and bring to a simmer, cook for about 5min until lightly thickened.
Add the mushrooms and the cream cheese and stir until the cheese has melted. Add a dash of water if the sauce is a little thick.
Add the cubed SPAM® Chopped Pork and Ham to the pan with the chopped parsley, stir well into the mixture.
Spoon the mixture into a shallow 1-litre ovenproof pie dish and leave to cool.
Brush the edge of the pie dish with olive oil. Unroll the filo pastry and lay a sheet of pastry over the pie dish.
Brush with olive oil, then repeat with the other two sheets. Scrunch up the overhanging pastry, and fold onto the pie's surface.
Brush with remaining olive oil or a little melted butter and Bake approximately 30-35min until golden.
Serve with green vegetables.