Make The Most Of Your Outdoor Space – Furnish Your Garden!
---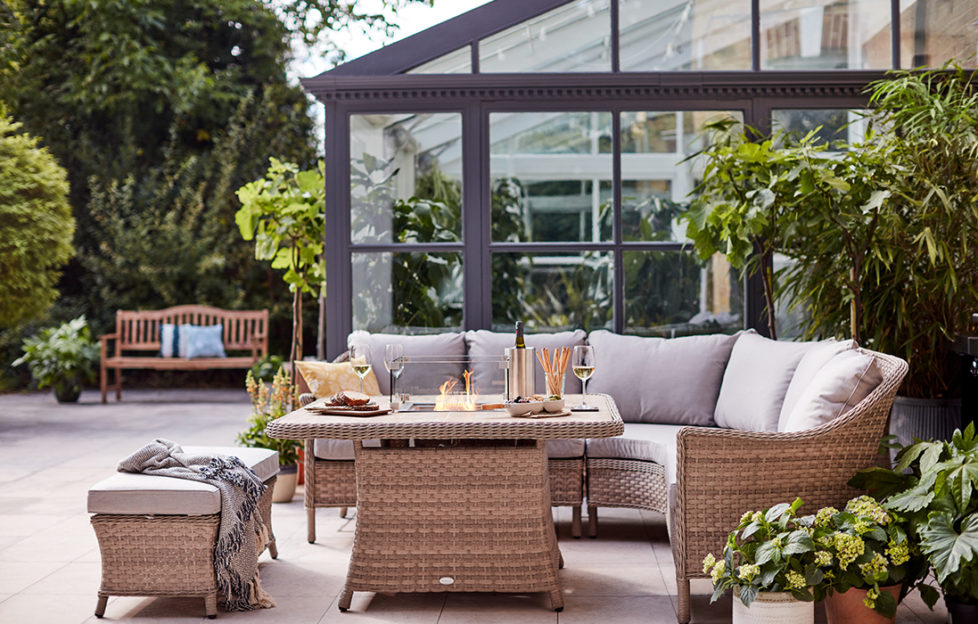 Austin garden firepit set £2,699
With many parts of the UK experiencing a burst of blue skies and sunshine, the recent good weather may have turned your attention to the garden.
Making the most of outdoor space will create another room in your home, whether that's for relaxation, entertaining or eating alfresco.
As we look forward to warmer days, the experts at UK garden centre Dobbies have revealed the key outdoor living trends this spring.
The expert team has curated a collection to help get the most out of your outdoor space. Blurring the lines between indoors and outdoors continues to be big. With four key themes and a smaller capsule collection, each tells a unique story and offers plenty of choice for every garden big and small.
"A practical and stylish space for fun and relaxation"
Lynsey Abbott, outdoor living buyer at Dobbies, commented, "Our vision for Spring/Summer 2021 is all about getting the most from our outdoor spaces, embracing spending time in the garden and creating a practical and stylish space we can enjoy throughout the season.
"We know that one size doesn't fit all, so we have worked hard to ensure there is something for gardens in every shape and size. These range from contemporary laid-back functional dining sets that would look just as good inside as outside your home, to bold bright accessories to add a touch of tropical.
"Whether it's for dining alfresco, hosting weekend barbecues or spending evenings round the firepit, our gardens are a space for fun, relaxation and enjoyment. Dobbies Spring Summer 2021 collection is designed to help get the very best from our garden in the season to come."
The all-new outdoor 2021 themes are:
Country Kitchen Garden
An evergreen look filled with lush leafy foliage, subtle delicate florals and sandy tones. Pair rustic earthy terracotta, an abundance of greenery and calming neutrals. Whether you are an allotment enthusiast, grow your own at home, or are just finding your green fingers, your garden will be transformed into a horticultural haven.
Summer Haze
Laid back, Scandi style with a focus on adaptable designs and sustainable materials including recycled glass lanterns and serveware. Outdoor lighting and firepits are key to add warmth and light, extending the time outside and seamlessly connecting days to summer evenings, moving into autumn with the addition of cosy knit throws and blankets. Furniture materials include rattan, metal and wood with contemporary clean lines in cool greys and simple bare wood.
Global Bazaar
A celebration of colour, with sunshine shades of apricot orange and tropical greenery to create a garden getaway. A craft homespun look, using soft materials, printed tiles and decorative patterns.
Simple Serenity
Balancing a mix of Japanese and Scandinavian design. East meets West, embracing the core design traits of each to create an outdoor oasis of calm, centring on minimalist simplicity. The colour palette for this trend includes a mix of cool grey, bamboo and undertones of anthracite. Disconnect from the digital word with a plug and clutter-free space, enjoying the sense of calm that being in nature can bring.
Kitsch Colour
Filled with colour and fun, this look will quickly add personality to a small space. A few simple accessories will brighten up a bistro set or mix and match contrasting pastel shades for a burst of energetic summer colour.
Trends that have shaped the collections
Garden room
The idea that your outdoor space is another room in your home – 'the fifth room' – runs throughout each of the themes. Blurring the lines between inside and out, whether it is creating a kitchen garden, zen wellness space or acting as an extension to a playroom.
Wellbeing
With many positives, being in the garden can help us to slow down, reduce stress levels and connect with the natural world that is on our very doorstep. Your garden can be a full sensory experience, from the sound of running water, the smell of flowers to the taste of homegrown produce.
Compact living
Foldable, stackable and easy to store away items feature heavily in the 2021 range. Whether you have a balcony, terrace or patio, or just want a few extra seats for bring out for barbecues, good things come in small packages.
Alfresco dining
The warmer months are the perfect time to eat outdoors, with rising demand for pizza ovens and outdoor kitchens, we have ensured that every theme features a range of complementing sets to ensure you are sitting comfortably, from smaller bistros, corner sofas, 6-seater sets and more.
Product trends
• Comforting materials and calming colours – Comfort is key, with new hanging and free-standing egg chair shapes and designs.
• Space saving – Modular flexibility, with sectional sofas and low living furniture to name a few.
• Quirky benches – Giving the traditional wooden bench a makeover with new styles and statement designs.
• Accessories – Just as you would inside your home, the finishing touches of any room are completed with the accessories, from outdoor cushions, parasols and extra singular stacking chairs for extra seating. Accessories are a quick way to tap into trends and refresh an existing look.
All items available in Dobbies stores nationwide and online
There are 6 pages of friendly gardening advice in the new My Weekly Special – flowers to plant to make you happy, a beginner's guide to growing tomatoes and a range of lovely gardens to visit. On sale now, £3.99, or save money with a subscription!