Days Out In The Footsteps of Stars!
---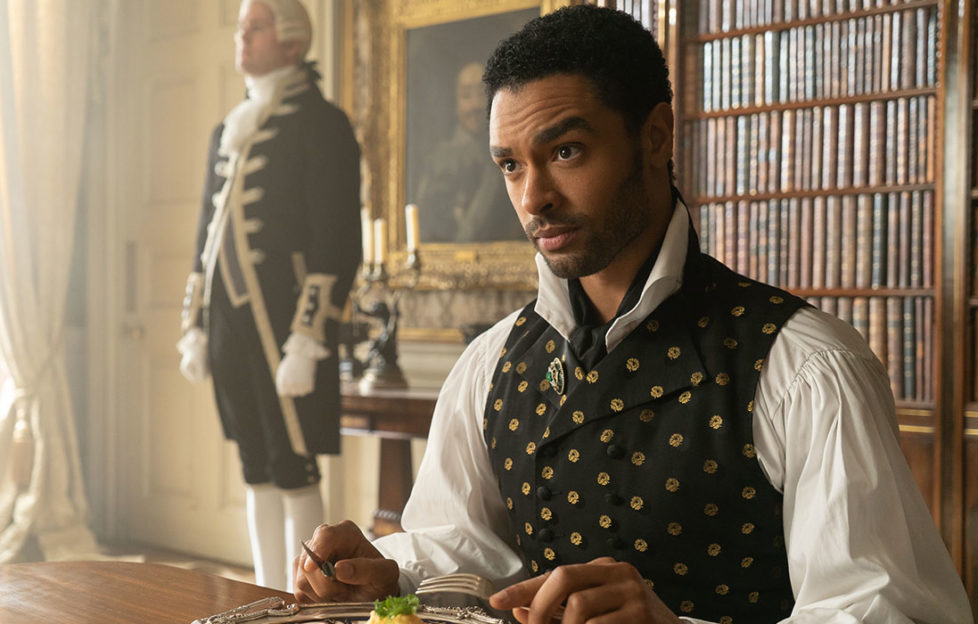 BRIDGERTON, REGÉ-JEAN PAGE as SIMON BASSET in episode 108 of BRIDGERTON Cr. LIAM DANIEL/NETFLIX © 2020
Lockdown has brought a surge in TV viewing, and as well as being entertained by drama and intrigue, our favourite shows have also transported us to beautiful locations all around the UK. When restrictions allow, why not follow in the footsteps of your best-loved TV and film stars and have a day out to remember?
Wonderful days out in 2021!
1. Bridgerton (2020) – Castle Howard, Yorkshire
Bridgerton is officially Netflix's biggest ever series with over 82 million households watching to date. It was partly filmed in Yorkshire, with Castle Howard and Coneysthorpe featuring as Clyvedon Castle and village, the Duke of Hastings' family estate. The first series followed the relationship between Daphne Bridgerton (Phoebe Dynevor) and Simon, the Duke of Hastings (Regé-Jean Page), leaving many longing for Series 2 to begin.
Castle Howard, has been the home of the Carlisle branch of the Howard family for more than 300 years. King Ralph (1991) and Brideshead Revisited (1981 and 2008) were also filmed here. www.castlehoward.co.uk.
2. Harry Potter and the Philosopher's Stone (2001) and Harry Potter and the Chamber of Secrets (2002) – Alnwick Castle, Northumberland
Magical Alnwick Castle in Northumberland, home to the famous Percy family for over 700 years, is the location for Hogwarts School of Witchcraft and Wizardry in the first two Harry Potter films.  The Castle runs daily film location tours, historical tours and fun family activities including broomstick training, medieval craft making, hands-on historical re-enactments and themed Harry Potter weekends. Other films and TV series to have been located here include Transformers (2016), Downton Abbey (Christmas specials 2014 and 2015), The Hollow Crown (2016), Robin Hood Prince of Thieves and many more. Visitor info at alnwickcastle.com.
3. Alice in Wonderland (2010) – Antony House, Cornwall
Film director Tim Burton chose Antony House in Cornwall to shoot his fantasy film, Alice in Wonderland. He was looking for "a perfect, pocket-sized mansion; something beautifully symmetrical, with intimate interiors, wide views and landscaped gardens." Some of the magic from the film is still here, including a larger-than-life caterpillar who sits smoking a hookah pipe on the lawn. Or you can find the 'rabbit hole', which leads to an over-sized garden where you suddenly feel like you've shrunk. After you've done battle over a game of croquet or on a giant chessboard, you can explore the house and also 'Alice's' bedroom – you might recognise it from the film. www.nationaltrust.org.uk/antony
4. Dr Who (2011 and 2014) – Caerphilly Castle, Wales
The magnificent Caerphilly Castle in Wales was built in the 13th century by one of Henry III's most powerful barons. It has appeared in several episodes of Dr Who starring Peter Capaldi. BBC adventure drama Merlin was also located here, and the castle also doubled as a monastery in The Rebel Flesh and The Almost People. cadw.gov.wales/visit/places-to-visit/caerphilly-castle
5. Pride and Prejudice (2005) – Chatsworth House, Derbyshire
In the film of Pride and Prejudice, Chatsworth House in Derbyshire was used as Pemberley, the residence of Mr Darcy. You may recognise the grand staircase and ceiling of the Painted Hall where Lizzie and the Gardiners start their tour of Pemberley. The Sculpture Gallery was used in the scene where Lizzie Bennet sees the bust of Mr Darcy, and his housekeeper describes his many good qualities. www.chatsworth.org/
6. Notting Hill (1999) – Kenwood House, Hampstead Heath, London
Kenwood House in Hampstead Heath in London is set in 74 acres and is easily accessible from the city centre, making it a very popular film location. This wonderful period house was used as the filming set for the fictional Anna (Julia Roberts). Today, the film set can be visited. It's curated by English Heritage, and its picturesque location in Hampstead Heath makes a wonderful day trip from London. Other films and TV series located here include 101 Dalmatians, William and Mary and Mansfield Park. www.english-heritage.org.uk/kenwood
7. The Village (2013 and 2014) – Lyme Park, Cheshire
The Village was a Bafta nominated BBC TV drama set in a Derbyshire village and followed the turbulent lives of the residents across the 20th Century. Part of series two of The Village was filmed at Lyme Park, a National Trust owned country house where staff and volunteers worked alongside the film crew for several weeks.  Well known cast members included John Simm, Maxine Peake, Jim Cartwright, Joe Duttine and a young Phoebe Dynevor (Daphne in Bridgerton). The exterior of the Lyme Park was also used as the exterior of Pemberley, home of Mr. Darcy in the 1995 TV series of Pride and Prejudice. Many will remember the scene where Colin Firth as Darcy emerges from Lyme Park's lake in a dripping white shirt. www.nationaltrust.org.uk/lyme
8. Downton Abbey (2010-2015) – Highclere Castle, Hampshire
Highclere Castle is a splendid, stately home in Hampshire, owned by the earls of Carnarvon. The castle has more than 200 rooms and stands within 1,060 acres. It gained worldwide fame as the setting for the television series and film of Downton Abbey. The last episode was seen by over 180 million people! You can visit and relive every scene: glide down the grand oak staircase like Lady Mary did on her wedding day, sit at Jackdaws Castle where Lady Edith so often found herself, and take in the magnificent state dining room. The Castle offers general admission days, guided tour days and special events throughout 2021. Find out more at highclerecastle.co.uk.
9. Macbeth (2015 and 1971) – Bamburgh Castle, Northumberland
Bamburgh Castle featured in the 1971 and 2015 films of Macbeth and is a hugely imposing fortress sitting on a high cliff on the northerly coast of Northumberland overlooking the vast sands of Bamburgh beach and the North Sea coast. Other films located here include: The BFG (2016), Elizabeth (1998), Transformers: The Last Knight, Robin of Sherwood (1984-1986), Mary Queen of Scots (1971) and Ivanhoe (1982). Visitor information at www.bamburghcastle.com.
10. Game of Thrones (2011) – Doune Castle, Scotland
A variety of locations have been used to create Winterfell in Game of Thrones, but Doune Castle in the village of Doune, Stirling was the first. The Scottish castle was used for exterior shots and the great feast held when Robert Baratheon arrived in the pilot episode. It is probably one of Scotland's most well-known film locations, appearing in Monty Python and the Holy Grail (1975), Outlander (2009) and Ivanhoe (1952 and 1996). In the Monty Python film, Doune Castle stood in for nearly every different castle featured in the film so was filmed from many different angles, both inside and out.  The exterior supplies the walls of Guy de Loimbard's castle, from which the knights are taunted by the French guard and the interior was "Castle Anthrax" where Sir Galahad (Michael Palin) is rescued from Zoot.  www.historicenvironment.scot/visit-a-place/places/doune-castle/
11. Wolf Hall (2015) – Montacute House in Somerset
Montacute House is described as "a masterpiece of Elizabethan Renaissance architecture and design, with towering walls of glass, glowing ham stone and surrounding garden." This house was extensively used in the BBC's adaptation of Wolf Hall, Hilary Mantel's award-winning historical novel, starring as Greenwich Palace, the main London residence of Henry VIII (Damian Lewis) and the site of Anne Boleyn's arrest.  The grounds of Montacute House were used for Henry's jousting sequences. Montacute House has previously been seen in major films The Libertine (2004) and Sense and Sensibility (1995). www.nationaltrust.org.uk/montacute-house
12. Killing Eve (2020) – Syon Park, London
Can you spot London's Syon Park in Killing Eve? For over 50 years,  Syon House and Gardens in West London have featured in an array of films and television programmes. The unique historic buildings and interiors, landscaped gardens and parkland have set the scenes for popular recent films such as Killing Eve and Bridgerton (2020), as well as Belgravia (2020), Vanity Fair (2018) Harlots (series 3, 2019) and Disney's Maleficent (2014). www.syonpark.co.uk
13. The Madness of King George (1994) – Arundel Castle
Arundel Castle is a restored and remodelled medieval castle in Arundel, West Sussex. It was established by Roger de Montgomery on Christmas Day 1067. The castle was damaged in the English Civil War and then restored in the 18th and 19th centuries. Arundel Castle doubled for Windsor Castle in the 1994 film The Madness of King George and was also a location for the 2009 film The Young Victoria. The BBC filmed extensively at the castle and its grounds in 1988 for the Dr Who serial Silver Nemesis, where it doubled for Windsor Castle. More recently it has been the location for the film Wonder Woman (2017). www.arundelcastle.org/
14. The Imitation Game (2014) – Bletchley Park
Bletchley Park is an English country house and estate in Milton Keynes that became the principal centre of Allied code-breaking during the Second World War. Bletchley is now a popular heritage attraction and museum as well as the location for several well-known films and documentaries. The Imitation Game, Oscar winning film starring Benedict Cumberbatch and Keira Knightley as Second World War codebreakers, was filmed partly on location here. The interior of the real Bletchley Park is seen during the bar scenes, filmed in the house's ballroom. Props and costumes used in the film can be seen here. bletchleypark.org.uk/
15. Bond Favourites Golden Eye (1995) and Tomorrow Never Dies (1997) – Somerset House, London
The imposing square of Somerset House on the Strand, London is used to portray a square in St Petersburg in the film Goldeneye (1995). The spectacular neo-classical building, surrounding a vast courtyard tucked away between the Strand and the River Thames, used to function as the registry of births, marriages and deaths. Somerset House later became the 'Ministry of Defence' in Tomorrow Never Dies (1997) and can also be seen in Sleepy Hollow (1999) as turn-of-the-century 'Manhattan', as the exterior of 'Devonshire House' in historical biopic The Duchess (2008) with Keira Knightley and as 'Buckingham Palace' in King Ralph (1991). More information at www.somersethouse.org.uk.