Mary's Meals Now Feeding Over 1.8 Million Children Daily!
---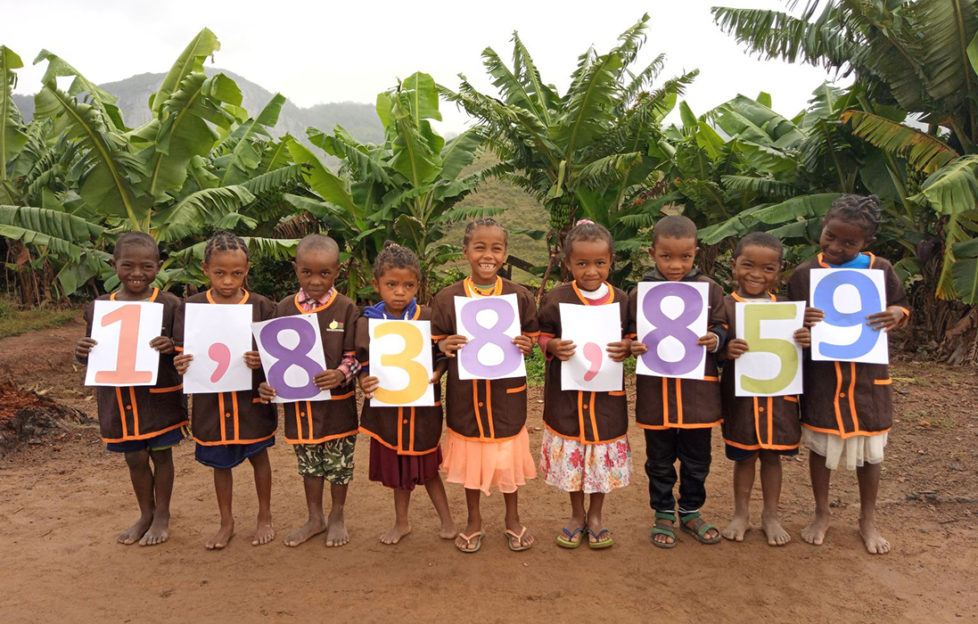 Children from Ankarinomby Primary School in Madagascar celebrate Mary's Meals feeding 1.8 million children
Mary's Meals, the global school feeding programme, is well known to My Weekly readers through our yearly Helping Hand Appeals. We're thrilled to announce that our charity partner is now feeding over 1.8 million of the world's most deprived children, from Zambia to Romania and beyond…
Despite the challenges of the pandemic, Mary's Meals is now providing life-changing meals to more than 1.8 million children every school day through its global school feeding programme.
It all started back in 2002 in a small shed in Argyll, Scotland, when Mary's Meals began by providing meals to 200 children in Malawi. Today, it is feeding 1,838,859 children in 19 countries across the world – including Zambia, Ethiopia and Madagascar.
Not only has Mary's Meals kept its promise to all the children already receiving its nutritious meals despite Covid-19 lockdown restrictions, it has also welcomed 171,792 new children since the beginning of 2020.
Over the past year the charity has expanded to reach more than 50,000 additional children in Zambia. It has also added more than 6,900 vulnerable children to its programme in Turkana (northern Kenya), doubled the number of children receiving Mary's Meals in Madagascar and launched new partnership programmes in Niger, Zimbabwe and Malawi.
Mary's Meals is a lifeline to so many…
Bringing hope to some of world's poorest regions, the charity works alongside local communities and is supported by an army of volunteers worldwide (including more than 80,000 in Malawi alone). Today, 59 million children miss school because of poverty – instead of sitting in a classroom, they are working in fields, begging on street corners, or scavenging among the garbage just to survive.
Millions more attend school so hungry that they are not able to concentrate and learn. Mary's Meals attracts children into the classroom with the certainty of a daily meal, where they receive an education that can, in the future, be their ladder out of poverty.
When Covid-19 hit in early 2020 and schools began to close around the world, the charity started distributing food in communities for the children who rely on its daily meals to eat at home. Some schools have since re-opened in the countries where Mary's Meals works and the charity is now safely reaching 1.8 million children every school day, whether at school or at home.
Daniel Adams, executive director of Mary's Meals, said,
The expansion of our programmes, especially during a year of considerable difficulties for us all, are a real testament to the determination and dedication of our teams, volunteers, partners and supporters, who keep striving to provide hungry children with a daily meal in their place of education, whether that's at school or at home.
"This year continues to bring its own challenges, including the ongoing uncertainty created by Covid-19 in the countries in which we work and the brutal conflict in Ethiopia, which has driven many people from their homes and has drastically increased hunger levels. There are so many children still waiting for Mary's Meals around the world but we are confident in the innate goodness of all those who are part of this movement and whose efforts bring us closer to a day when all children have enough to eat and can go to school."
With the charity's low-cost approach, a donation of just £15.90 will feed a child with Mary's Meals for a whole school year.
Double The Love
We are delighted that Mary's Meals is reaching more than 94,000 hungry children in Zambia thanks to the incredible support shown to a previous UK government campaign.
My Weekly gave it's backing to the charity's Double The Love campaign in 2018 which saw public donations matched by the UK government, up to £2 million, helping it to reach hungry children in the Eastern Province of the African country. In total, across the country, 191,434 children now receive Mary's Meals.
Veronica, 14, attends Mkanire Primary School, one of the schools receiving Mary's Meals. She said,
The porridge helps me a lot. Sometimes, I leave home without eating and it motivates me to come to school knowing that I will be fed.
For more information visit marysmeals.org.uk.