Author Libby Page Talks Lockdown and Community….
---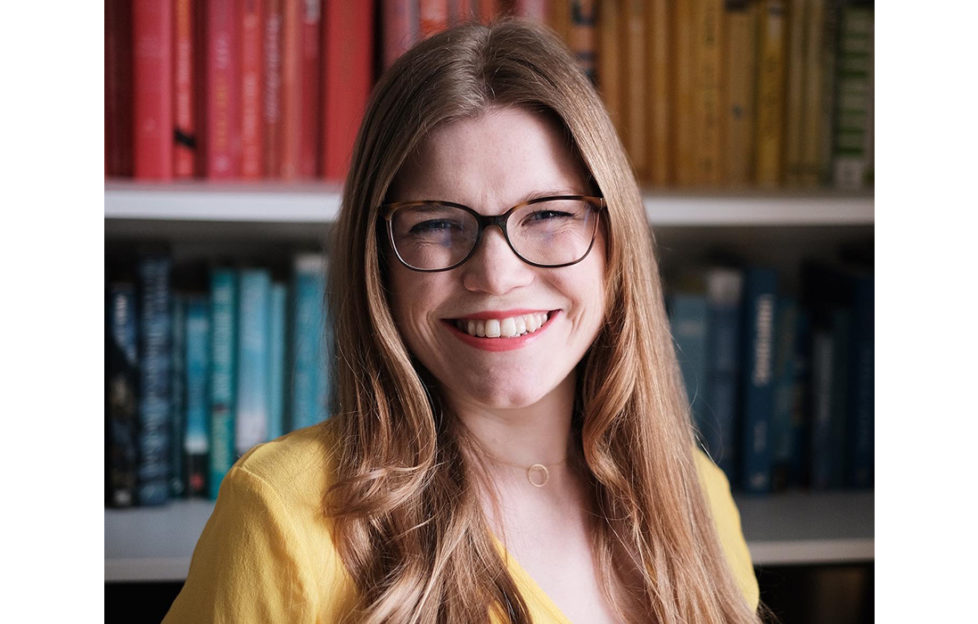 Author Libby Page
Fiction Editor Claire Gill meets author Libby Page to find out more about her forthcoming book, The Island Home
Some authors you know very little about, others you feel like you could have a cuppa with them and chat like an old friend. Libby Page is the later.
Her social media offers an interesting life, one filled with cuteness, open water swimming (of which she sneaks into her latest novel) and above all warmth. Libby shows off the nooks and crannies of London life, the inspiring local delis, the retro coffee shops, infinity with nature. Libby oozes style and individuality but it's her warmth that really captivates.
Speaking virtually about her recent book The Island Home, Libby talks of how she draws parallels from her life to her writing. Billed as "going on holiday in a book", she lapped up the change of scenery from London lockdown to the remote Scottish island.  It's a story about finding where you truly belong, set on the Isle of Kip, a Scottish island of Libby's imagination, "where puffins nest on the cliffs and where a small community live their lives surrounded by the sea." Centered around Lorna and her daughter Ella, they leave London to return to the island where Lorna grew up. A story of friendship, community and above all connection. The fictitious setting provides the perfect backdrop.
I've always been fascinated by islands, since I was younger, reading Why The Whales Came by Michael Morpurgo. Islands can be a lot more extreme, it's interesting how the community works when they are so cut off from the mainland.
To research her book pre-lockdown, both Libby and her husband hot footed it up to the Isle of Egg in the Hebrides. Despite the January rain, of which she proclaims, "It was rain like you've never seen before",  she fell in love with the rugged landscape. "It's such a beautiful place, you get a sense of how life is here, the bonds they share, for example a child's birthday is a celebration of the whole island!"
A sense of community
It's this sense of community that has always resonated in her books. While The Island Home had already been written and she was just editing when lockdown started, "a good distraction to have Kip to go to in my mind", Libby says the pandemic has helped her realise that "a little interaction, can bring so much into the lives of others, if you make an effort and see what your community has to offer. There is ultimately that feeling of connection, as humans we crave it – to feel a broad support system around us".
In a juxtaposition that an isolated island is anything but.
"I wanted to flip the idea on its head that while the city is busier than the island, despite its size, the isle does not feel isolated. A big community even though it's small due to their strong connections to each other."
There is also a sense of home in The Island Home, a topic that has played heavily on Libby's mind. She is soon to move from the city back to her childhood rural village. "While I've lived in London for ten years and it did feel like home, it's OK to change what feels like home. I hope that this sense of belonging there, what the idea of home is, resonates with the reader in The Island Home."
The move ties in with the fact that she is soon to be a mother herself, a summer baby is on the way and motherhood is something that Libby has bought to her writing.
Bringing the idea of motherhood to my story was a conscious decision, in my writing there is no clear separation between how I am. It's how I express myself. All novels are fictional but real emotions seep in. I want to readers to feel it's real, the emotions I have felt even if in a different context.
Lockdown she says has made things a challenge. While she admits writers work on their own, they seek inspiration from the world. "I'd normally be out and about," muses Libby, "all of that stuff is important to provide inspiration." For her fourth book (which she is currently writing), Libby has had to be inventive, using google maps to explore towns and cities she's never been to before.  "Funnily enough, the challenges have been a joy and researching using google maps feels like you are there – it's like going on holiday."
Talking of holidays, Libby is a strong advocate of holidaying in the UK, believing that sometimes you don't need to go so far to have a good time and revels in her memories of UK based holidays such as her family's trip to Devon. "I've had the best times on British holidays, you can have just as good time as abroad, what's more romantic than a sleeper train to Scotland? UK holidays offer a sense of adventure like no others."
For now Libby is concentrating on finishing book four and getting ready for the move and motherhood. She still has times for those pinch yourself moments, seeing herself as the kind of author who is "a reader first and foremost", she took delight in filling in her Census with the word "Author". In between lockdown restrictions she has also enjoyed seeing her books up close and personal, revealing a penchant for "stroking her books" when she sees them on the shelves of bookshops – apparently common amongst the author circles. Why indeed not?
Libby Page, has crafted a wonderful career to date, having managed to yet again write another beautiful story – for Fiction Ed Claire – her best yet. Ultimately, if you want a holiday in a book then this is the one for you. A novel that will wrap you in its covers and make you feel supported.  Libby's warmth emulates the pages – an escapism of the very best.
---

The Island Home by Libby Page, Orion, HB, £12.99 is out June 24.