10th Anniversary of World Book Night!
---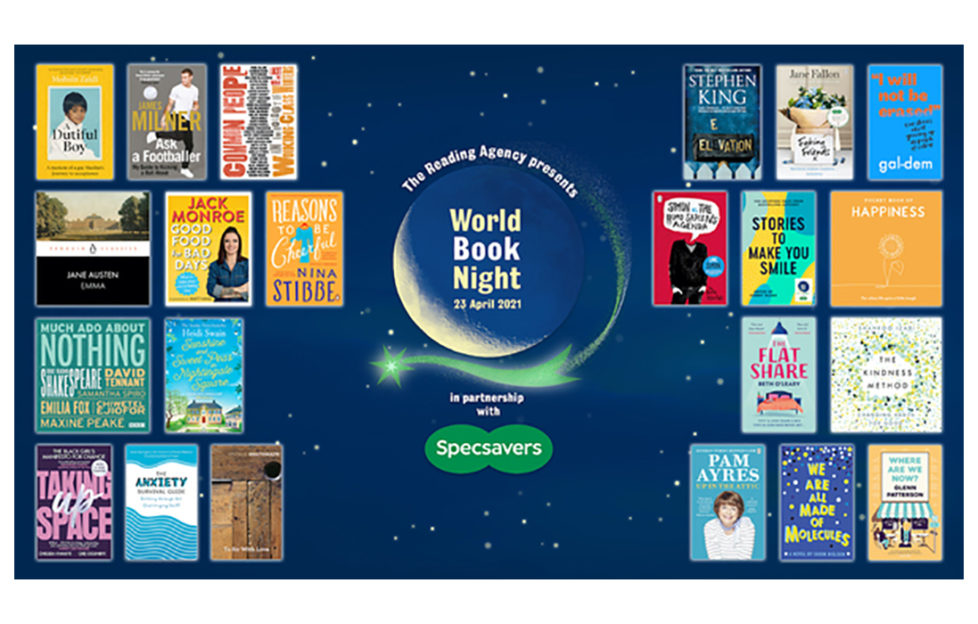 Sandi Toksvig is revealed as the lead ambassador for World Book Night on April 23, with giveaways, virtual events and exclusive releases to mark the event's 10th anniversary!
The Reading Agency, in partnership with Specsavers, has announced that writer, comedian, TV personality and literacy advocate Sandi Toksvig will be the lead ambassador for World Book Night 2021.
This annual celebration of reading will take place on Friday April 23, 2021, with this year's theme, "Books To Make You Smile" a fitting response to the impact of Covid-19 on mental health, highlighting the proven power of reading and the benefits it brings to wellbeing. This also coincides with the launch of Stories to Make You Smile – a new collection of short stories compiled by The Reading Agency together with Specsavers.
To mark its 10th anniversary, World Book Night will be hosting a number of virtual events, book giveaways, online activities, exclusive releases and promotions, calling for the whole nation to celebrate reading for pleasure. Over the last ten years, The Reading Agency has distributed over 2,800,000 books to help spread the joy of reading, with 245 titles by 205 authors distributed by over 90,000 volunteers and organisations across the UK. As lockdown gradually eases, The Reading Agency encourages everyone to share the pleasure of reading whether virtually or safely in person.
On the night…
Celebrations on World Book Night itself will be marked by a livestreamed event in partnership with The British Library, hosted by World Book Night Ambassador Sandi Toksvig and featuring best-selling authors David Nicholls and Bolu Babalola, and World Book Night founder and Canongate CEO Jamie Byng (8-9pm).
Prior to the event, The Reading Agency is inviting the whole nation to join the #ReadingHour (7-8pm), when everyone is encouraged to spend time with a good book, alone or with others, reading in any format they want, wherever they like.
Sandi Toksvig, World Book Night 2021 Ambassador, said, "I am so excited to be the lead ambassador for The Reading Agency's World Book Night 2021 campaign, bringing the nation together to celebrate the power of books and reading on Friday 23rd April.
This year marks the campaign's 10th anniversary, and it feels more important than ever to celebrate the power of reading to inspire, entertain and challenge. We all could do with some light relief from reality which is why this year's theme "Books to Make You Smile" is so perfect.
"It's great to have the support of Specsavers on this vital campaign, who have teamed up with The Reading Agency as they pursue their mission to improve lives through reading."
Stories To Make You Smile
As well as online activities, The Reading Agency has commissioned a new collection of short stories exclusively for World Book Night 2021, Stories to Make You Smile (published by Simon & Schuster). The commissioned book is edited by writer, former Costa Book Award judge and Quick Reads editor Fanny Blake, and featuring contributions from high-profile comedians and authors Richard Madeley, Jenny Éclair, Helen Lederer, Mark Watson, Eva Verde, Vaseem Khan and more.
Now available for pre-order in various formats, Stories to Make You Smile will be released on World Book Night, with 3,000 copies of the book being given out to customers through Specsavers competitions and giveaways, a free e-book version available to download on the day, and the audiobook narrated by Hugh Bonneville (Downton Abbey, Notting Hill), Adjoa Andoh (Bridgerton, Doctor Who) and Samantha Bond (Downton Abbey, James Bond) available for pre-order now ahead of release on World Book Night.
Giveaways
On World Book Night, The Reading Agency will be giving away 100,000 books in various formats – twice as many as last year. The Reading Agency's mission is to spread the joy of reading to those who don't regularly read for pleasure or have access to books, by distributing books to organisations such as prisons, hospitals, food banks, youth centres, care homes and mental health groups. Organisations receiving books this year include UNISON, Citizens Advice, Women's Aid, Sanctuary Housing, Home-Start and many more. With a focus on well-being and mental health, the 2021 WBN booklist features Pam Ayres, Stephen King, Jack Monroe, Nina Stibbe, Jane Fallon, gal-dem, Kit de Waal, and many more. In addition to the booklist, The Reading Agency and Canongate will be distributing 10,000 copies of The Midnight Library, by international best-selling author and mental health advocate Matt Haig, to 10 library authorities.
Author Stephen King said,
I'm very pleased that Elevation has been chosen for World Book Night. It's one of my favourites, probably because it suggests that good people can still bridge the divide between differing points of view and find a path to acceptance.
Follow the latest developments on social:
#WorldBookNight
#ReadingHour
#BooksToMakeYouSmile