Purple Power! Why Your Garden Needs Lavender
---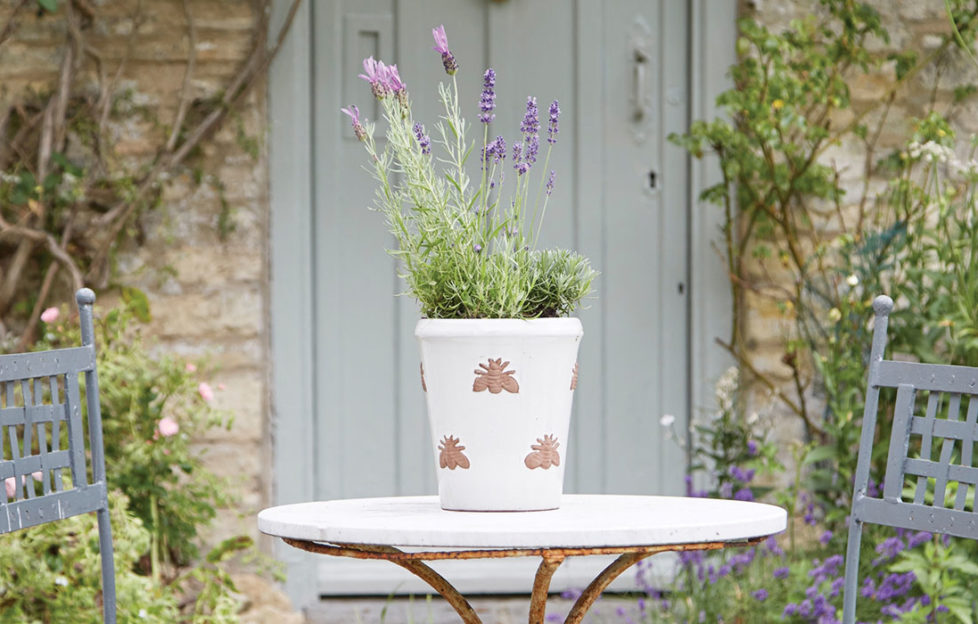 Bumble white pot from £9.99 (excluding plants)
Every garden smells better with lavender. This evergreen shrub brings long-lasting colour and scent in summer, and attracts bees and butterflies in droves.
There are two main types of lavender – English lavenders (Lavandula angustifolia) which are hardy and have slim, dense flower spikes; and French lavenders (Lavandula stoechas) which have 'tufts' of feathery petals on each flower stem. Whether you prefer the English or French varieties, lavender is very easy to grow and performs best in full sun, flowering from June through to September.
"Lavender has always been an essential garden plant in my garden for its scent and colour, as well as its magnetism for bees. I am not alone. It is one of our most sought-after plants and was in high demand in 2020. We expect it to be just as popular this year. We have many different varieties to choose from. Look out for the deep indigo of 'Loddon Blue' to the mauve-blue blooms of 'Munstead' and the dusky pale-pink flowers of 'Loddon Pink'," commented Sarah Squire, Chairman of Squire's Garden Centres.
Lavender can be grown in so many ways. It looks fantastic with roses in a cottage-style garden, it makes a pretty low hedge, or it can be combined with other drought-tolerant Mediterranean plants like rosemary, euphorbia and sedum in a modern gravel garden. It will grow happily in a sunny pot or border and needs very little water. Better still, insects love the tiny pollen-rich blooms.
Lavender is not only good in the garden – it has many other uses too. It can be used to flavour food and drink, make cosmetic products, used medicinally to help soothe and heal, or simply put around the home to give a beautiful fragrance. It really is a must-have plant.
10 Reasons Why Lavender Is A Must-have Plant
1 Beautiful – it looks gorgeous and flowers from June to September
2 Stunning scent – which is believed to promote relaxation, calmness and wellness
3 Easy to grow – needs very little water and is happy in a pot or border
4 Good for bees and butterflies – they love its pollen rich blooms
5 Works well with other plants – looks good on its own or with roses and Mediterranean plants
6 Repels bugs – it can keep mosquitoes and flies at bay and can even repel fleas and ticks, making it great to have in the garden if you own pets
7 Culinary uses – infuse flower heads to make scented tea, sprinkle petals over summer desserts or make lavender lemonade
8 Cosmetic uses – lavender is great in bath and body products such as soap, bath salts and scrubs, or add fresh lavender to a bowl of warm water and pop your face over it for a minute or two to open the pores and brighten dull skin
9 Medicinal uses – the calming scent of lavender relaxes the mind and can help headaches and aid sleep, plus its antiseptic and anti-inflammatory properties can soothe itching and irritation and help heal burns and bites
10 Fragrance your home – put lavender flowers in a vase, make lavender candles, add it to potpourri or put sachets of lavender in your wardrobe to fragrance your clothes
You can buy lavender plants online for local delivery at www.squiresgardencentres.co.uk or head to your local Squire's garden centre where there are strict social distancing measures in place. Buy 2 get 3rd free on any 2 litre lavender pot (£10.99 each) until 30th April 2021. Delivery within a 5-7 mile radius of a Squire's garden centre. Minimum online spend £25. £5 fixed delivery charge.