Fruity Rhubarb Fool With Lizi's Digestive Health Granola
---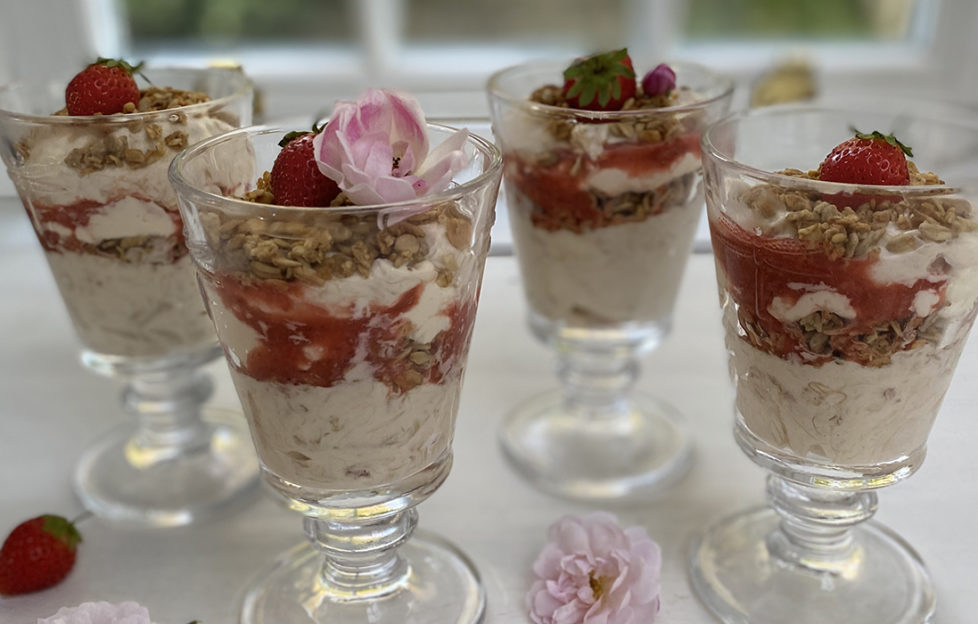 Nothing says springtime quite like rhubarb, and Lizi's has the perfect twist on the nostalgic British dessert – the rhubarb fool.
Transformed into show-stopping knickerbocker glories, the pretty layers of pink rhubarb fool, crumbly golden granola, scarlet strawberry compote and vanilla-scented cream are perfect for a light dessert after an alfresco lunch, or to serve at a barbecue.
Preparation Time: 20min
Cooking Time: 10min
Makes: 4 large/6 standard sundaes
Chop the leaves and ends off the rhubarb stalks and discard. Cut the stalks into small pieces.
Place the rhubarb, orange juice and sugar into a pan on a medium heat and bring to the boil. Simmer until soft and completely cooked.
Remove from the heat and strain the rhubarb through a sieve, collecting the syrup in a bowl underneath. Place the strained rhubarb in a bowl to one side to cool.
Chop up the strawberries. Pour the syrup back into the pan and add in the chopped strawberries.
Bubble together the syrup and strawberries to make a simple compote on a medium heat for around 5min.
Remove the strawberry compote from the heat. Use a fork to roughly crush the strawberries and then put to one side to cool.
Whisk the cream, icing sugar, vanilla and crème fraiche together with an electric hand whisk until softly peaked.
Fold two-thirds of the whipped cream mixture into the cooled rhubarb.
Take four glasses and spoon a layer of the rhubarb fool into each one. Layer with Lizi's Digestive Health Granola, a few spoonfuls of the strawberry compote and repeat until the glasses are almost full.
Decorate with the whole strawberries and a sprinkle of the granola. Enjoy!
Lizi's Digestive Health Granola, RRP £3.70 for 350g, is available from Sainsbury's.