One-pot Spring Veg Pasta
---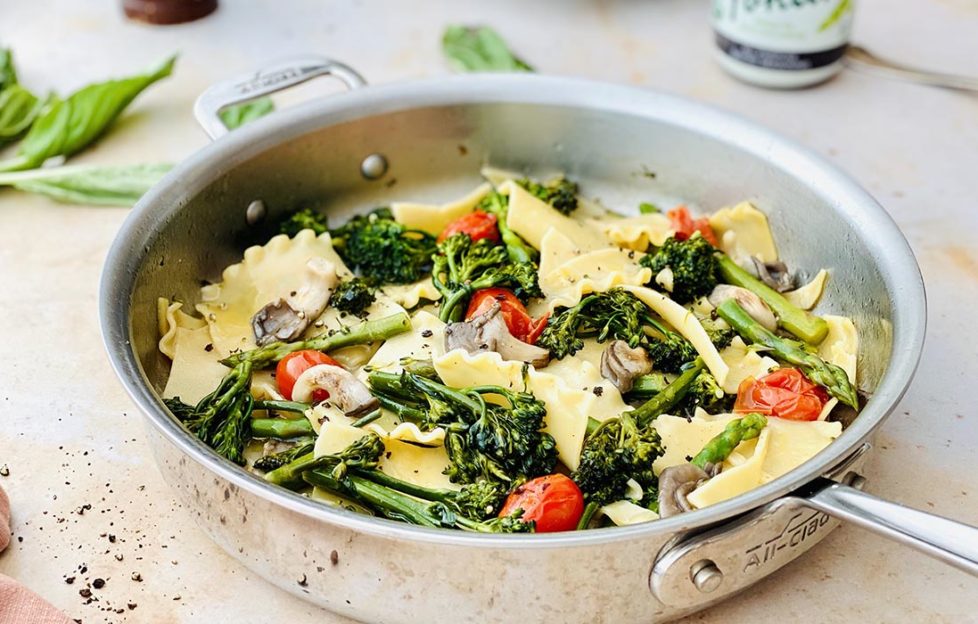 An effortless one-pot wonder that's bursting with the fresh flavours of spring…
Serves: 2
Cooking time: 20min
In a skillet over medium-high heat combine olive oil, mushrooms and tomatoes. Stir-fry for about 3min until mushrooms are lightly browned and tomatoes start to shrink.
Add water, coconut milk and Yondu (Yondu is a plant based seasoning to replace stock/broth, available from Amazon). Once boiling, add lasagna sheets by breaking them into large pieces with your hands. Then add broccoli and asparagus and simmer for 15min. Stir every few minutes to make sure pasta cooks evenly.
Once pasta is cooked, turn off the heat and let rest for a few minutes. Before serving, stir well and add freshly crushed black pepper on top.
Chef's tips: This recipe also works great with spaghetti or penne. You can also add spinach, spring onions or green peas if you want. For a non-vegan version, substitute the coconut milk for heavy cream.