Melissa Hemsley Showstopper Mushroom Galette
---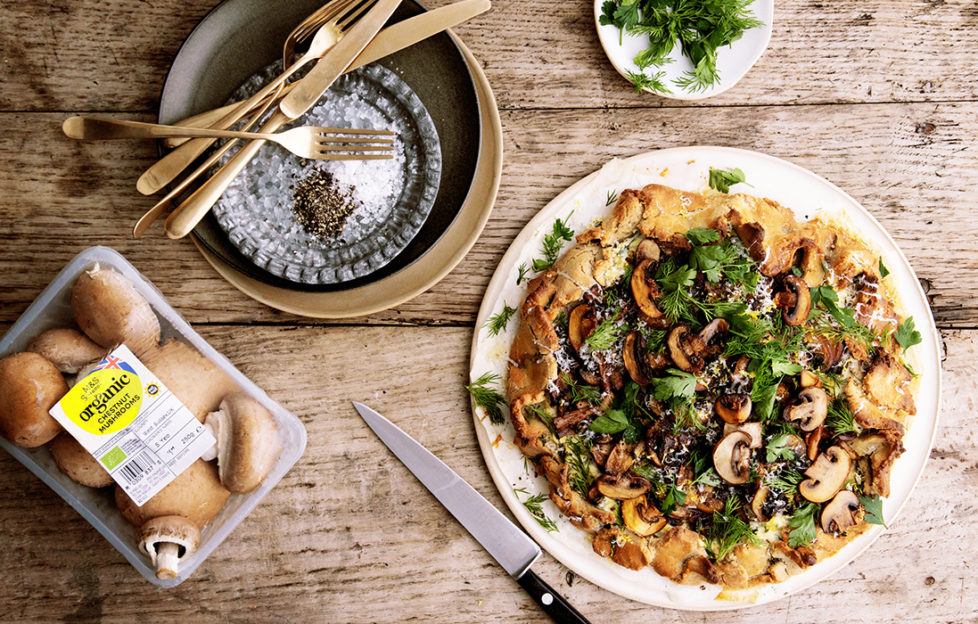 Credit: UK and Ireland Mushroom Producers in partnership with Melissa Hemsley
Best-selling cookbook author, Fairtrade and sustainability champion, Melissa Hemsley, has created this delectable spring dish that consists of a flat, buttery round pastry topped with creamy ricotta, meaty British & Irish Chestnut mushrooms and finished off with grated lemon zest. Sounds delicious, doesn't it?
Serves: 4
Preparation time: keep aside 15min freezing time for pastry prep, and 30min cooling time
Cooking time: 40mins
For the pastry, in a food processor, pulse the cold diced butter with flour and salt for a few seconds until it resembles a bread crumb mixture. Add herbs and seasoning.  Add the beaten egg and then the ice-cold water 1 tablespoon at a time pulsing until it just comes together in a ball.  Remove and pat down into a thick pancake, wrap in reusable baking paper and place in the freezer for 15min.  OR you could do this step in advance and leave in the fridge for 30min or more.
Meanwhile in a small bowl, mix the ricotta with 1 grated garlic clove, half the herbs and half the grated cheese and the lemon zest and season to taste with some salt and pepper.
Preheat the oven and a baking tray to 180°C.  In a large frying pan, melt the butter and add the olive oil and fry the finely chopped shallot for 8min, stirring from time to time.
Add the mushrooms and let fry for 5min.  Add the remaining garlic, season with salt and pepper, stir and let fry for another few minutes until the mushrooms are tender then take off the heat and check the seasoning.
Roll the chilled pastry out between 2 pieces of floured reusable baking paper to 5mm rotating regularly to ensure the pastry is in an event circle. Spoon the ricotta mixture in the middle of the circle and spread it out, leaving a 5cm border.
Evenly place mushroom mix on top of the ricotta mix, then fold in the border of the remaining pastry to form the galette. Patch up any bits that might need patching up, then beat the egg in a bowl and brush all over the pastry with the beaten egg using a brush or your finger.
Bake for 25min until the pastry is golden.  Let cool on the tray for 10min and then carefully move to a wire rack to cool for another 20min. Finish by sprinkling over the rest of the herbs and the rest of the cheese.