Proper Properoni Risotto
---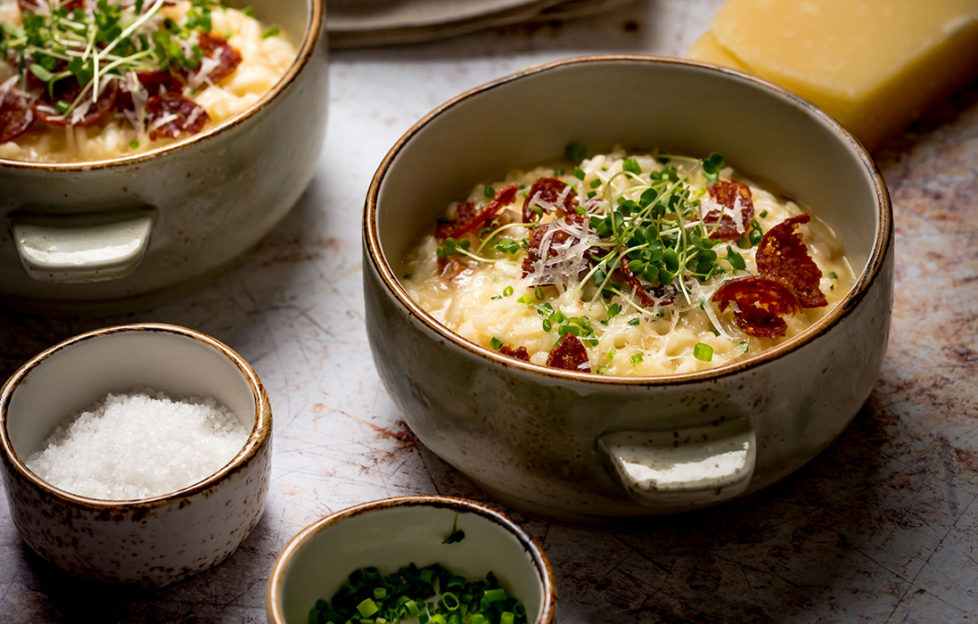 Estom, suppliers of the finest pepperoni to the UK's leading pizza restaurants since 1968, has launched Properoni® – pepperoni made properly.
Available in 'Original' and 'Hot Paprika' flavours, the award-winning taste stems from the quality of its ingredients and time-honoured production processes. No preservatives are used and Properoni® is free of nitrites, nitrates and additives.
Add to pasta, stews, risottos, salads, sandwiches and more. Properoni® can be enjoyed straight from the pack, as a snack or on a charcuterie board. Available from Amazon Fresh, Properoni.co.uk and speciality retailers.
Preparation Time: 10min
Cooking Time: 30min
Serves 4
In a medium-sized pot add 50g butter add Properoni. Fry for 2min, then add shallots and garlic fry for 4min.
Stir the rice in and fry for 2min, until the rice is heated up. Add 100ml white wine. Wait until it fully evaporates. (If you do not use wine, you can skip this part.)
Add half of the stock and cook on medium-high heat for 17-20min, until rice is fully cooked, but still al dente.
Add the rest of the stock, 1 ladle at a time until it's absorbed by the rice. (If you run out of stock, you can add water.)
Add chives, butter and Parmesan. Stir them in with a spatula until the cheese and the butter dissolve to a creamy consistency. Check for seasoning and add freshly ground pepper
Crown the risotto with the Micro herbs, season it with a dash of olive oil, salt and pepper, and serve.