Cherry Tomato Basil Salad & Balsamic Panela Sugar Dressing
---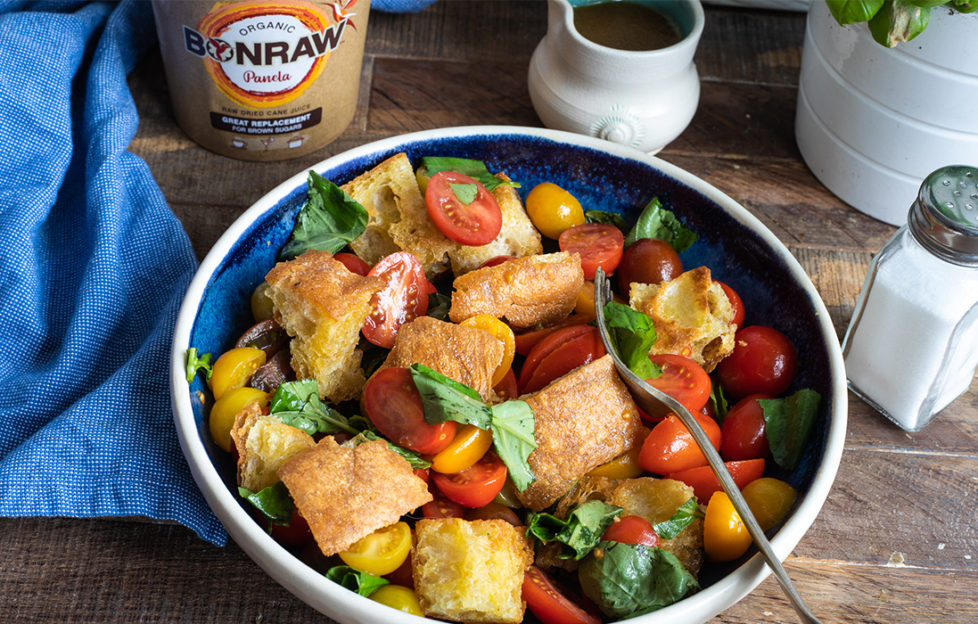 This mouthwatering lunch has a tangy sweetness thanks to the Panela cane syrup sugar and balsamic vinegar.
Vegan-friendly, versatile and better for the environment and you, BONRAW™ Silverbirch, Panela and Coconut Blossom sugars are  available in Amazon, Booths, Holland & Barrett, John Lewis, Waitrose and Whole Foods Market in fully recyclable 225g tubs. Hop over to our competition pages for a chance to win some of each to try!
Into a mixing jar, pour the olive oil, balsamic vinegar, panela sugar, salt and whole garlic clove. Put on the lid, shake vigorously and leave to one side.
In a frying pan, add the garlic clove and a little olive oil and then the ciabatta. Gently fry for 5min making sure they are nice and crispy. Take off the heat and put to one side.
Chop the tomatoes in half, roughly tear the basil and place in a bowl. Add the ciabatta croutons and then  drizzle over the dressing before giving it a good mix.