10 Reasons To Staycation In Edinburgh
---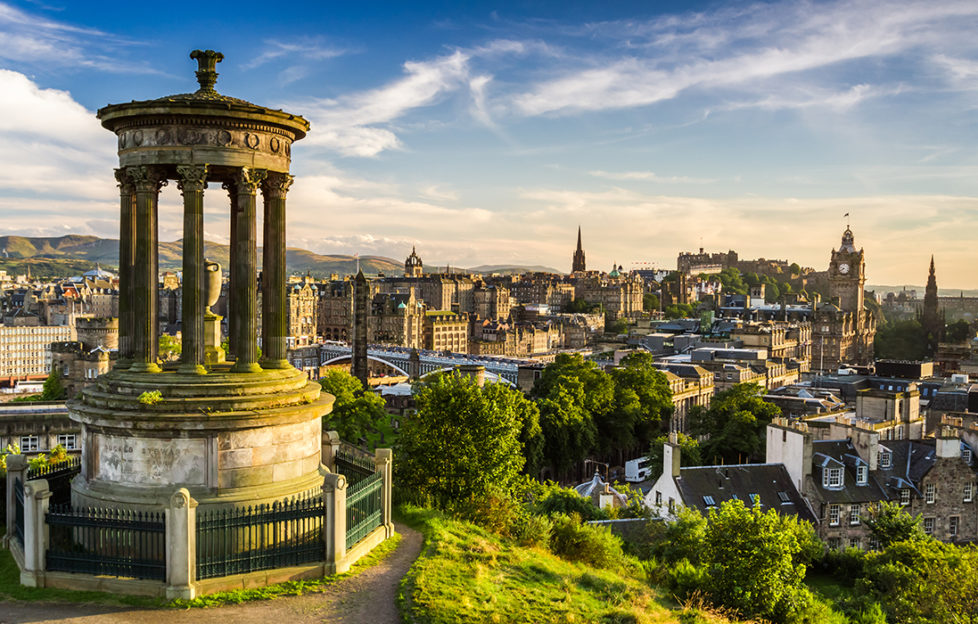 Pic: Shutterstock
As we all know, international travel is a little tricky right now. Fortunately the UK boasts wonderful holiday destinations that make for perfect staycations – and help you save a few pennies too!
Edinburgh, the exquisite capital city of Scotland, is a great place to start. Here are 10 reasons to visit.
1) It's a walker's paradise
If a hiking trip is what you wish for, Edinburgh has you more than covered. It is regarded by many as one of the best places in the UK to explore on foot.
There are a number of walking tours on offer which are great for discovering the city, including the mystical Harry Potter Magical Guided Walking Tour.
A trek up Calton Hill provides incredible views of the city skyline. At the top you'll find a contemporary art gallery and impressive Greek-style monuments.
Tourists have the alternative option of Arthur's Seat, an extinct volcano which requires your hiking boots – it reaches a height of 251 metres above sea level.
Afraid of heights? Head below ground instead, with the Edinburgh: Underground Vaults Tour making for a different experience entirely.
Even the city centre has medieval streets to marvel at or interesting alleyways to wander through. One walking route option is to visit Dean Village along the Water of Leith and then traverse through New Town.
2) A city fit for a Queen
Those who are fans of the Royal family will surely be desperate to visit Holyrood Palace where Her Majesty often resides. Visitors have the opportunity to have a peek at the more modern rooms which cater for the Queen, in addition to the grandiose rooms created for Stuart monarchs.
Anyone who is still not satisfied can head over to Edinburgh Castle, which is one of the UK's most renowned tourist spots. It was voted the top UK Heritage Attraction in the British Travel Awards and is the most paid-for tourist site in Scotland. Built on another of Edinburgh's extinct volcanoes in the 12th century, it was instrumental in many of Scotland's most dramatic battles. Basically, it is brimming with history.
Special features include the Crown Jewels, the Stone of Destiny and the National War Museum of Scotland. Stick around to experience one of the many events performed by actors, or indulge in a scone in the tea room.
3) Shop 'til you drop
Edinburgh has no shortage of stores to get lost in and spend a little too much of the holiday budget.
One of the most iconic locations is Victoria Street with its colourful shopfronts. It was built between 1829 and 1834 by architect Thomas Hamilton who had a knack for creating neoclassical masterpieces. The street was also the inspiration for Diagon Alley, which Harry Potter fans will be excited to hear, due to its eclectic array of buildings.
Arguably Victoria Street can boast the city's best selection of independent boutiques with shops selling homeware, whisky, couture fashion, cheese and even hog roast.
Princes Street is the go-to area for all of the top fashion brands such as H&M and Urban Outfitters. George Street which runs parallel is great for those aiming for a classy experience. It is one of the largest streets in Edinburgh adorned with stunning Georgian architecture and is home to upmarket labels such as AllSaints and LK Bennett.
Multrees Walk is number one for luxury shopping and is positioned at the east side of St Andrew Square with Burberry and Mulberry among others – perfect for those who want to splash the cash.
4) Haunting history
In the mood to be spooked? Opt for the Edinburgh Dungeons for a truly terrifying afternoon. The diabolical tales, blood and screeching characters are not for the faint-hearted.
After the elegant palace and castle, the Real Mary King's Close provides visitors an insight of how the regular folk of the 17th century went about their lives, and died, on the street resting below the famous Royal Mile.
The Haunted Edinburgh Tour gets tourists acquainted with gruesome hanging bodies, underground vaults and stories of grave robbers.
Meanwhile the Mercat Tour welcomes you into a world of graveyards and dark cellars. St Giles' Cathedral is a 900-year-old gothic building containing the impressive Thistle Chapel with expertly designed neo-gothic woodwork.
The Scott Monument, built to commemorate Sir Walter Scott is the second-largest monument ever created to celebrate an author. If you want a challenge, clamber up the 287 steps of a scarily narrow staircase to enjoy a wonderful view of the centre.
In total there are 68 statues which have been built into the structure, many of them based on other famous Scottish writers.
5) Get cultured
Anyone wanting the chance to learn something new this summer needs to look no further than the capital city. Edinburgh is a dream for art-lovers with the Scottish Gallery of Modern Art and the Scottish National Gallery.
On the outskirts of the city you can find the Jupiter Artland, which is a modern sculpture park. The gardens, part of Charles Jenck's work named Cells Of Life, feature a number of landforms embellished with a group of lakes. In other words, the perfect backdrop for an avid Instagram user!
The art gallery itself hosts permanent work by Jim Lambie and Anish Kapoor in addition to many others. Some lucky visitors will be able to experience the temporary exhibitions, workshops and fairs on offer.
As this is Edinburgh, there is no shortage of history at the gallery. It is set on the area which was originally the property of 19th century Bonnington House.
For a more exuberant experience, try Camera Obscura and World of Illusions –  or the fantastic multi-sensory experience of Dynamic Earth where you can brush up on your science knowledge.
6) Food, glorious food
If your number one priority on any trip is what you can eat, Edinburgh is the place for you. It is a city which caters to a range of diets and cuisines.
For Thai food, Chaophraya is an incredible rooftop restaurant where you can enjoy Thai fish cakes in a delicious satay sauce or even a grilled squid on bamboo skewers while looking out over the city. A cheaper option is Ting Thai Caravan, which is beloved by university students.
Mother India's Café is an amazing restaurant to grab a quick lunch, with a popular dish being the lentil pancake filled with spicy chicken.
Dishoom, which has a number of restaurants in London, provides delicious Indian food in a glamorous setting. For Mediterranean food, try L'esgargot Blanc, Contini or Café Andaluz on George Street.
A visit to the city is also a great opportunity to try some authentic Scottish food, and Scott's on Princes Street has a superb breakfast buffet with porridge, haggis and tattie scones. Cranston's restaurant within the Old Waverley Hotel has a wide variety of dishes with ingredients sourced from Oban and other local areas.
7) Famous festivals
Edinburgh is perhaps best recognised for the world-famous Edinburgh Fringe Festival. Taking place once again  in August this year, it's the biggest art festival around. There is something for everyone with comedy, plays and spoken word acts.
However, that is not the only festival held in the city. For keen readers, the Edinburgh International Book Festival occurs that same month. It is the largest event in acknowledgement of writing and features a 1000 writers with hundreds of events such as cultural discussions and political debates.
Also in August is the Edinburgh International Film Festival which features the best of cinema. Having started in 1947, it's the world's longest running film festival that continues to run. Keep an eye on edinburghfestivalcity.com for updates.
8) Green space
One of the best things about the city is the abundance of green areas to walk around, sunbathe on or enjoy a picnic on. Holyrood Park has 650 acres of luscious grass and a variety of pathways to cater to everyone. Arthur's Seat is the highest point, but the Salisbury Crags is a gentler choice at 46m in height. There are level pathways through the park, and it is home to Duddingston Loch which has an impressive range of bird life.
Princes Street Gardens is one of the more accessible choices considering it is right next to Princes Street, perfect to lounge around in after a quick bite to eat. It provides great views of the Old Town and is a lovely spot to enjoy the summer weather.
The Royal Botanic Garden gives visitors respite from the bustling city centre and houses over 3 million plant species. It is the oldest botanic garden in Scotland. Starting out as a conservation project in 1670, it is now a major tourist attraction.
9) Inland beach
Although it is unlikely we will be able to venture to a tropical beach this summer, Portobello Beach allows Edinburgh locals and tourists alike to relax by the sea.
Located only a few miles from the city centre, it is perfect for both swimming and sunbathing – even if the water is potentially on the chillier side.
Portobello has its own promenade and often holds events such as the Big Beach Busk. It is enjoyed by kayaking and sailing clubs and volleyball players. There are a many charming bars and cafes along the promenade, along with an interesting choice of restaurants and gift stores on Portobello High Street.
If you aren't quite brave enough to take a dip outside, try out the Portobello Swim Centre, which is a Victorian indoor swimming pool.
The beach can easily be accessed by a number of bus routes from the city centre, and roadside parking close to the beach is another option.
10) More to explore
Although the New Town and the Old Town are the most well-known areas of Edinburgh, there are many other locations which prove to be hidden gems.
The South Side includes the newly-built Quartermile development. Aside from glamorous apartments and offices, it has many amenities such as a gym, yoga studio, bakery and numerous restaurants. The affluent Bruntsfield location has plenty to see and do, from the Links golf course to mouthwatering chocolatier Coco.
On the Water of Leith, there is the delightful area of Stockbridge with Georgian and Victorian-style houses, upscale delis, thrift stores and cool gastropubs. The weekly Stockbridge Market offers jewellery, crafts and snacks.
Leith itself is a vibrant port district, home to the waterfront development and Royal Yacht Britannia. It has a fun jumble of bookshops, bakeries and a mural art trail. Petals by the Shore sells gorgeous flowers, while other stores specialise in sweets, craft beers and vinyl records.
Have you had a wonderful staycation? Send us your best holiday pic and you could win £25 or even £50! Just email it to us at the address found in My Weekly magazine.