10 Reasons To Staycation In Northumberland
---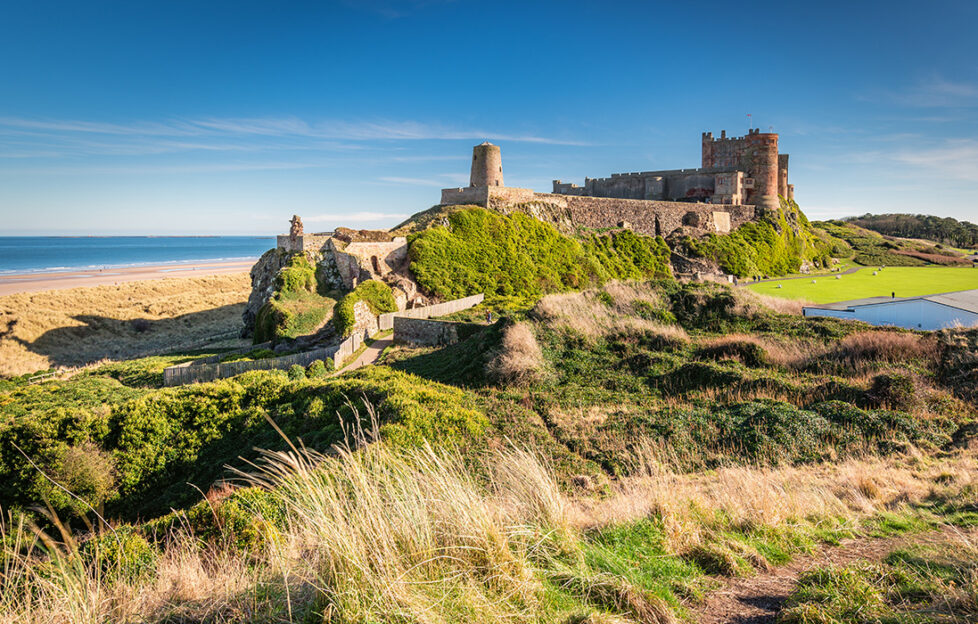 Bamburgh Castle Pic: Shutterstock
There are many benefits to staycations. Less money spent, the opportunity to avoid tiresome airport queues, and a chance to appreciate the beauty of your local area. One of the best regions to choose for a holiday within the UK is Northumberland. In fact, it was the UK's most popular staycation choice for first time visitors.
Still not convinced? Here are 10 reasons why you should head to the north east this summer…
1) Brilliant beaches
Northumberland has arguably some of the best beaches in the world. The sand is incredibly soft, very white, and the beaches are relatively undisturbed as there are no gigantic hotels or flurries of tourists. Visitors can perch on the rocky plateau which rests above Bamburgh beach and enjoy spectacular sea views. There is the option to walk along Pilgrim's Path to Lindisfarne, but you must be mindful of the tide times! At Newton by the Sea there are great beaches to admire, especially if you take a stroll from Beadnell to Newton along the coast. Football Hole is a picturesque spot. Those who don't mind a trek can walk 1.5 miles from a parking area to Ross Back Sands beach and experience the nature reserve. It is almost always deserted so is perfect for people who want to sunbathe on the sand peacefully. The Heritage Coastline in its entirety is composed of Bamburgh, Seahouses, Beadnell, Low Newton, Embleton, Craster, Boulmer, Alnwick, Alnmouth, Warkworth and Amble. Due to the wide expanses of pristinely white sand and spectacular coastal views, the beaches of Northumberland are a major draw for holidaymakers.
2)  A wealth of history
This area is proof that it is not always necessary to travel great distances to have a cultural trip. One of Northumberland's best attributes is its multitude of castles. It has a higher number than any other county in Britain. Bamburgh Castle has rested atop the impressive coastline for 1400 years and was bought by William George Armstrong in 1894 who filled it to the brim with a stunning array of ceramics, artwork, and other interesting pieces. It has housed a number of royals including Henry VI and James I and has many state rooms and armoury to admire. Dunstanburgh Castle is located to the north of the Craster coast and to the south of Embleton Bay. To catch a great shot, visit at either sunrise or sunset to make the most of the wonderful views. On Holy Island, Lindisfarne Castle is one of the most popular historic sites with 650,000 tourists annually. That's no surprise, considering its marvellous medieval history. Chillingham Castle is an unconventional castle boasting ghost tours, unusual weapons and even a torture chamber. If you tire of castles, you can spend the day at Vindolanda which is thought of as one of the principal Roman archaeological sites in Europe.
3) Activities for children
For those who fret about keeping the kids or grandkids occupied, this area of Britain is perfect in terms of family-friendly activities. Alnwick Castle is a Harry Potter fan's wonderland, but within its grounds are the mazes of Alnwick Gardens which are a fun way to spend an afternoon. The castle is the current residence of the Duke and Duchess of Northumberland; however, tourists can explore the state rooms from March to October. Children can also enjoy the broomstick lessons and arts and crafts with a medieval twist which are provided. The Grand Cascade water displays are beloved by youngsters, and after they have successfully exhausted themselves, the whole family can relax with a bite to eat in the Treehouse restaurant. The Ferryman's Hut is the tiniest museum in the UK and has quirky items and fun framed photographs. Mojo Toys within Alnwick has an amazing collection of wooden toys from brands such as Le Toy Van and Melissa and Doug.
4) Events
There are lots of special events held in the summertime in the county which allows those on holiday to have unique and special experiences. Alnwick Garden has many regular events during the summer months such as 'A Garden of Fairy Tales' where workers dress up as different fairy characters and aid visitors on an exciting quest. The Bailiffgate Museum always has several ongoing exhibitions so is a smart choice to check out, as does the Alnwick Playhouse and the Maltings Theatre in Cinema in Berwick. Those interested in high quality local produce will like the Alnwick Market which is open every Saturday and Thursday from 9am to 4pm. The Bellingham Heritage Centre is a museum run solely by volunteers and has a variety of short-term exhibitions. The Kielder Observatory holds both Public Observing and Family Astronomy experiences which are in extremely high demand. Cherryburn, which was the area where Thomas Berwick was born, hosts Live Printing Demonstrations and other activities to commemorate his work, as he is considered to be the best artist to come out of Northumberland.
5) Wonderful wildlife
There is no shortage of flora and fauna in Northumberland. There is a great selection of woodland areas, nature reserves and country parks to visit. Cheviot Hills is found to the north of the Northumberland National Park and is where you can marvel at the Linhope Spout waterfall and even some nature lurking in the shallow rivers. Also in the Cheviots, the opportunity to go wild goat spotting, makes for an unforgettable experience. If you take a boat from the Seahouses harbour to the Farne Islands you will spot a variety of wildlife including puffins, grey seals and a variety of birds. Rare ospreys are typically found at Kielder Water & Forest Park, roseate terns at Coquet Island and cattle at Chillingham. And if you're still not satisfied? Try going on a dolphin hunt around the River Tweed. The coast itself is so awe-inspiring that it is regarded as an Area of Outstanding Natural Beauty.
6) Coastal cuisine
One of the most important features of any holiday destination is the food, and Northumberland is a fantastic place to try some locally-sourced delicacies. The Jolly Fisherman, in the centre of Craster, offers crab sandwiches and lovely views of the sea. If you fancy some smoked kipper, the smokehouses at Craster (L Robson's) and Seahouses (Swallowfish deli) are firm favourites. These Craster kippers are created using recipes which have been circulating for over a century and are adored by the Royal family. Children will be delighted to indulge in an ice cream at Coxon's, and the Mixen Head restaurant is a fabulous choice for enjoying seafood, particularly their mussels with numerous sauces. Sunnyhills of Bedford doubles as a farm shop and a café, with a menu of delightful homemade cakes such as sticky toffee and carrot. Northern Edge coffee house, Potted Lobster and the Lavender Tea Rooms are not to be missed. Before you leave you should try a singin' hinny (popular scone), a classy cup of Earl Grey tea at Howick Hall Gardens & Arboretum and some Doddington Dairy ice cream in flavours such as Alnwick Rum and Honeycomb sourced straight from Chainbridge Honey Farm.
7) Holiday workouts
There are many ways to keep fit in Northumberland, from yoga on the beach to participating in water sports at Beadnell. Trying out one of the hiking or cycling routes is a healthy way to explore the breath-taking scenery and get in some cardio. The trail along Hadrian's Wall to Sycamore is particularly famous and was featured in Kevin Costner's film Robin Hood Prince of Thieves. The dunes are great for sledging, or take to the sea for kayaking and boat rides. Tourists can visit the Kimmerston Riding Centre and go for a beach horse ride at Holy Island. The Ocean Club in Seahouses contains a 20-metre pool, additional pool for children, sauna, and steam room for days when the coastal waters are extra chilly. Other activities include diving with grey seals, paddle boarding at sunset, rowing, surfboarding, windsurfing and canoeing. Only the bravest will be able to stomach flying in a flex wing microlight for a fantastic aerial tour.
8) Fun finds
Often one of the best aspects of a summer holiday is discovering a quaint café or amazing bookstore that quickly becomes a treasured favourite. In Northumberland some of the unique gems are Mick Oxley's art gallery which has beautiful landscape artwork and interesting jewellery, the Old Dairy at Ford which is a concept store containing wonderful vintage items along with a café and champagne bar. The café itself has a menu with bread and cheese from the local region. Barter Books is one of the best second-hand bookstores with not only an impressive selection of novels, but also armchairs and model trains. There is even an aptly named Little Gem Arts and Crafts gallery, in addition to the Hedgeley Antiques Centre, Tower House Gallery, and Azure Garden Centre & Café. Made in Kielder has beautiful bowls, spoons, and other wooden objects. Shoppers even have the chance to carve their own!
9) Night magic
As a result of the county being the least densely populated in England, a staycation there is a wonderful chance to escape the stress of daily life and have a deserved break. However, another benefit to the low population density is that the area has very low amounts of light pollution. Northumberland has the most pristine dark skies in England according to the CPRE Night Blight Report 2016, so it's an ideal location for stargazing. Lucky tourists will be able to catch a glimpse of a myriad of stars, the Milky Way and the Andromeda Galaxy. The Kielder Observatory is positioned in the centre of the Northumberland International Dark Sky Park and enjoys the most extensive section of dark night sky in Europe. Equally, the Battlesteads Dark Sky Observatory is perfect for stargazing and holds many educational talks and Astro courses. The Renesdale Arms is yet another brilliant observatory in the county, with award-winning facilities.
10) A staycation adventure
Adrenaline junkies will love Northumberland for the exhilarating activities on offer. There are superb rock-climbing locations, many within the Northumberland National Park. Groups can have a go at paintballing and test their teamwork skills, as well as try mountain biking and zip wires. Airbox Bounce is a centre for trampolining and is well-liked by kids. There are four shooting schools for those who want to engage with friends while learning how to shoot clays. Mr Mulligan's Newcastle and Dinosaur Encounter Adventure Golf are nearby attractions for fans of crazy golf. Go Ape Matfen offers high ropes courses and Northumberland Country Zoo and Whitehouse Farm Centre are fun facilities for children to get up close and personal with some cute creatures. Additionally, there is an indoor play area called Treasure Island Morpeth and one named Castle Mania. With so many options available and something for everyone, visitors will be spoilt for choice.
---
Have you had a wonderful staycation? Send us your best holiday pic and you could win £25 or even £50! Just email it to us at the address found in My Weekly magazine.
Don't miss 10 Reasons To Staycation In Edinburgh – read it now!