Smoky Pork Kebabs with Flatbreads
---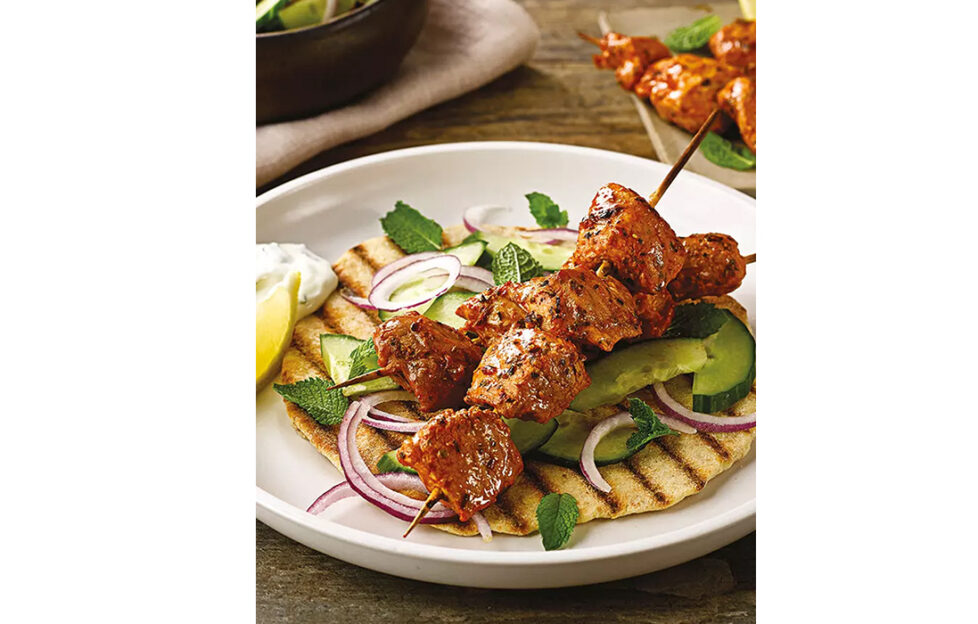 Flavoured with lemon and chilli, these kebabs are so quick to cook on the barbecue or the griddle pan…
Serves: 4 (2 skewers each)
Preparation time: 1hr 10min
Cooking time: 15min
Cut the lemon in half. Squeeze one half into a large bowl. Cut the other half into wedges and keep for serving.
Add the Crisp 'n Dry, paprika, oregano and chilli flakes to the bowl with the lemon juice and mix. Add the diced pork and toss to coat all the pieces. Cover and place in the fridge for at least an hour.
Meanwhile, soak 8 bamboo skewers in water to help stop them burning under the grill.
When you're ready to cook, preheat the grill to medium high and heat a griddle pan to high. Thread the pork onto the skewers and place onto a grill rack then cook for a few minutes on each side, turning regularly. Check that the meat is cooked through.
Warm the flatbreads on the griddle pan then place onto plates with some cucumber, onion and mint leaves. Top with the skewers and serve with a dollop of tzatziki or yoghurt and a wedge of lemon to squeeze over.