Discover Peacci's Nu Nudes Collection – Plus Expert Nude Manicure Tips
---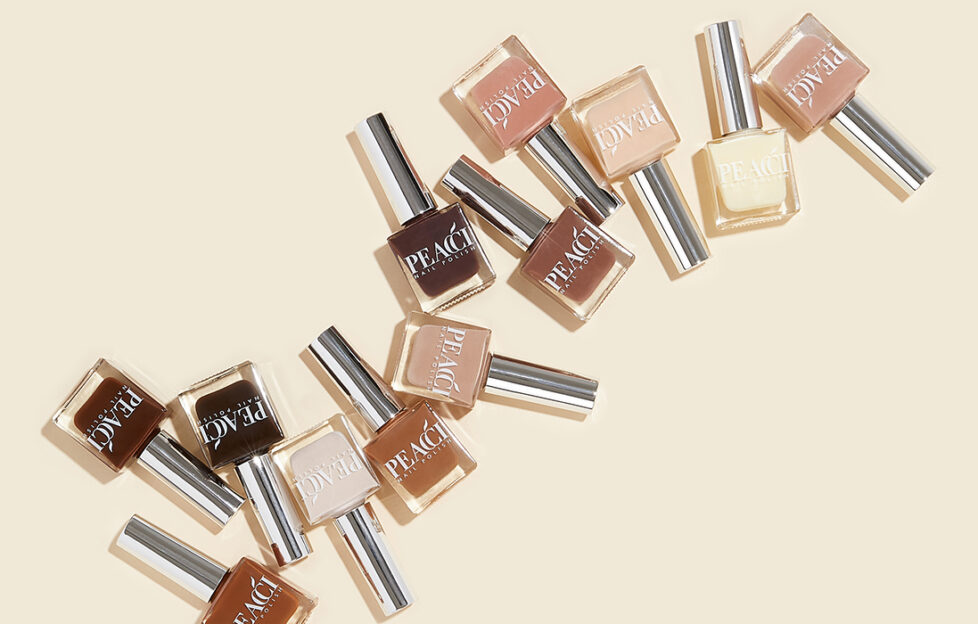 There's no such thing as one universal nude colour.
That's why Peacci are bringing you their Nu Nudes range, created with every skin tone in mind from vanilla to deep mocha. They're also offering some expert tips for the perfect nude manicure.
Founder and CEO Daisy Kalnina says, "Inclusivity is at the heart of everything we do at The GelBottle and Peacci.
"For decades, the beauty industry has used the term 'nude' to essentially describe a single colour rather than it being based on skin tone.
"But everyone is unique, and our individuality should be celebrated. It should be a basic beauty right that you can find a nude polish that suits your skin tone.
"An increase in the variety of nude shades has been seen in fashion and beauty, but has not been well executed in the nail industry – until now.
"The GelBottle Nu Nudes have become one of our best-selling collections. We have recreated the colours for Peacci to allow regular polish users access to a nude that suits them too. It's a new nude philosophy that goes beyond beige."

Embrace the trend for nail minimalism
Daisy says, "There is something so satisfying about a fresh, nude mani, and we are seeing a real trend for this kind of nude minimalism right now.
"But achieving natural looking nails is all about the nail prep. Short, prepped nails with healthy cuticles, a few coats of a nude tone of your choosing, and finished off with top coat… Perfect for a natural look, and chic simplicity.
To get the look
Prep: Wash / sanitise your hands and gently shape nails using a file working in one direction, smoothly filing from the outer edge to the centre of the nail.
Go from one of the edges towards the centre and the other way around and repeat until you achieve your desired shape and finish.
Apply cuticle remover and gently push back cuticles to give more room to paint the nail for a professional look.
Try to be gentle when trimming and pushing back the cuticles, sometimes heavier handed on ourselves than others, but we don't want to end up with sore cuticles.
Apply: Peacci 2 in 1 Base Coat to harden, strengthen and nourish nails. When applying the colour, press down into the brush and it will fan out, making it easier to cover the cuticle area in one stroke.
Apply the polish in long strokes to achieve a smooth and flawless finish.
For a pro finish, apply Peacci Gel'ous Topcoat for a flawless gel-like glossy finish which lasts for up to 7 days. This innovative formula visibly prolongs both gloss and colour.
Allow to air dry for around 2 minutes, or dry in sunlight for longer lasting results.
When dry, massage in Peacci Cuticle Oil to rehydrate cuticles.

Peacci Nu Nudes shades add to the 300+ colour range which is 100% vegan and cruelty free while also offering long lasting results that don't negatively impact on the strength and health of the nail.
The shades include…
From light to dark there's Vanilla, Almond, Cookie, Honey, Tan, Caramel,Woody, Brunette, Cocoa, Chocolate and Mocha. Then there's Naked, with a slight cool pink tone running deep.
Peacci's 300+ colour range is 100% vegan and cruelty-free, while also offering long lasting results that don't negatively impact the strength and health of the nail.
Peacci Nu Nudes collection, £10 each, available from Peacci.com