In The Garden This Month – August
---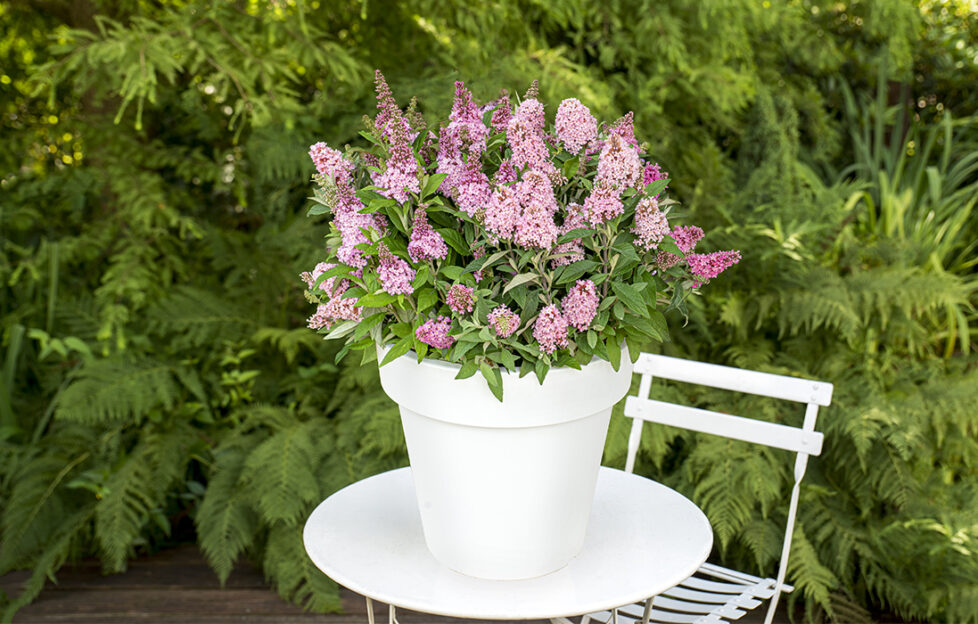 Get set for gardening with expert advice on what to do now from the experts at Dobbies!
August is the time to relax in the garden, enjoying long sunny days. The experts at Dobbies have shared their guide for the month ahead, with ideas for every style of outdoor space.
Dobbies horticultural director Marcus Eyles said, "From cutting back tired-looking herbs to encourage new growth, to getting prepped for spring 2022, there's plenty to inspire you to get outside.
"Watering is key this month, particularly container-grown plants and border plantings not yet established.
"Whether it's a quick 30 minutes on your lunchbreak or a slow Sunday pottering while listening to your favourite podcast, regular feeding and dead-heading will keep the garden looking its best
until autumn."
What to do in the garden this month?
Marcus provides his top tasks for the month of August…
Beds & Borders
Prune spring and early summer flowering shrubs, such as Deutzia, Weigela and Philadelphus. Remove spent branches with secateurs or loppers to allow new growth to mature that will carry next year's display.
Spring flowering bulb collections are available in Dobbies stores and at dobbies.com, full of inspirational colour mixes as well as tried and trusted traditional favourites. As gaps appear in beds and borders, early autumn is the ideal time to plant bulbs, including alliums, crocus, daffodils, narcissi and snowdrops.
Give azaleas, rhododendrons and camellias a good drink of water and ericaceous feed now to ensure they set plenty of buds for spring.
Water new plantings, giving a thorough soak every few days. This encourages roots to grow down into the soil rather than towards the surface. Add a thick layer of mulch to help retain moisture.
Terrace Garden
Regularly water container plants – daily in very warm weather. Add a liquid fertiliser, like tomato feed, every other week to encourage strong, healthy, growth and continual flowering through to the autumn. Remove spent flowers to encourage more to grow.
If you're going away, move containers into the shade to help reduce drying out, or for longer holiday breaks consider installing an automatic irrigation system.
If you need to replace any plants that have suffered from lack of water, visit your local Dobbies Garden Centre for fresh ideas perfect for adding late ready to go summer colour.
Cottage Garden
Dead head regularly to extend the flowering season well into autumn, particularly Dahlias, Roses and cottage garden perennials.
Any early flowering herbaceous plants that have already finished flowering can be cut back and tidied, whilst some such as Geraniums will grow back with a second
flush of foliage and flower for a late season display.
Many Roses will put on another display of fresh blooms, particularly many of the Dobbies varieties which have been selected for their fragrance and long season of
flower colour. Dead head spent blooms and boost with rose fertiliser to encourage healthy growth and a late summer display.
Tie in whippy growths on rambling Roses to bear next year's trusses of flower, positioning each stem as near to horizontal as possible. Training new growth in this
way helps to encourage a prolific flower display along their length.
Prune Wisteria cutting whippy side shoots back to around 5 leaves to 20cm in length. These will require a second pruning in late summer or early spring.
Kitchen Garden
Cut back herbs, such as chives, mint and parsley that are looking tired. This will encourage fresh new growth for a continued supply of leaves for summer dining.
Cut back spent summer fruiting raspberry canes to the ground, tying in the new whips for next year's crop as you go.
Continue to water tomato plants consistently and regularly, adding a high potash tomato feed for healthy growth and fruiting.
Keep picking courgettes when they are young and tender to encourage more to follow.
Continue to water squash and pumpkins well, as they ripen under the summer sun.
Make sowings of beetroot, radishes, spinach, lettuce and salad crops, all fast growing, for an extended season of fresh vegetables.
Lawn
For a formal lawn regular mowing is best, reducing the cutting height in hot weather to help prevent drying out. Keeping the blades slightly higher helps the grass resist the extra summer wear.
In warm weather the lawn can dry out and turn brown; it will recover once rain returns.
To encourage more garden wildlife, allow your grass to grow and the wildflowers will bloom to support pollinating insects. Or leave some areas of grass to grow.
New this August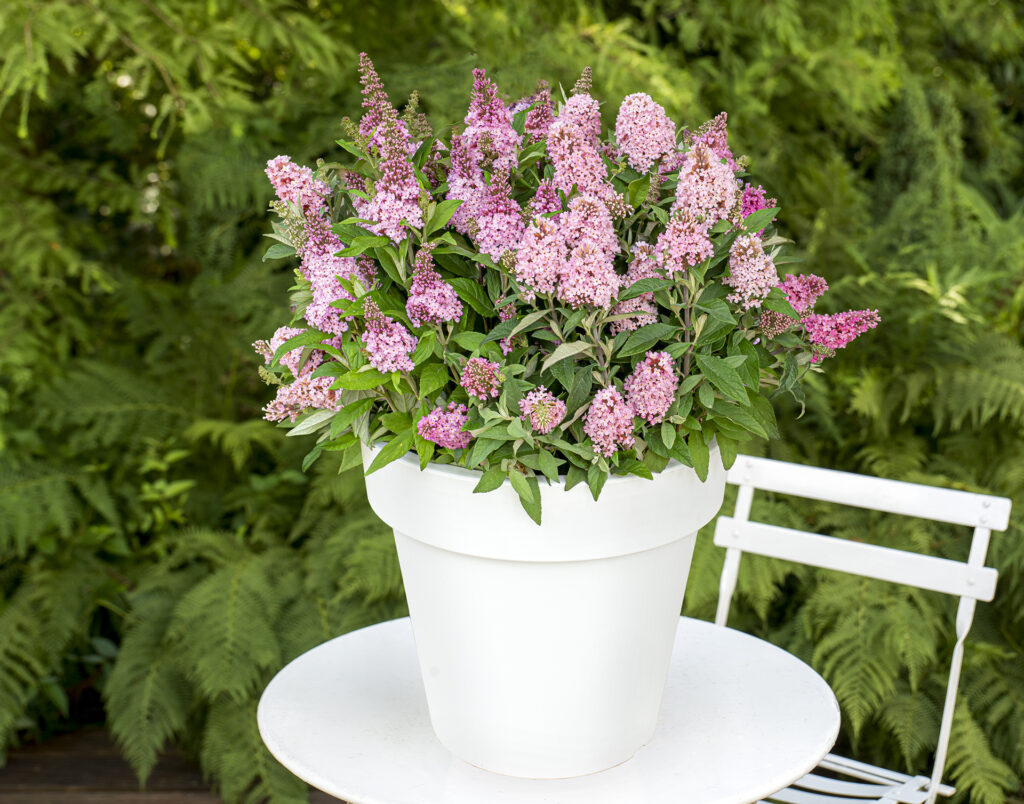 Available from mid-August, 'Butterfly Candies' is a beautiful dwarf collection of the ever popular Butterfly Bush. Available in six different colours, the dwarf selection is ideal for growing in containers or in smaller gardens. Both hardy and easy to grow their masses of brightly coloured, fragrant flowers will attract butterflies and bees to your garden.
Marcus's top tips for making water go further
Do's
✓ Direct water straight to the roots of plants – this is where moisture is needed
✓ Water during the coolest part of the day – this stops water evaporating before the plant can absorb it
✓ Save excess water by standing containers in saucers and putting buckets under hanging baskets
✓ Water plants more sparingly – many don't need as much as you think, with only newly planted things and pots requiring regular soaking
Don'ts
 Sprinkle the leaves of plants – this does little as no water gets to the roots
 Use a fierce hose attachment, as the water is likely to bounce off the soil and not reach the plant's roots
 Water so much that soil or compost becomes saturated. Too much water is just as damaging as too little
And don't forget feathered friends…
Provide garden birds with access to fresh clean water by installing a water feeding station, which will also be used by other smaller wildlife, helping them to stay hydrated in the heat.
Birds require water to drink but also to bathe in to help keep them cool, so a bird bath is another great addition to your outdoor area. There are a number of bird table designs that feature roofs, meaning some extra shade from sunny rays.
More expert seasonal advice here 
Listen to the Dobbies gardening podcast for more expert advice and trend insights, available on Apple Music and Spotify
Look out for Susie White's tips for beautiful, productive and wildlife-friendly gardening, every week in My Weekly.