For The Love Of Lycra
---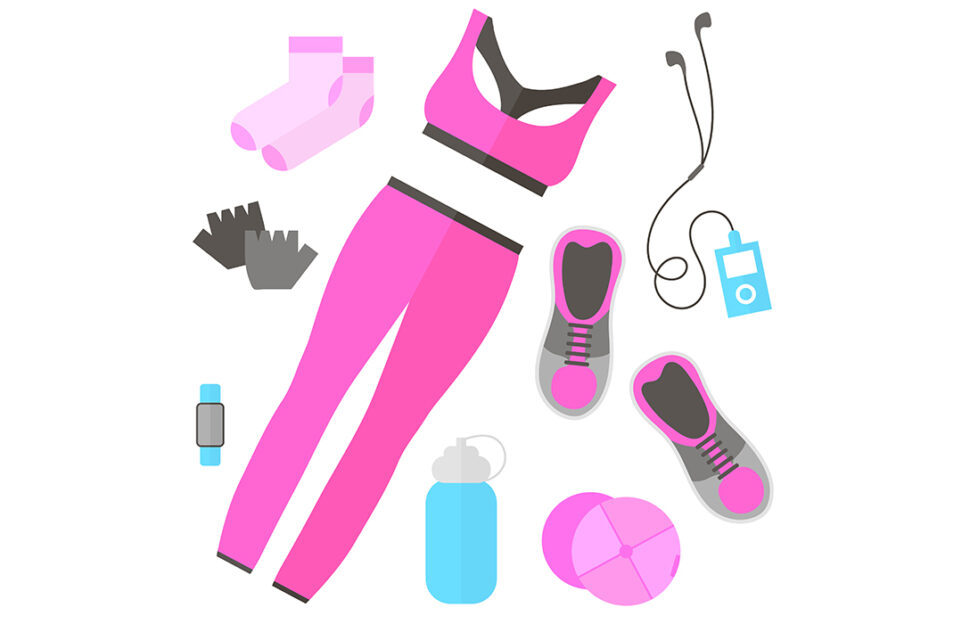 Illustration: Shutterstock
WRITTEN BY MARILYN CHAPMAN
My Weekly were delighted to offer a prize for the Books for Vaccines Charity Auction this summer, and it was won by Marilyn Chapman. The prize gave Marilyn the chance to write a short story for our website, plus she also takes away a My Weekly subscription for one year. Over £60,000 was raised through the auction, with money going to CARE International UK to support the covid vaccine rollout in some of the world's most vulnerable countries. Well done to our winner Marilyn, we all enjoyed your story. Read it here now…
Stella did a twirl in front of the bedroom mirror, her husband's jaw dropping at the sight of her new outfit. "What do you think?"
"It looks a bit tight." Cliff's eyes narrowed. "And – er – very pink."
"It's supposed to be tight. That's why I chose Lycra." Smoothing down her sports top, Stella wiggled her hips. "Besides, bright pink is all the rage nowadays."
"At your age?"
"What's age got to do with it? My style never bothered you before. I wore green velvet hot pants with a black skinny rib jumper when we met, as I recall, and you didn't complain then."
"I'm not complaining now. I just can't believe you'd be daft enough to go out like that in public."
Stella glanced down at the sparkly trainers on her feet. "Why not?"
Cliff struggled to find the right words.
It's, you know… a bit bling. And those shoes have got platforms!
"Platforms?" Stella raised her eyes heavenward. "I haven't heard that word for years. Platforms belong on a railway station. Anyway, they're not shoes, they're trainers."
"Well, whatever you call them, they seem a bit, er, clumpy…"
Stella tried hard to keep her face straight. After forty-five years of marriage Cliff still couldn't tell when she was winding him up
Ignoring his reply, she peered at her own reflection in the mirror: sandy-coloured hair with highlights added every six weeks to conceal the grey, her less than perfect cheekbones reflecting a healthy glow, thanks to some fancy bronzer she had won in a raffle. But, oh, how she had aged. Stella was a brunette when they met, with shoulder-length dark hair and black-rimmed glasses, just like Nana Mouskouri, Cliff's favourite singer back then.  Stella was nineteen and Cliff ten years older, but the age gap didn't seem to matter.
Still proud of her hourglass figure, Stella had to admit it had expanded somewhat over the years. She had given up her keep-fit classes after their daughter Rosie was born, preferring a walk in the park with the pram. When Rosie was a toddler, Stella sold plastic food containers on commission to her friends and neighbours, using the pin money to buy their daughter new clothes. Meanwhile, convinced Cliff wanted a son, she waited patiently for the second patter of tiny feet. But it was not to be.
Nowadays Cliff looked a lot like George Clooney, a silver fox with an enviable head of hair while she, Stella, contemplated her middle-aged spread. The age gap was no longer noticeable.
A loud cough from her husband brought her swiftly back to the present. "You haven't heard a word I've said."
"Yes, I have," Stella lied. "Anyway, it was the doctor's idea. You know how my back's been troubling me. He recommended exercise to strengthen my core muscles."
"Never mind your core… he can't have meant you to dress like that."
"Don't be silly. He suggested I should join the gym. So, I thought I might as well look the part."
---
Later that afternoon, still smiling at the vision of Cliff's face when he saw her jazzy outfit, Stella heard him return from his weekly trip to the allotment. As usual, he shouted hello before heading upstairs for a shower, and was soon singing at the top of his voice. He only did that when he was in a good mood, so what had changed, she wondered?
Hearing the bathroom door open, Stella shouted up the stairs. "I've made a shepherd's pie, and jam roly-poly for…" She froze as her husband appeared on the landing. "Cliff! What on earth are you wearing?"
"It's the latest sportswear for the – er, mature man. I got it from the chain store in town."
The black Lycra top had a bright lemon stripe running down one side with a matching stripe on the tight, knee-length, shorts. His fluorescent trainers were yellow with black stripes, and, in his hand, he held a vivid orange water bottle.
 It was Stella's turn to look aghast
"I hope you're not going out like that! Are you trying to get your own back or something?"
"No, but if you're going to get fit, I might as well join you at the gym. Besides, I'll be able to see if the fellas try to eye you up."
"Eye me up? At my age?" Stella couldn't believe her ears. "I thought you said I looked daft?"
"I was only jealous. OK, so folks at the gym might think you've brought your father with you, but I can handle that."  Cliff leant forward and ruffled her hair. "You're beautiful but you've never believed it, have you?  Our Rosie's just the same. Pretty as a picture but blow me if she doesn't know it either."
Stella smiled. Rosie had done well at school but decided not to go to college like some of her friends. Instead, she got a job in the local builder's office where she met Tim. They were married three years later. These days Rosie sold houses on a new development in town while her husband worked round the clock as a painter and decorator.
Best thing we ever did, having that daughter of ours.
Cliff was still talking. "A sister would have been nice, of course, but you can't improve on perfection."
"A sister?" Stella gasped.  "I always thought you wanted a son?"
"You do too much thinking, that's your problem. Show me a man who doesn't want daughters, despite all the macho talk." He bent down and tightened his laces. "I'm sorry we never got a second chance. I know how much it would have meant to you."
Stella's heart flipped over. All these years she believed her husband had wanted a son. If only she'd had the courage to ask how he felt.
Out loud she said, "If you really want to come to the gym, there's cycling for the over seventies on Monday afternoons. And talking of daughters, Rosie rang when you were out." Stella couldn't keep the smile off her face.  "She's having a baby. They found out yesterday. Isn't it wonderful?"
Cliff stopped in his tracks, a wide grin spreading across his face. "It's more than wonderful. It's the best news we've had in a very long time." Throwing his arms around Stella, Cliff lifted her off the ground, whooping with joy. "I'll have to join the gym now, to get fit for our grandchild."
"OK – on one condition."
"Anything. Just name it."
"Get rid of that citrus stuff, will you, love? Stop trying to hide your age."
"It's a deal." Cliff nodded. "You can take the whole lot to the charity shop. To tell you the truth, it makes me feel a right lemon! Now, what did you say was for tea?"
---