Salmon Linguine with White Wine and Chilli
---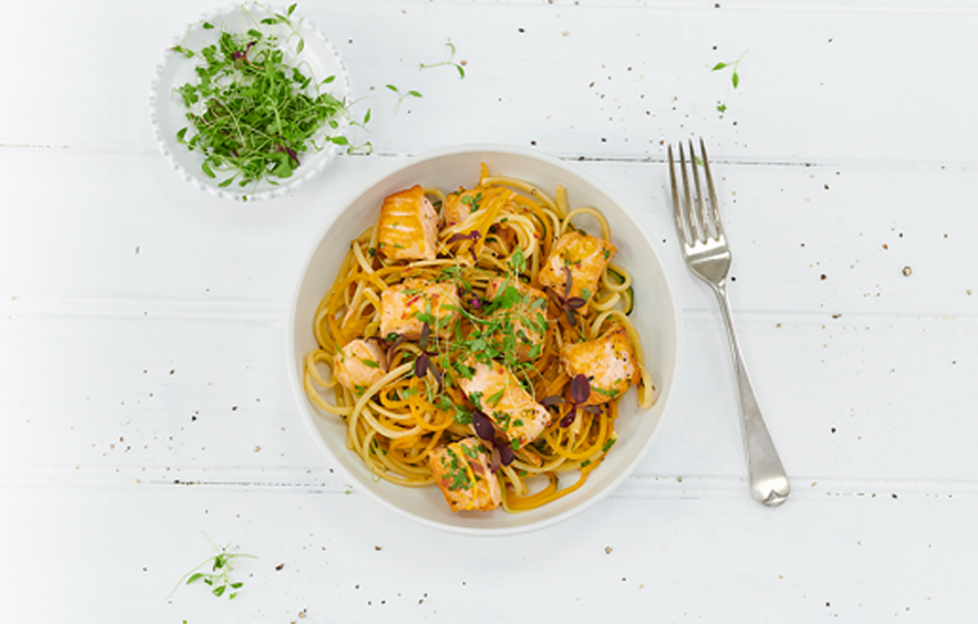 It's National Prosecco Day today (August 13, 2021) so why not pair a chilled glass of bubbly with a special dish? This Salmon Linguine only takes half an hour from prep to plate, and it's packed with flavour!
Serves: 2
Preparation and cooking time: 30min
Prepare the salmon by removing the skin from the salmon portions, then slice the salmon into 10mm thick slices.
Bring a large pan of salted water to the boil. Add the pasta and cook as per pack instructions.
Heat a frying pan and 1tbsp of oil. Add the salmon pieces and season. Cook for 2-3min, turning halfway through cooking.
Add the garlic , butternut squash and chilli to the salmon and cook for another minute.
Add the sundried tomato paste, courgette and white wine and cook for 3-4min until the white wine has reduced by half.
Drain the pasta well and add to the salmon.
Add lemon juice, parsley and 2tbsp of olive oil and gently toss the pasta and salmon together.
Taste and correct the seasoning before dividing into two pasta bowls.
Drizzle with a little extra oil.