Gin & Tonic Cake
---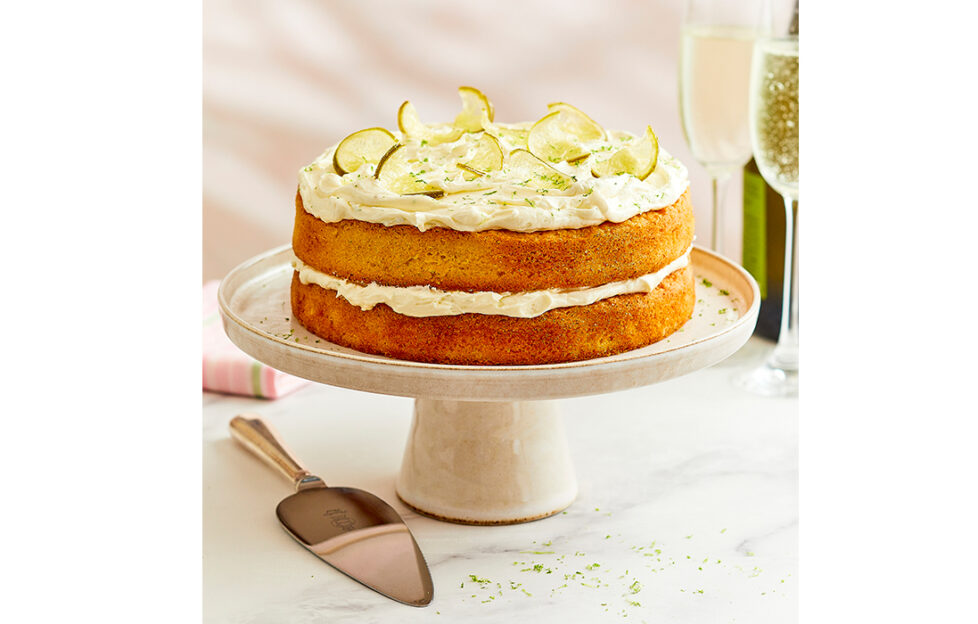 If gin and tonic is your tipple of choice, you'll love this cake that incorporates all your favourite flavours…
Serves: 16
Preparation time: 30min, plus cooling
Cooking time: 30min
Preheat the oven to 180°C, Fan Oven 160°C, Gas Mark 4. Grease and line the bases of 2 x 20cm sandwich tins.
In a large bowl, beat the Homepride spread and sugar with a hand-held electric whisk until light and fluffy. Add the eggs, a little at a time, beating well between each addition.
Add the flour and lime zest and fold in gently until fully combined. Divide the mix between the sandwich tins, then bake in the oven for 25-30min, until risen and a skewer inserted in the middle comes out clean. Cool for 10min in the tins, then remove and place onto a wire rack.
Meanwhile, make the sugar syrup. Put the tonic water, gin, lime juice and the caster sugar in a small pan and heat gently until the sugar has dissolved. Increase the heat and bring to a boil, then simmer gently for 5min until the syrup thickens slightly.
Once the cakes are on the rack, brush the tops with a little of the sugar syrup, and then leave to cool completely.
Add the lime slices to the remaining syrup and simmer for around 10min until the flesh becomes translucent. Then, with a fork, gently lift the slices out onto a piece of baking parchment and leave for a few hours to cool and dry.
Meanwhile, make the buttercream. Beat the spread and gradually add the icing sugar, beating well between each addition until thick and creamy. Finally, add the gin and lime zest and beat again.
Place one of the sponges on a serving plate and spread half of the buttercream over the top, and then repeat with the second sponge. Swirl the remaining buttercream on top and decorate with the candied lime slices, cut in half, and add a little extra grated lime zest.