The Wadhams: Hopes & Dreams
---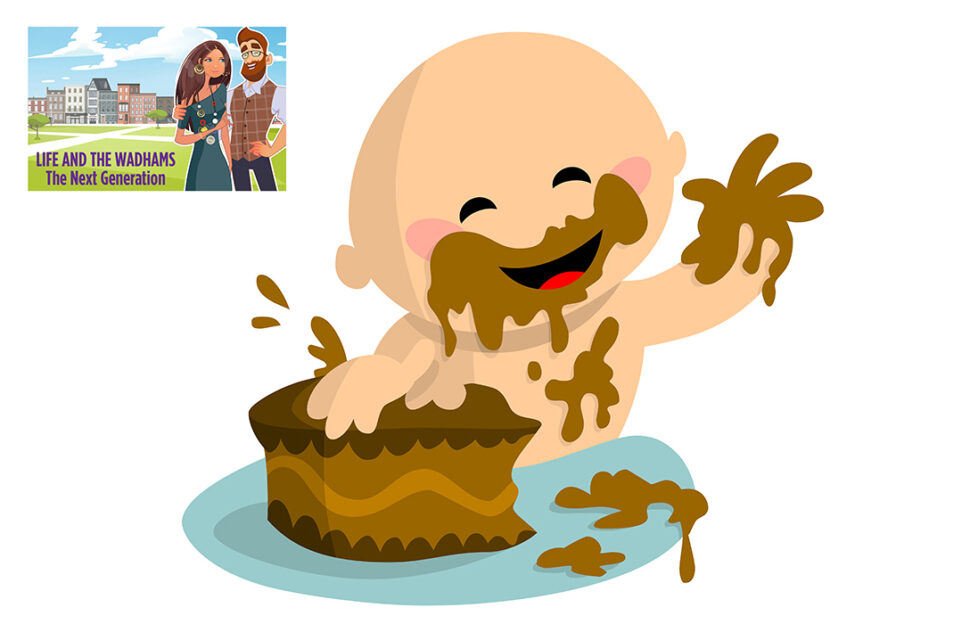 Illustration: Shutterstock
We're delighted to bring you the continuing adventures of Life & The Wadhams, featuring the younger members of the family. Not yet met the Wadhams? Read the background on My Weekly's best-loved family, then come back and enjoy the next generation's adventures as Mike and Polly Wadham's elder grandson, Alex Clark settles into a new life with wife Natalie and baby son William in the flat above the antique shop his grandfather used to own. They've now bought the flat and shop, converting it to a hairdressing and beauty salon run by Natalie.
With such a large clan, there wasn't a month in the year that the Wadham and Clark family didn't have a birthday to celebrate – and August was no exception!
This month, though was extra-special as it saw William Clark turn one while his aunt Jennifer was looking forward to celebrating her "18+1" years on earth, her eighteenth celebrations in 2020 having been curtailed by the pandemic restrictions.
"We're starting out at Sinatra's bistro for a meal and cocktails," she confided to her sister-in-law Natalie as the latter snipped at her unruly red locks, "then going on to Brodie's nightclub. You and Alex will come, won't you, Natalie? Sophie, Rachel and Amy will all be there, and Archie, too. And Nathan is even coming down from the Lake District."
"It sounds great fun. We'll certainly come for the meal and cocktails," Natalie said. "I think we might be a bit old and work-weary for the nightclub. Not to mention his nibs keeping us on our toes half the night."
"Oh, Mum will look after William overnight so you can both come home and get your beauty sleep." Jennifer blithely offered Pinky's services as a babysitter. "As for being too old – Marsha and Elaine from the home are coming – they can't wait to get out dancing again."
"Who are Marsha and Elaine? Residents?" Natalie teased.
"No! They're colleagues!" Jennifer was indignant. "Though I bet some of our residents would come if I invited them. Just because they're old doesn't mean they don't enjoy a bit of fun."
"I'll bet. You'll miss them all when you leave for university this autumn, I expect," Natalie probed lightly. Up until last year, Jennifer had always planned to study history at university, but now she was tight-lipped about her plans. Not even her beloved grandparents Mike and Polly Wadham could winkle them out of her – all would be revealed in due course, was all she would say, with her usual flair for drama. It was driving her family mad!
Now she shook her head, oblivious to the scissors hovering perilously close. "There's plenty else to think about just now – like what your plans are for William's birthday? Are we having a big family party?"
"We are." Natalie beamed. "Your mum's offered to host it this Sunday, as we don't have room for everyone in the flat. Then I've cleared my appointment book for the Friday afternoon of his actual birthday and we're off to Jungle Gym for a toddlers' free-for-all – Ruby will be there, of course, and Kayla's coming along with half a dozen others from his nursery."
"It will be bedlam." Kayla's mum Keisha, sitting on the cosy sofa reserved for waiting clients, snorted with laughter. "But I'm looking forward to it just as much as you're looking forward to your nightclub, Jen – it's so brilliant to get the kids back to normal at last!"
---
But what was normal for the kids? Natalie, arriving at her in-laws the following Sunday for William and Jennifer's joint birthday celebrations, couldn't help wondering when three-year-old Ruby earnestly invited her into her "shop" – the Wendy house her father Jim had built for her in the garden.
"No, stop!" she added sternly as Natalie prepared to step over the threshold to "purchase" some of the imaginary delights on offer. "You can't come into my shop without a mask."
"Oh no," Natalie joined in the spirit of the play. "I've forgotten mine."
"I'll sell you one." Ruby said magnanimously. She solemnly handed over a blue paper mask, pilfered from big sister Jennifer's store. "That will be twenty-five pounds, please."
"Oh dear," Natalie said faintly. "I hope you take credit cards…"
"She's onto something!" she said as she dropped into a garden chair beside her husband and accepted a welcome glass of bubbly. "Maybe I should be charging for masks at the salon for those who come without them." For her customers' feelings-of-security sake, Natalie asked all visitors to her salon to still wear masks.
"We've got that policy at the care home, too," Jennifer said, swooping by to hoover up some sandwiches. "Not charging, but asking visitors to wear them. And we all still wear them on duty, too, of course."
"You'll be glad to stop wearing them when you leave to go off to university," Alex said.
Jennifer sighed, loudly and dramatically.
"OK! Enough of the sly hints and innuendos! The time has come to tell my news. Gather round everyone," she called in stentorian tones. "I have an important announcement to make!
She got an immediate reaction. Her grandparents, Mike and Polly sat up straighter in their chairs, while her father Jim put down the bottle he'd been passing round, and her mum Pinky hurried out from the kitchen hastily drying her hands on a teatowel.
Matty and his best friend Amanda from next door paused in whatever it was they were doing with their phones and came over to the table. Even Tyson the little Jack Russell was caught up in the atmosphere and trotted over to settle himself in his favourite place below William's highchair – he knew he was always guaranteed a tasty if somewhat soggy morsel or two in that position.
"So…" Jennifer paused dramatically. "Yes, I am leaving the care home next month – I have handed in my notice. Obviously, they are devastated to see me go – " she flashed Matty a dirty look as he hastily turned his snort into a cough – "but agree that my next step is absolutely the right thing for me to do…"
"Oh, get on with it!" Alex groaned. "We want to have the birthday cake before the sun goes down."
"Are you going on to university or not?" Jim demanded while Pinky, on tenterhooks, held her breath. Surely Jennifer wasn't going to give up her once-cherished dream?
"I am," Jennifer declared, to her parents' relief. "But not to study history. I'm going to study nursing." She dropped the dramatics and looked round at her family earnestly. "I've loved my time at the home so much, and it's taught me something about myself. I always knew I loved older people – how could I not with Grandpa and Grandma around – but now I've learned that I'm good with them, too, and I want to put all my experience to use and train properly to be a geriatric nurse.
"I've been accepted into uni, and I've got a room in the students' residence, so I'll be moving out in a few weeks' time, Mum. But at least you won't have to drive for miles to move my stuff, Dad – the course is here, so I'll still be around."
There was a moment's stunned silence, and then, as one, the older members of the party burst into spontaneous applause.
"It's the perfect job for you, Jennifer," Polly enthused. "You are so kind and patient, as well as skilled practical. But I'm glad you'll still be around – you're so wonderful with Grandpa.
Mike beamed with delight. "You'll be a great nurse, Jennifer. Though I suppose I'll have find someone else to take over the antique shop now that it's old people rather than old things you're interested in."
As Polly squeezed his hand, no-one in the family reminded him that the antique shop was long gone, sold on to another couple before Natalie had bought over the premises with Polly's help. The old man's dementia was mild and he was very happy in his own slightly muddled mind.
"I suppose I am swapping study of one kind of old for another kind of old," Jennifer said, startled at her grandparent's perspicacity. "So I'm still fulfilling my dreams. How lucky am I!"
"Very lucky," Pinky said warmly. "Not many of us can say that."
"I don't know." Polly looked round the assembled party. "Your dad and I have achieved everything we want in life, and are enjoying seeing you all settled and well."
"I only ever wanted a garage of my own, and a happy life with you, Pinky," Jim said gruffly. "I've got both."
"I've never been happier," Natalie chimed in. "I've got Alex and William, and my own business, which is growing all the time – though as my unofficial marketing manager, Keisha says I have to get more up-to-date with Social Media."
Thirteen-year-old Amanda bounced up and down with excitement. "I can help you with Social Media!
Matty grinned. "She's longing to be a TikTok star but she can't think of anything to do on it."
"Can, too!" Amanda punched him in the elbow. "I'm already doing make-up and hair tutorials for my followers  – but if I could do them at Pretty Polly's, I'd get a bigger following – and I could show Natalie and Iris how to do them, too. And you could film them for us – that could be your dream come true!"
"I don't want to be a film maker now," Matty scoffed. "I've got bigger plans than that."
"Oh yes?" Jim asked interestedly, wondering what his younger son was planning. His family never ceased to surprise him.
"I…" Matty announced grandly … "am going to be the new Adam Peaty. I can already swim really well," he added with no false modesty, "and I'm going to make it my goal to qualify for the next Olympics. Though maybe it will have to be the ones after that…"
He turned to his parents. "Anyway, you just need to find me a trainer."
"And ferry you around the country to swimming events," Pinky said faintly.
"And make sure he's out of bed at five in the morning for training sessions," Alex added, grinning as Matty's face fell.
"Maybe I'll stick to film-making," he muttered, pulling out his phone. "Come on, Dad, get those birthday cakes out and I'll film William smashing his for TikTok."
And five minutes later, as they surveyed the results of William's enthusiasm for cake smashing, Alex and Natalie knew what their son's path in life would be – demolition man.
Which suited Tyson nicely as he stayed below that highchair, licking up sponge, cream and icing with the occasion sliver of wax candle!
---
Join us next month for more adventures from the Wadhams clan.