Prawn Sushi
---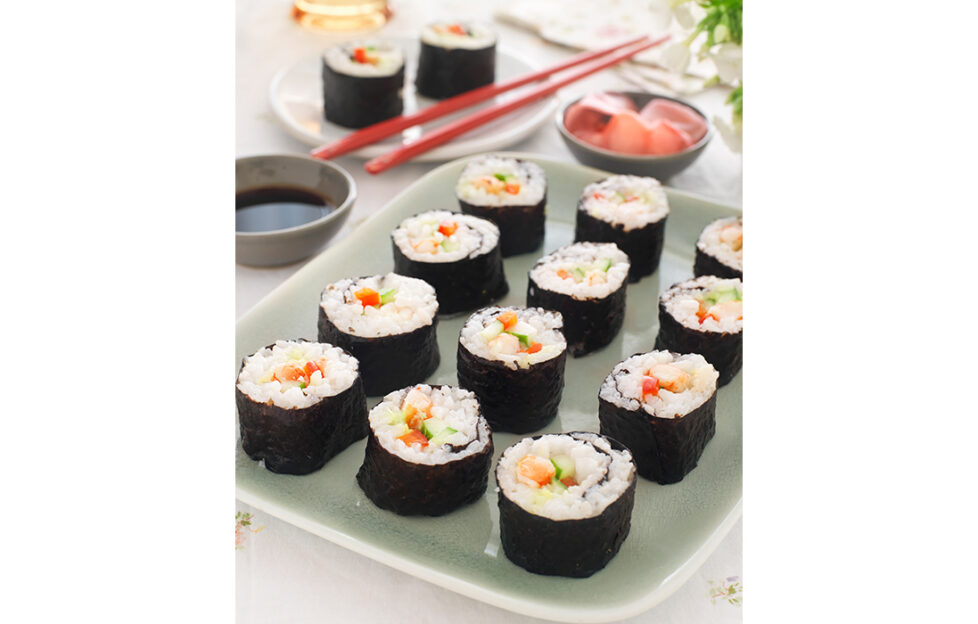 Pic: Jon Whittaker
Never made sushi yourself? This easy recipe is a great way to try it for the first time. You can prepare the sushi up to 24 hours in advance, and slice just before serving. Pick up our latest issue of My Weekly for more Summer Party recipes for a Bank Holiday Extravaganza! On sale Aug 24-31, 2021.
Makes: 24
Preparation time: 50min
Calories per sushi: 50
Prepare the rice. Rinse the rice in a sieve, massaging it with your fingers until the water is clear. Soak in clear water for 15min. Drain and place in a saucepan with 500ml water. Bring to the boil, cover and cook over a low heat for 10min. Remove from the heat and leave to stand for 10min.
Meanwhile dissolve the sugar in the vinegar. When the rice is ready, gently stir in the vinegar and transfer to a plate. Cover with a damp cloth to cool.
Line a sushi mat with clingfilm, put a sheet of nori on top, shiny side down. Spread over a quarter of the rice, leaving a clear strip along one long side. Arrange a quarter of the cucumber, pepper and prawns along the other side.
Dilute the wasabi with a little water then spread a little along the edge of the filling.
Dampen the clear strip, then starting from the cucumber end, and using the mat to help you, roll up tightly like a Swiss roll, sealing it into a secure cylinder. Wrap in the cling film and chill. Repeat with the remaining 3 nori sheets and filling. To serve, using a sharp knife, cut into slices. Serve with pickled ginger and tamari soy sauce, if wished.