Vegan Butternut Squash Salad with a Granola Crunch
---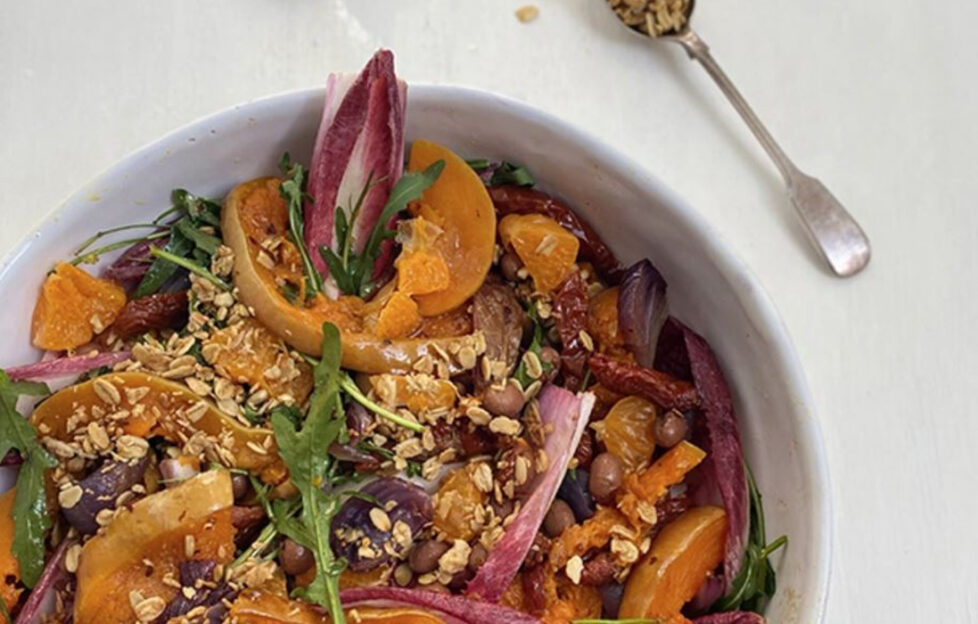 Packed with colour and flavour, this zingy salad will bring a touch of sunshine to the dinner table! Lizi's High Protein Granola is available from Tesco, Sainsbury's Waitrose, ASDA and Morrisons
Serves: 2-4
Cooking time: 35min
Preheat the oven at 180°C, Gas Mark 4.
With a chopping board and sharp knife, cut the butternut squash in half long-ways and scoop out the seeds from half.
Slice the butternut squash into thin slices cross-ways, leaving the skin on.
Peel and cut the red onions into wedges.
Put the slices of butternut squash and onion onto a roasting tin and sprinkle with oil and chilli flakes. Roast for 35min.
Using the hob, and a small pan on a medium heat, cook the borlotti beans for around 5min and leave to cool.
Start to pile the salad leaves onto a serving dish.
In a jam jar, put in the mustard, balsamic vinegar, agave nectar/maple syrup, oil and an ice cube. Put the lid on and shake well.
Pile the roasted squash and red onion onto the salad leaves. Add the borlotti beans, sundried tomatoes and the peeled and sliced orange/clementine. Toss gently to combine with some of the dressing.
Sprinkle the Lizi's High Protein Granola on top and drizzle with some more of the dressing. Serve and enjoy.