The Wadhams 18 – To The Rescue
---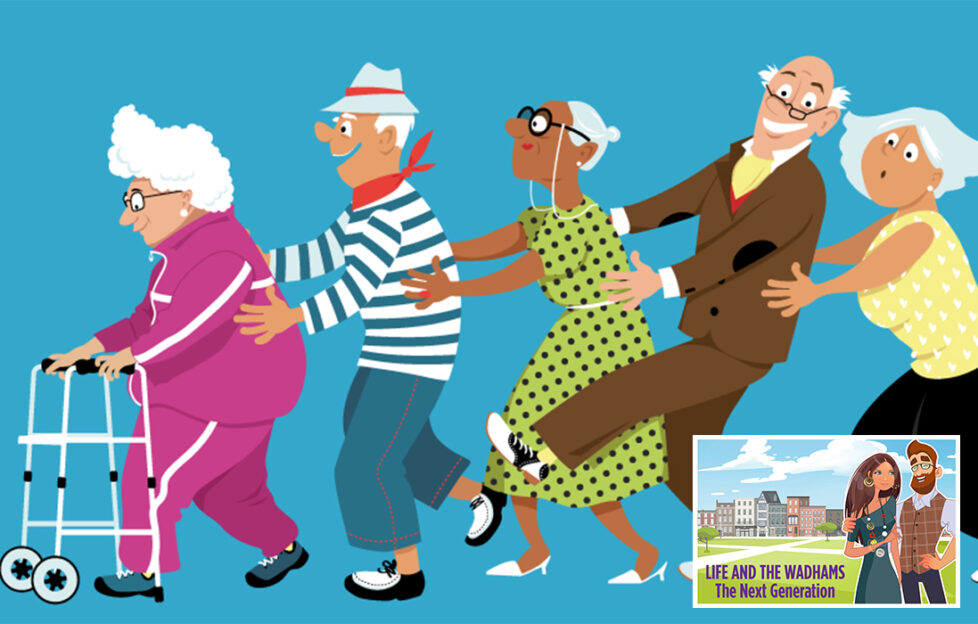 Illustration: Shutterstock
We're delighted to bring you the continuing adventures of Life & The Wadhams, featuring the younger members of the family. Not yet met the Wadhams? Read the background on My Weekly's best-loved family, then come back and enjoy the next generation's adventures as Mike and Polly Wadham's elder grandson, Alex Clark settles into a new life with wife Natalie and baby son William in the flat above the antique shop his grandfather used to own. They've now bought the flat and shop, converting it to a hairdressing and beauty salon run by Natalie.
"Come on, William, let's get you in to Grandad."
Natalie Clark wrestled the baby seat from the car and prepared to carry it up the drive to the door of No 23 Elderslie Terrace where Polly Wadham, William's great-grandmother, had already appeared.
"Jim's just getting Ruby dressed," she told Natalie as they both entered the house. "Pinky has already gone off to work and Matty is away to school."
"Hi, Natalie!" Her 19-year-old sister-in-law Jennifer dashed in from the kitchen, toast in hand, to bestow a kiss on her nephew's cheek. "Hey, silly Billy! Are you spending the day with us?"
Natalie rolled her eyes – the baby's nickname had well and truly stuck, no matter how often she pleaded with the younger members of the family not to call him that. Fortunately, even at his tender age, William was shaping up to be a wee bruiser, and would no doubt be able to fight his own battles soon.
Meanwhile, he was getting serious training on standing his own ground from his three-year-old "auntie" on the days he spent in his grandparents' care when he wasn't at nursery. Jim and wife Pinky already worked around each other to care for their later-life surprise arrival Ruby, and were happy to accommodate William so that Alex and Natalie could work towards a secure future for their little family.
Natalie looked at her watch and screeched. "I'll need to dash – I've got a client in right on nine o'clock. Jen, if you're ready, I'll drop you off at work."
"Brilliant!" Jennifer gulped down the last of her toast, just as her father Jim appeared in the room.
"Your last day!" he said. "I hope it all goes well, Jennifer."
"I can't believe it. I'll miss them all so much." Jennifer looked misty-eyed for a moment.
"But nursing college will be great," Natalie reminded her.
"I know. But I do love my old folks at the home. Never mind, they're all looking forward to the party. Dad, you won't forget to drop the cupcakes off before two, will you?"
"Just got to ice them," Jim said cheerfully. "I'll drop them off once the kids are down for their nap."
He disappeared into the kitchen, while Polly carried William to the door.
See you later, darling. Have a lovely last day!" she called as she coaxed William to blow kisses to his mum and auntie before returning to the house to see what help she could offer Jim in the kitchen. By the time she got there, Ruby was already up to her eyebrows in icing sugar.
Polly laughed and settled William in his highchair with a crust of toast to chew, then rolled up her sleeves and prepared to muck in.
---
There was much excitement at the old folks' home as the morning wore on and the carers decorated the lounge for Jennifer's leaving do. The lively redhead was popular with residents and staff alike, and they were all sorry to see her go.
Mrs Wenham-Smith looked round vaguely at the bunting waving at the windows and the balloons bobbing around the floor as she entered the lounge.
"Is it my birthday?" she asked.
"No, love." Marsha, a middle-aged carer chuckled as she guided her gently to an armchair. "It's Jennifer's leaving do, remember? She is going away to train as a nurse, and we're celebrating with a little party."
"A party!" the old lady said. "Will there be jelly and ice-cream?"
"No, but there will be sandwiches and cake."
"And presents?"
"Of course, a present," Elaine, the other carer on duty in the lounge chimed in. "We won't let Jennifer go without showing our appreciation."
"A party …" Mrs Wenham-Smith said softly. "I remember those …"
---
With toddler and baby down for their afternoon naps in Grandma Polly's care, Jim Clark made a dash for his daughter's place of work, juggling the two cases of cupcakes in his arms as he reached out to ring the doorbell. He wouldn't like to think what Jennifer would have to say if he dropped them now.
The door was answered instantly by Jennifer herself. Heedless of the boxes of cakes, she grabbed Jim's arms and the kindly mechanic was dismayed to see tears in his daughter's eyes.
"Oh, Dad! Something terrible has happened. One of the residents has gone missing – we can't find her anywhere."
"What? Have you searched everywhere? How would she get out? This place is like Fort Knox."
"I think …" Jennifer gulped. "I think it may have been my fault. There was a huge bouquet of flowers delivered for me late this morning, and I was so excited I just took them from the guy and went into the staffroom to open the gift tag before I went back to lock the door.
"Mrs Wenham-Smith must have slipped out then. We've looked in every single room here, and we've been scouring the garden, too, but she is definitely gone.
"Oh, Dad, she is so old and frail, and not quite with it, you know. And she's only wearing indoor clothes and slippers, and it's raining now. Oh, what are we going to do?"
"First things first." Jim was calm and practical. "Has your manager called the police?"
"He's doing it now. But I need to do something. I feel so responsible, Dad."
"Let's not worry over who's to blame," Jim said. "The important thing is to find this Mrs Wenham-Smith and get her back to safety. Now, jump in the car, and we'll have a scout around town ourselves – she knows and trusts you, and it will be less traumatic for her if you find her rather than the police.
"Go and let your manager know what we're doing, and I'll call Grandma."
As Jennifer disappeared back down the corridor, Jim quickly updated Polly on the state of play at the home. As he's have expected, the old lady was calm and reassuring, and had some helpful suggestions to make.
"I find with Mike that he always has his own reasons for some of the silly things he does," she said. "So try to find out what has happened this morning to make Mrs Wenham-Smith want to leave the home," she said. "That might give you some clue as to where she's gone."
"She disappeared not long after we were speaking about the party," Elaine said when Jennifer asked her for more details. She was asking if there would be jelly and ice-cream."
"And she mentioned presents," Marsha put in. "She seemed very excited about them."
"Hmm," Jim said when Jennifer relayed this to him in the car. "Could she have gone into town to buy you a present? Let's head there first and ask around a few shops. Someone may have seen her."
---
Natalie was was just putting the finishing touch to her latest client's glossy new hairstyle when the bell over the shop door jingled, signalling the arrival of her next customer.
"Iris!" she called, without looking up. "Could you settle Helen at the basin, please? I'll be ready in a minute."
Iris hurried through from the tiny back area and stopped short at the sight of the rain-damp elderly woman standing by the door. She was dressed in just loose slacks, a short-sleeved floral blouse and – were these really slippers on her feet?
"Er, take a seat here," she said, glancing over at Natalie, who was still immersed in her work.
"Would you kindly pay the taxi first?" the woman said in a genteel, yet imperious tone. "He's waiting outside."
Now she had Natalie's attention! This wasn't Helen, the bright, breezy yoga teacher who came in regularly for a trim. The woman sat down, just as an irate man burst through the door.
"Am I getting my fare or what?" he asked.
Natalie looked from him to the woman. She had no idea what was going on, but one thing was obvious – this woman should not be out in slippers and no raincoat.
"Of course," she said smoothly, moving to the till. "But can you tell me where you picked this lady up from? Just so I can make sure she gets home safely."
"She hailed me in the street. Just down Lavender Street, it was."
The man faltered as he looked properly at his fare, now happily sitting on Natalie's chaise-longue, taking in her unsuitable dress.
"Oh, I didn't realise… it was raining so hard I just yelled at her to get in and she asked me to bring her here. Do you think she's escaped from somewhere?"
Iris rolled her eyes. "Woke, or what?" she murmured as Natalie said tactfully, "I think perhaps the people she lives with won't know where she is. Mrs – ?"
"Oh, just call me Lydia, dear." Mrs Wenham-Smith beamed. She looked around. "What a lovely little establishment you have here. Now, do let me tell you just how I like my hair. I'm going to a party, you see – my … my daughter, I think, is is off to nursing school. I have to look my best, you know."
---
"So all's well that ends well." Polly Wadham chuckled as Jim collapsed into a chair and gratefully accepted a cup of tea.
"Yes, we'd just reached town when Natalie phoned Jennifer to ask if she was missing a resident, because she had one in her salon very excited about a leaving party! It seems Lydia – Mrs Wenham-Smith – recalled Jennifer speaking about her sister-in-law's salon one day, and amazingly, remembered the name, Pretty Polly's.
"Apparently, her father had a pet parrot – very posh family she came from originally."
"Poor Jennifer," her grandma said. "She must be so relieved. I hope she's able to enjoy her party."
"She knows she was careless and was really sorry about it.  She got a telling-off from the manager when I took her back, but by the time I dropped back again with Mrs Wenham-Smith she was the life and the soul of the party."
"Why didn't you take them back together?" Polly asked.
Jim laughed.
"Because Natalie insisted on doing her hair, of course. You should have seen her waltzing back into the home, perfectly coiffed, ready to party."
He jumped to his feet as a yelp from the next room told him either Ruby or William must have stepped on Tyson's tail.
"To the rescue again! Life's never dull around here, is it?"
Join us next month for more adventures from the Wadhams clan.