Simple Red Lentil Dal For Love Your Gut Week
---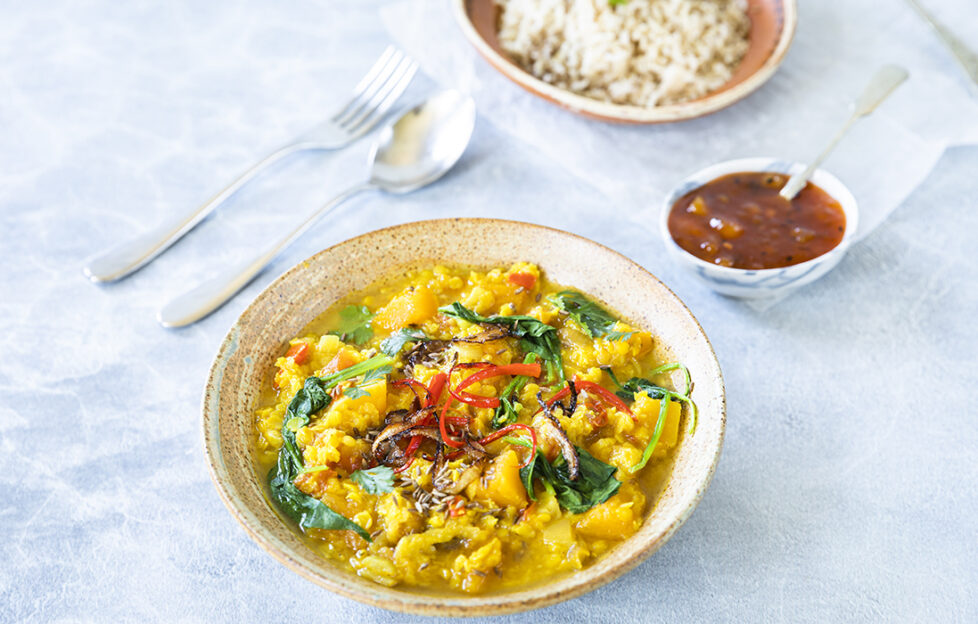 This is a nutritious, sustaining dish. Fibre-rich lentils contain a type of carbohydrate which helps the growth of beneficial bacteria in our gut.
Root ginger has been shown in clinical studies to help relieve gastrointestinal discomfort and nausea, while turmeric contains curcumin, which helps beneficial bacteria in the gut. See below for Dr Joan's top 7 healthy gut tips!
Sweat the onion and butternut squash with a little oil for 10min in a covered saucepan or large lidded frying pan. They should begin to caramelise. Add the tomatoes, garlic, ginger, cumin and turmeric. Cut the chilli in half lengthways and finely chop half. Add this to the saucepan. Cut the other half of the chilli into thin strips and reserve to finish the dish.
Add the red lentils and 1 litre of water to the saucepan and bring to the boil. Reduce the heat slightly and cook for 20min.
Add the spinach, which just needs to wilt for 2min. The dal should be thick and the butternut squash tender.
Add a little oil to a frying pan and quickly sauté the strips of chilli. Serve the dal in bowls scattered with coriander and strips of chilli. Serve with brown rice, or flatbread and chutney.
Alternative serving suggestions
Add peas instead of spinach, or aubergines in place of the butternut squash.
Serve as part of a meal with dishes such as aubergine curry or chicken curry.
Cook's tips
Double the quantity so there are extra portions to put in the freezer. Dal defrosts quickly in a microwave.
Pour over a tarka just before serving. Heat 2tbsp oil in a pan and add 2 banana shallots finely sliced, a chopped green chilli and 1tsp chopped garlic. Cook for 5min; add 2tsp cumin seeds, 1tsp garam masala and cook for 1min before pouring over the dal.
For a little richness, add a swirl of coconut milk.
Dr Joan's Top 7 Healthy Gut Tips
Cooking for someone who has gut health issues? Avoid serving too much fat, and also avoid basing a meal around pulses or wheat.
Raspberries, strawberries, blackcurrants and redcurrants are a good option for a troubled gut. In Scandinavia, berries are made into simple compotes to eat alongside lightly cooked meat and poached fish.
Plant foods support a healthy gut microbiota (the micro-organisms in the gut). Recent research shows the importance of a healthy gut microbiome for reducing symptoms of anxiety and depression.
Aim to eat at least 30 different plant foods a week. All minimally processed plant foods count, from a clove of garlic to nuts or seeds.
Whole grains can help keep the gut healthy: whole wheat and spelt, brown and wild rice, barley, maize (corn), rye, millet, oats, buckwheat, quinoa.
Aim to eat one portion of oily fish a week.
Use as much of the whole vegetable as you can – white and green parts of spring onions, broccoli and cauliflower stalks (in soups), and outer leaves of cabbages, kale and sprouts as crisps. Tear and mix with a little olive oil, garlic powder and parmesan cheese, lay them on a baking sheet and bake at 220°C/Gas 7 for 5min until crisp.