Two Million Thank-Yous
---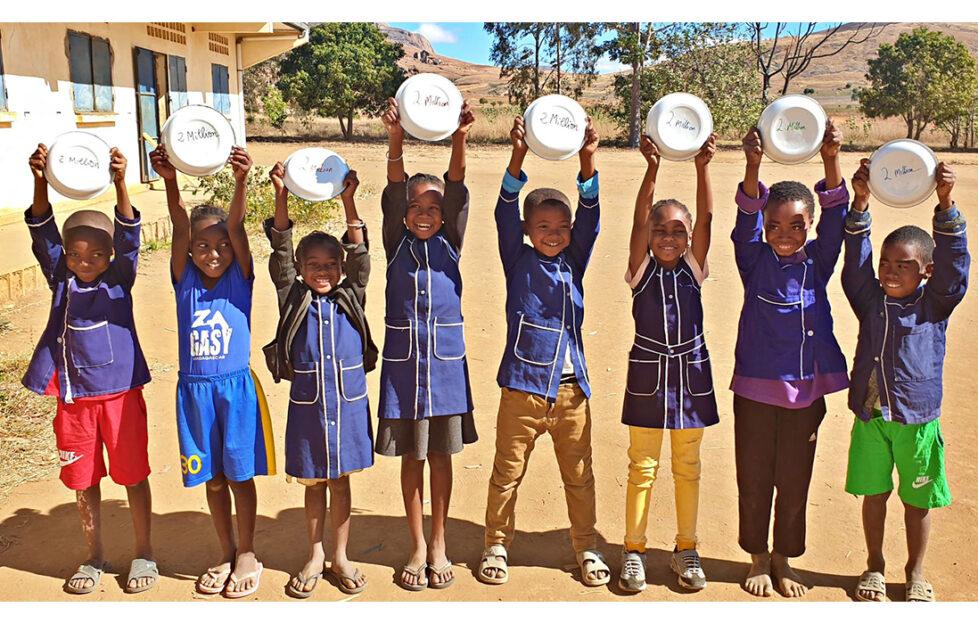 Children celebrating Mary's Meals success in madagascar Pic: Chris Watt
Amazing news from our Helping Hand charity partner Mary's Meals. They've reached the incredible milestone of feeding 2 million children around the world!
My Weekly readers have been generous donors to this cause and it's so rewarding to see how your generosity has made such a difference.
Magnus MacFarlane-Barrow, founder and CEO of Mary's Meals, said: "We're celebrating an amazing moment in the Mary's Meals story when more than two million children are eating Mary's Meals in a place of education.
"When we set out on this path nearly 30 years ago, we were overwhelmed by people's goodness in donating – and that's been the story ever since. I thank you with all my heart on behalf of each of those children, for every bit of hard work, for every gift given, for all those unique things each person brings to this enormous Mary's Meals' table. Thank you, and please let's keep going forward.
 For every one of those children that ate today, many more are still waiting for Mary's Meals to come to their school, so we go on. But this happy day shows us that this vision of ours is possible.
Hollywood star Gerard Butler is a long-term supporter of Mary's Meals and he sent a special video message of support and congratulations.
"It's a huge achievement and I'm personally so proud to be a supporter of Mary's Meals because I've seen first-hand the joy and hope that it brings to children's lives, and it really does show that food in a child's place of education does change the story."
Here at My Weekly, we're adding our voice to congratulate each and every one of our readers who has helped make this happen. We'll be launching our appeal for this year soon, so keep an eye out.