The Puzzle
---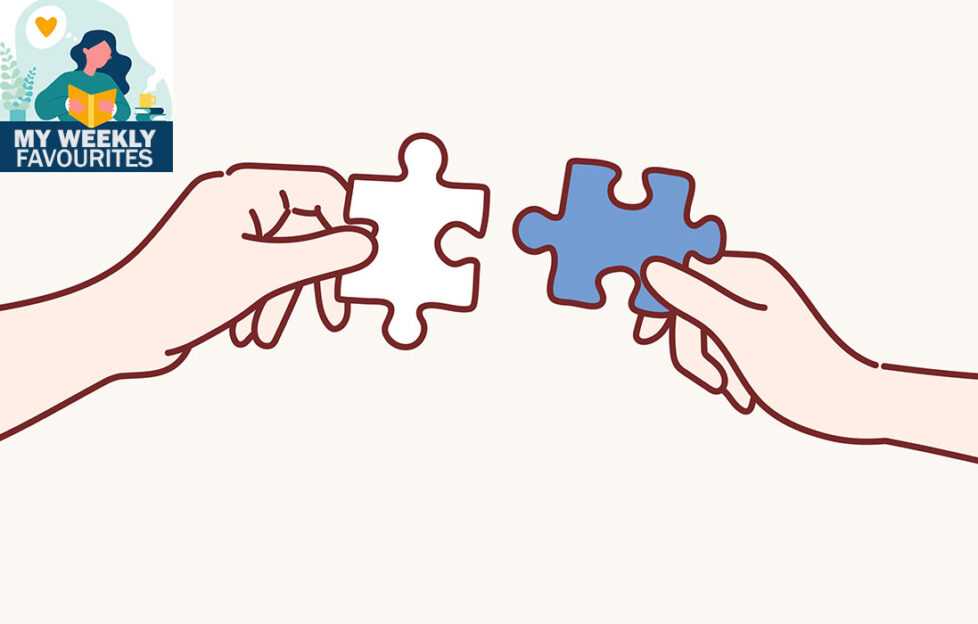 Illustration: Shutterstock
Could an old jigsaw puzzle solve an eighty-year-old mystery?
If only she could go outside, Eleanor thought, craning her neck to see out of her bedroom window.
The French countryside was green and lush, with just a few farm buildings and a distant church spire to remind her that there were other human habitations not far away.
She was propped up in bed, with lots of pillows and the traditional French bolster so that she could at least sit up, but she had strict instructions from "Madame" (who must, Eleanor thought, be in her late seventies) not to move.
The more she rested her foot, the faster the bones would heal, Madame had insisted, and the doctor had nodded gravely and repeated that she had a multiple fracture that would take several weeks before she could put any weight on it.
Eleanor sighed. She was due to return to the UK next week, to enter the final year of her Modern Languages degree course.
She'd been spending this year in Normandy, attending a French university and lodging in this large and rambling farmhouse.
It had been a wonderful year, but now she was desperate to get back to her friends.
Most of her friends, anyway. Her boyfriend, who had promised eternal love before she came to France, had apparently found other interests in the intervening months, and Eleanor was feeling a bit bereft.
Meanwhile, Eleanor had had quite enough of sitting still with her foot up, but if she was going to be fit enough to travel next week – as everyone kept reminding her – she had to rest it.
She'd moved to this bedroom when she first broke her ankle falling down the ancient stone steps in the university library, because it was on the ground floor, and was convenient for Madame to keep an eye on her from the nearby kitchen.
The room wasn't much used, with nothing to look at on the walls but Madame's father's medals in a frame.
To make matters even worse, in this remote spot there was almost no reception, so Eleanor couldn't even phone her friends. She had been reduced, she thought sadly, to reading every single book on her reading list for next year, which, she was certain, was a feat never before achieved in the history of the university and surely worthy of a medal in itself!
She was half-heartedly reading a book one morning – but spending most of her time staring vacantly at the wall – when Madame came in with a tray of coffee and some delicious warm croissants.
"I see you're gazing at my father's medals," Madame said sadly, sitting down on the end of the bed, carefully avoiding Eleanor's ankle. "He was a pilot in the war, but he was killed early on. Seeing you in here resting your foot reminds me of those days…"
She had clearly come for a chat, Eleanor thought, and so she put down her book gratefully.
"I was born at the very beginning of the war, and my father was killed just a few months later." Madame looked out of the window, misty-eyed. "My mother was very young – only nineteen – and suddenly she was a widow with a baby. But she was angry enough to join the resistance movement.
"You can see that this place would have been useful to the resistance. It's so remote, with lots of hiding places… And it was easy to feed a few extra mouths from the farm without arousing suspicion. Anyway, from time to time we had foreigners living in the house, and I can remember my mother having a worried look about her all the time.
"We continued to shelter people throughout the war. British airmen who'd been shot down, or whose parachutes had failed mostly. Then they'd stay with us until the local resistance people could get them onto a boat or a plane to get back to England. When I look back, I can't believe how brave my mother was."
As she talked, Madame broke off pieces of flaky buttery croissant and dipped them in her coffee before eating them delicately.
"At last the war seemed to be coming to an end, and we hadn't had anyone in the house for months. Then an airman arrived in the middle of the night. He's the one I remember. I was five by then, so he made an impression." Madame smiled.
"He lay exactly where you are now. He'd broken his leg when his parachute hit a tree. His name was Peter, but my mother called him Pierre. He spoke hardly any French – not like you – and we didn't have any English books, so he spent his days doing jigsaw puzzles.
"That's when he wasn't looking at a very creased photo of his fiancée," Madame said, smiling again. "He wanted paper to write to her, but we couldn't risk it. If we'd been found posting a letter to England…"
"So, what happened?" Eleanor asked.
"I don't know," Madame said, wistfully. "Suddenly the resistance found a way to get him home, and he left with only about ten minutes' notice. Which was just as well as the soldiers came just hours later and searched the house again.
"My mother told me to go to this room and carry on with his jigsaw while the soldiers were here. I realised later that she wanted it to look as if I'd been doing it."
She frowned. "I haven't thought about that jigsaw for years. The strange thing was, when I got here the puzzle was face down. Maybe he'd made it more challenging for himself by doing it the wrong way up. They were children's jigsaws and would have been far too easy. But I was devastated that he'd gone.
"Anyway, enough reminiscing. I must get back to the kitchen."
She picked up the tray and made to leave, but stopped, her head on one side.
"Do you like jigsaws?"
---
The remaining days before Eleanor could at last return home passed reasonably quickly. Madame had found the old box of jigsaws and had at last allowed Eleanor to sit up at a table, provided she didn't try to go anywhere.
Eleanor chose the most complicated puzzle in the box – five hundred pieces, depicting, appropriately, a farmyard with cows, sheep, horses and pigs under a bright blue sky. The pieces were thick and wooden and made a clackety noise as she spread them out, looking for the corners and the edges.
She hadn't done a jigsaw since she was a child, but it helped pass the time.
Once Eleanor had knocked a selection of sky pieces on to the floor and struggled to bend down to pick them up. One of the pieces had marks on its pale wooden back. Was it pencil, or just ordinary wear and tear?
Eleanor turned over some other pieces. Most were blank, but then she found two more with faint marks. Was that a word?
She had nearly finished the puzzle, so she put the remaining dozen pieces in, then carefully turned the puzzle over, one section at a time.
The words covered a quarter of the puzzle:
SVPPOSTEZAMLLEJBROWN
18IVYRDEPSOM
Was it a code of some sort? The next line wasn't in capitals but the writing was fainter, and in English, and looked as if it had been written very fast, but much of it had been rubbed away. Perhaps by her own fingers.
"Madame!"
---
The two women gazed at the first line. It was Madame who realised what it meant first.
"C'est une adresse! Is there a place called… Ep-som?"
Eleanor gasped in amazement as the letters fell into place.
"SVP – s'il vous plaît – please – post to Mademoiselle Brown… then, 181? No! It's 18, the next letter is an I. Ivy Road, Epsom."
The two women looked at each other.
"Madame," Eleanor said after a moment, "who was the last person to do this puzzle?"
But she already knew the answer.
"C'était Pierre – it was Peter, the airman. And then I… I put the pieces back in the box," Madame said, looking horrified.
---
A week later, back in England, Eleanor found herself in Epsom, knocking on the door of 18 Ivy Road, even though Miss Brown would be long gone. She was being stupid.
A tall man in his mid-twenties opened it and looked at her with evident interest – an interest that had nothing to do with what she'd come for, Eleanor realised, hoping she wasn't blushing. The man was actually rather delectable, she thought.
"I… oh dear, this is complicated," she said at length.
"I'm trying to trace someone who lived here at the end of the war, which I'm sure you won't be able to help with, but…"
"Gran!" the man called to someone inside. "But come in," he said belatedly. "I'm sorry, you shouldn't be standing on the step." He was looking at the boot that was supporting her still painful ankle. "Come in and sit down. Gran will probably know."
"I'm looking for a Miss J Brown," Eleanor said hesitantly, once she'd met his grandmother. "I have something for her from Peter. I don't know his surname. I don't really know much at all, so I'm on a bit of a wild goose chase, I'm afraid."
The woman gazed at her, then said, "Would you like some tea? Phil, would you be very kind…?" Then she turned back to Eleanor.
"I was June Brown before I was married," she said, looking thoughtful. "This was my parents' house, and I inherited it. Years ago, now. My husband and I were living in a poky little flat, so we moved in."
She looked towards a framed photo of a handsome man on the mantelpiece.
"He died nearly ten years ago, but yes, that's Peter." She paused. "What I don't understand is why you would have anything of his?"
Phil came back with the tea, and Eleanor began to explain, to increasingly incredulous looks from Philip and his grandmother.
Eleanor took the package containing the jigsaw from her bag and passed it to June, who opened it with trembling hands.
Together, Philip and Eleanor started to piece it together, writing side up, on a tray.
When it was complete, Eleanor handed the tray silently to June, who read the words several times, her eyes filling with tears before then June passed it to her grandson…
My darling June,
I have not been able to write to you for weeks as I was injured when I was dropped into France and am resting up my broken leg in a very kind woman's farmhouse.
There have been a number of raids in the surrounding area lately, and I fear every day that I may not return home. I just want to tell you, dearest June, that it is the thought of you that has kept me alive all this time, and that I long to come home and marry you.
I hope that someone will find this and post it to you.
Please look after yourself, darling,
Your ever-loving Peter
There was silence for a moment.
Then June, in a quieter, croakier voice than before, spoke…
"The first thing Peter said when he came home wasn't 'I love you' or anything like that." She smiled. "It was 'Did you get the jigsaw?'
"I didn't know what he was talking about. Until now."
June's eyes were sparkling with unshed tears. She got up slowly and left the room.
"And if you hadn't broken your ankle, it might never have come to light," Phil said, reaching for Eleanor's hand, and smiling warmly. "And then I would never have met you."
Our My Weekly Favourites series of lovely short fiction from our archives continues on Mondays and Thursdays. Look out for the next one.
Don't forget – you can find brand new, uplifting short stories every week in My Weekly magazine! Subscribe now for a great money-saving deal.