Every Small Step 2021
---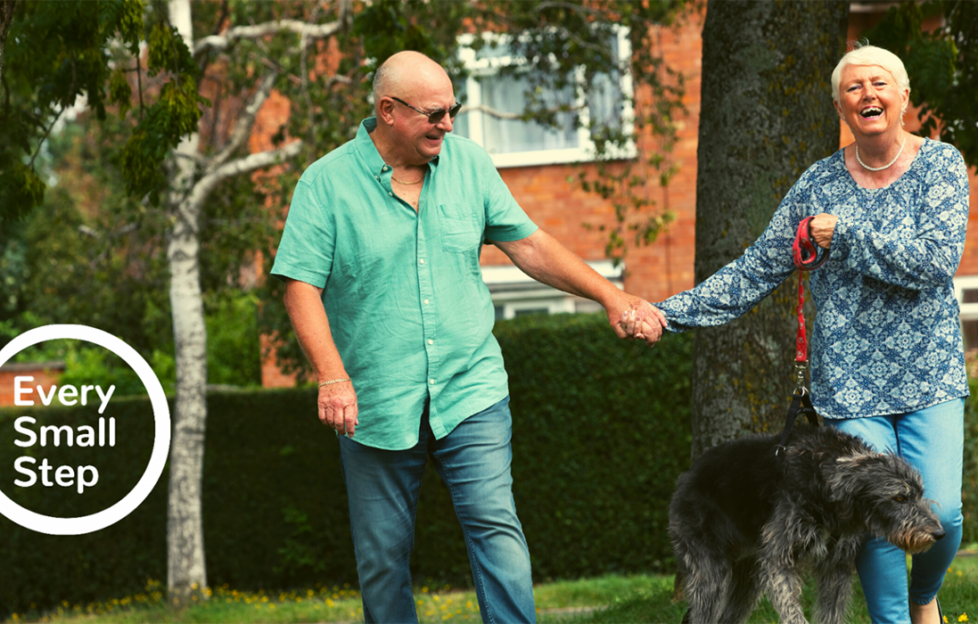 Could you take a daily walk for 5 days to help dementia carers?
Take some steps to help support family dementia carers by joining a 5 day walking challenge – it doesn't matter if you do 100 steps or 10,000 steps!
Dementia Carers Count (DCC) has re-launched its flagship five-day walking event, Every Small Step 2021. The event will take place from Wednesday October 13-17, 2021.
Every Small Step celebrates the lives and contributions of the families and friends caring for someone with dementia in the UK. Anyone can show their support by registering for the event online. Attendees can form walking groups or enjoy the challenge alone, and for extra motivation there are specially recorded podcast episodes, featuring the voices of family carers, comedians, authors, dementia campaigners and more.
When you register there is an option to set a walking challenge for the five days – whether it's 100 or 10,000 steps – the aim is to reach a cumulative community step count of 700,000 steps each day: one for every family dementia carer in the UK.
DCC hopes Every Small Step will also kick-start a healthy new routine to fight the winter blues. Being active each day, even if it is just a small amount, is proven to be a great pick-me up, and the charity is hoping that many will continue with a daily walk when the event closes.
John Stiles, son of legendary footballer Nobby Stiles, who sadly passed away with dementia, is urging people to get out and do as many steps as they possibly can. He says,
Every step you take is helping a family in the worst times of their lives.
Trevor Salomon, who sits on DCC's Carers Advisory Panel, is married to Yvonne who has young-onset Alzheimer's and lives in a care home. Trevor said, "Taking part in Every Small Step is a unique opportunity to show your support for those who work tirelessly to care for a friend or family member with dementia. Family carers don't get days off, especially not during the pandemic, and DCC has helped them stay connected by providing a much-needed sense of community. We can't let family carers be forgotten, especially in current times."
Last year's event raised over £10,000 to fund DCC's innovative digital services that provide remote support to family dementia carers across the country. Fundraising for the event isn't mandatory but the vital funds that are raised ensure Dementia Carers Count can continue to offer life-changing support.
How do I register?
Simply go to  dementiacarers.org.uk/event to sign up for the event.