The Wadhams – The Green Eyed Monster
---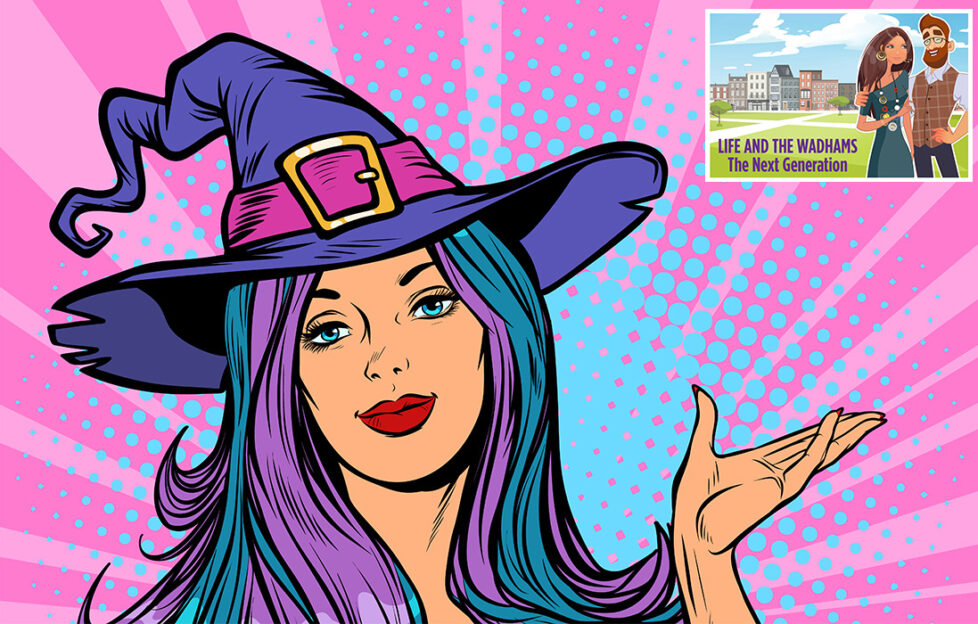 Illustration: Shutterstock
We're delighted to bring you the continuing adventures of Life & The Wadhams, featuring the younger members of the family. Not yet met the Wadhams? Read the background on My Weekly's 
best-loved family
, then come back and enjoy the next generation's adventures as Mike and Polly Wadham's elder grandson, Alex Clark settles into a new life with wife Natalie and baby son William in the flat above the antique shop his grandfather used to own. They've now bought the flat and shop, converting it to a hairdressing and beauty salon run by Natalie.
Pretty Polly's was buzzing the morning of October 31, which was just how Natalie Clark liked it! Since establishing her little hair and beauty salon that summer, word had spread about her and colleague Iris's talents, and they could have filled the two chairs twice over – and had deliberately opened this Sunday to cope with demand for Halloween. 
But still, Natalie had kept a space free for that afternoon – for once she planned to be sitting on the other side of the shampoo, scissors and straighteners while Iris primped and preened her ready for her first anniversary celebrations with husband Alex. 
"Though he'll probably come home smelling of engine oil, as usual." She laughed as she and Iris set out their trolleys for their first customers. "He's doing overtime, too, today. I'll have to make him have a shower before we sit down to eat that gorgeous Vietnamese pho I've prepared." 
"It was Vietnam where you got engaged, wasn't it?" Iris asked curiously. 
"Yes, we'd been travelling, and were planning to head to Australia when I discovered I was pregnant and we had to cut the trip short." 
"Still, you've had plenty more adventures since." Iris grinned. 
Natalie considered. It was true. She'd had baby William, got married, bought a flat and a business, made new friends … she was blissfully happy. 
And yet sometimes she couldn't help wondering if Alex regretted the curtailment of their round-the-world trip. After all, he'd originally planned to go alone – they'd even split up for a while because of it. 
It was his grandpa, Mike Wadham, who'd made Alex realise that he didn't want to go anywhere without Natalie, but she'd experienced a few weeks of heartache before he came begging her to go with him. 
A jangle of the doorbell heralded the arrival of their first customer, and soon Natalie and Iris were too busy to exchange more than a few words. It seemed everyone was going out that night to a Halloween party, making up for the lack of celebrations the year before. 
As Natalie backcombed and sprayed purple or green dye into the hair of would-be witches, she found herself wondering if she should introduce a fancy-dress theme to her anniversary celebrations. Maybe she should dress up as a French maid … Alex would like that! 
She blushed to herself and returned to the task in hand, only looking up when the door opened again. 
To her surprise, it was Amanda, 12-year-old neighbour of her in-laws, the Clarks and Wadhams at No. 23 Elderslie Terrace. 
"Hi Amanda, what are you doing here?" she asked. 
"I got the bus into town to get some hairspray dye for tonight," the younger girl told her. "But everywhere's sold out so I wondered if you had any?" 
"I don't have a can to spare, but wait till Iris has finished with her client and she'll give your hair a quick spray. Are you off to a Halloween party?" 
"No, but Dad and Papa say I can go out trick or treating tonight!" Amanda was almost bouncing up and down with excitement. 
"On your own?" Natalie was surprised. Seb and Paul were very protective of their adopted daughter, who'd had a bad start in life. 
"No-o. Jennifer is coming, too – we're taking Ruby around the neighbours. I'm being a witch and Ruby is my black cat. Jennifer says she'll dress up, too. I don't know what as yet." 
Natalie smiled. How like Jennifer, her 19-year-old sister-in-law, to give up her time for her toddler sister and her neighbour's daughter. She'd chosen the right path training to be a nurse. 
She turned her attention back to her client, waiting patiently for finishing touches to her blow-dry. 
When the phone rang, Amanda leapt to get it.  
"Pretty Polly's. How can we help?" she said importantly.  
Natalie was vaguely aware of her saying "uh-huh … let me check … yes, we can do that … See you at three … " before the phone clicked off and Amanda grinned at her. 
"Someone called Nadira Hussain wants an updo. She says Alex recommended you. Lucky you had that last appointment of the day left." 
Nadira Hussain …  
Natalie gazed at the younger girl in dismay. Not only had Amanda given away the slot she'd reserved for herself, she'd given it to the last person in the world Natalie wanted to see, especially on her first wedding anniversary! 
She hadn't liked Nadira even when she knew her at school – and she'd never forgiven her for making a play for Alex in the few weeks he and Natalie had been split up.  With her petite figure, big brown eyes and gorgeous mane of long black hair, she was just Alex's type, and he'd even gone out on a couple of dates with her. 
Natalie hadn't seen her since they'd returned from Vietnam – but Alex obviously had! And hadn't thought to mention it … 
For the first time in a long time, the green-eyed monster reared its ugly head, and Natalie had a hard time ignoring it as she tried to concentrate on her clients for the rest of that morning. 
"Be sensible," Iris tried to console her as they took a quick breather before Nadira arrived. "As if Alex would look twice at anyone else. He adores you! And anyway, why would Alex send her here if he was planning on carrying on with her? It doesn't make sense. He's obviously bumped into her, talked about Pretty Polly's and she's remembered the name." 
"Hmm." Natalie was unconvinced. "I trust Alex – but I don't trust her. Believe me, Nadira Hussain is up to something! Her and her perfect hair." 
"You could always sabotage her." Iris grinned. "A slip of the scissor and … " She made a chopping motion close to her scalp. 
Natalie laughed. "She'd still look gorgeous! You'll see." 
---
Iris had to admit that Natalie hadn't exaggerated Nadira's beauty as she settled herself in front of the mirror. But she wondered if her boss's resentment of her would-be rival had clouded her judgment, because Nadira seemed a perfectly nice young woman, chatting away to them both as Natalie gritted her teeth and combed out her rival's long tresses. 
"It's so long since I've seen you," she said from the depths of her chair. "I couldn't believe it when I bumped into Alex the other day and he said you were married with a baby! He showed me loads of photos. What a gorgeous little boy he is. Where is he today?" 
"He's with my mum – he's having a sleepover as Alex and I are celebrating our wedding anniversary," Natalie said pointedly – the hairgrips in her mouth giving her the perfect excuse for her terse tone. "What are you up to tonight that you need your hair done in such a hurry?" she added in an effort to be friendly. 
Nadira's bright smile faltered. "Just a family get-together. All my brothers and sisters are getting together at mum and dads." Her eyes filled with tears as she rushed on, "It's the last chance we'll get before my older sister – you remember Kirana, from school? – starts chemotherapy. She's got non-Hodgkins lymphoma, you see." 
"Oh no! She's so young, too." The green-eyed monster in Natalie's stomach disappeared with a pop, to be replaced by a wave of sympathy.
Perfect Nadira's perfect life wasn't so wonderful after all. Natalie didn't have a sister but she knew how she would feel if it were Jennifer. 
"She'll lose her hair," Nadira went on. "And I'm going to lose mine too. I decided earlier today to shave it off in solidarity, so tonight is its last hurrah. I'm so glad I remembered you had a salon, and that you could fit me in today." 
"Wow!" Iris looked up from her cleaning of the sink. "You're brave." 
Nadira shook her head. "It's Kirana who is brave – and I know she'll get through it. But I just hope I manage to shave off my hair without taking my eyebrows out." 
Natalie unrolled the first curler from Nadira's hair. "I'll do it for you," she said. "Just let me know when you're ready. Meanwhile, let's make you even more gorgeous for tonight." 
Iris eyed her boss sympathetically, knowing she'd hoped to have been sitting in that chair, being made gorgeous for her first wedding anniversary.  
She might not have sacrificed her place willingly – but how like her to whole-heartedly offer to help a girl she didn't even much like. Natalie was beautiful, inside and out, Iris knew. 
---
And so did Alex, as he sat down to a steaming bowl of Vietnamese pho, having dutifully showered and dressed up for the occasion. The lights were low, the music playing and the scene set for a very romantic anniversary (though Natalie had eschewed the maid's outfit in favour of a black jeans and a pretty top and twisted her undone hair in a loose knot).
Her previous jealousy had evaporated, especially as Alex had assured her he hadn't meant to hide his encounter with Nadira. 
"It was the day William was sick just after I picked him up from nursery," he recalled. "I had so much cleaning up to do, everything else went out of my head." 
"Let's hope he's not sick tonight," Natalie said as they settled down on the couch together after their meal. "I don't want any phone calls from my mum to spoil our perfect night in." 
And right on the cue, the doorbell rang! 
With a sigh, Natalie went to answer it, to be confronted by a red-haired, grown-up looking Hermione Grainger, a 12-year-old witch and her three-year-old cat. 
"Trick or treat!" they yelled in unison. 
"And happy anniversary," Jennifer added. "Hope we're not interrupting anything … " 
Join us next month for more adventures from the Wadhams clan. 
Find a wide variety of book reviews by Karen at karensbookbag.co.uk and follow her on Instagram and Twitter