Autumnal Sweetcorn Soup with Granola Bread
---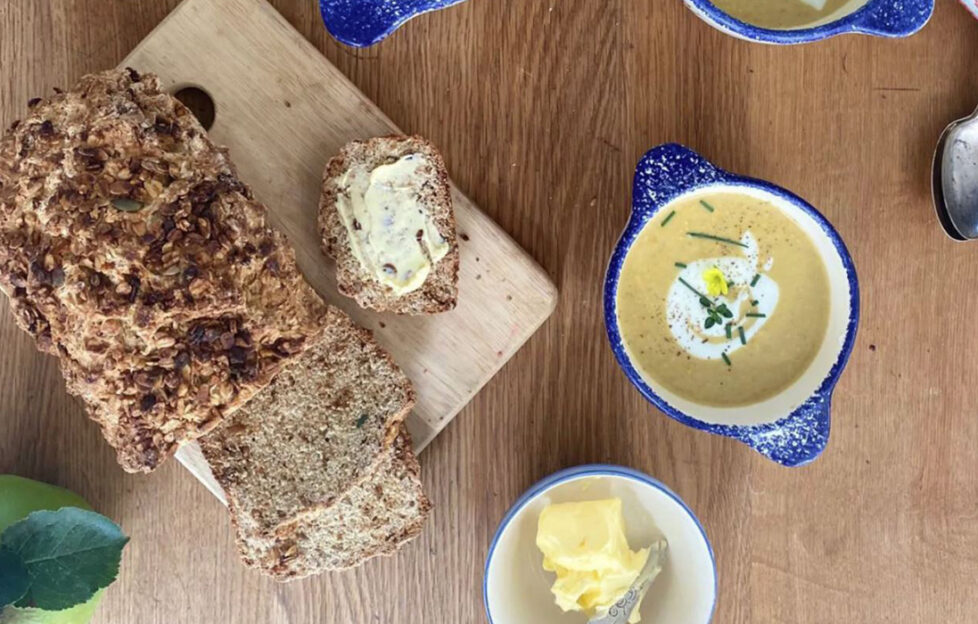 Cosy up this autumn with this smooth, seasonal soup served with granola bread – ideal for a lunchtime treat!
Makes: 4-6 bowls
Cooking: 1hr; cool bread for 3hr before serving
To make the soup: 
With a sharp knife, strip the kernels from the corn cobs.
Trim the leek and finely chop the potato. Pop these into a pan with 2tbsp of rapeseed oil and cook on a medium heat until softened. The leeks will be fully soft but the potato can be slightly firmer as it will finish cooking in the soup. Add a splash of water if the potatoes start to stick.
Add the crushed garlic and butter to the pan and cook for around 3-4min.
Add in the corn kernels and pour over 500ml boiling water with a vegetable stock cube mixed in.
Season with the salt and pepper and simmer for around 20min.
Add into the milk and gently heat for another 10min. Lift out a piece of corn to check it's soft.
Once the corn is softened, transfer to a food processor or blender. Blend and season again if needed.
Once blended, add a swirl of thick yogurt or cream and some freshly cut chives to serve.
To make the bread:
Preheat the oven to 200°C, Fan oven 180°C, Gas Mark 6.
In a large mixing bowl, place the plain flour, wholemeal/spelt, salt, bicarbonate of soda and Lizi's Original Granola and stir to combine.
Add the honey and yogurt/buttermilk to the bowl and mix together until a sticky dough forms.
Dust a clean countertop with flour and tip the dough onto the counter. Knead gently for around 1min.
Line a deep round cake tin (20cm) or loaf tin with non-stick baking paper.
Shape the dough to fit the tin and place in, sprinkling a handful of Lizi's Original Granola on top.
Bake for 45minutes until golden brown. Once cooked, lift out of the tin and cool on a cooling rack for around 3hr before eating. Enjoy!
---
Lizi's Original Granola: RRP £3.69 for 500g, available from Tesco, ASDA, Sainsbury's and Ocado.