Diary of A Modern Gran | The Tooth Fairy
---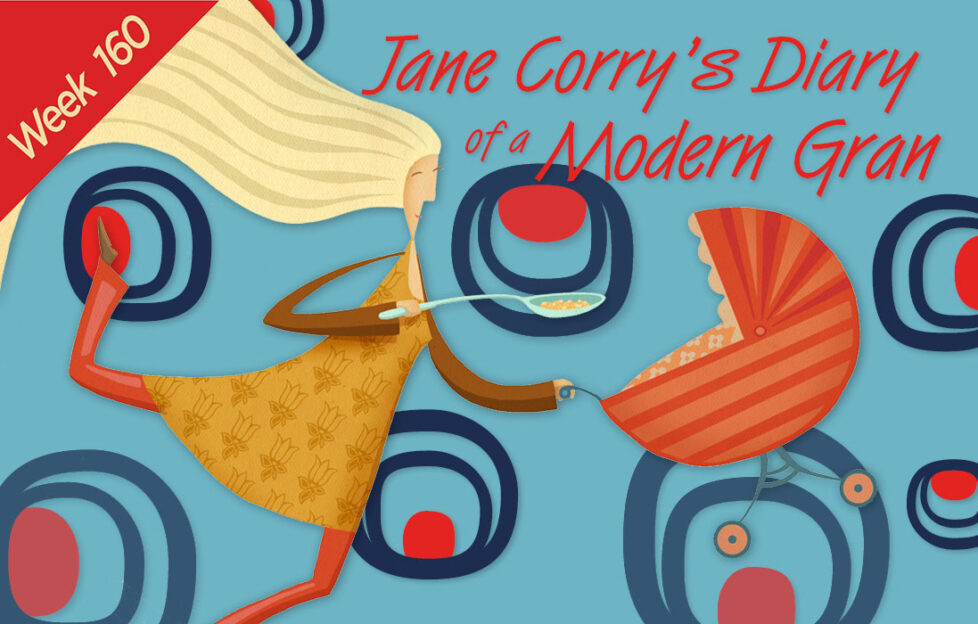 Illustration: Istockphoto
My mobile goes at 9.30pm on Saturday night. My husband and I are catching up on The Long Call based on Ann Cleeves' novel. I interviewed her at our local literary festival two years ago and found her utterly charming and fascinating.
But back to the phone. I can see from the screen that it's my daughter. My heart starts to race. She'd had her third vaccination that morning (due to low immunity) and I'm worried she might be feeling poorly like last time.
But it's not her at all.
It's my five-year-old granddaughter. At this time? Something must be up. And it is.
"Gan Gan," chirps Rose excitedly. "One of my teeth is wobbly!"
No! Surely she's too young? It doesn't seem very long since my little Rose cut her first. I can still remember the excitement of seeing that little white dot rising out of her gums and getting bigger.
Then my daughter chips in on loudspeaker. "We'd been watching Strictly together – it's our Saturday night treat together and Rose loves to dance around. Then she went up to bed. But she couldn't settle and we kept hearing her voice on the intercom saying 'My tooth is loose.' So we went up and it was!"
Was? Does that mean it's out?
"Not yet."
The old "door and string" joke immediately comes to mind. My father was always suggesting it when my sister and I were young and we were never quite sure if he was joking or not. Or maybe they need to do a bit more dancing to coax it on its way!
"How much is it for the tooth fairy?" I enquire. During the virus, I've stopped using cash altogether.
"A hundred pounds from each grandparent," jokes my son-in-law.
Nice one!
We say goodnight, but good luck to the "children" in getting Rose to bed. She's very excited. George is asleep but I wouldn't mind betting that when he wakes the next morning, he might start wiggling one of his teeth to keep up with his sister. (He likes to copy everything she does.)
But the funny thing is that I can't sleep. It's not just the rain which is beating down outside. Or the worry about whether I should meet my writing friends next week in view of the rising virus numbers. Or the fact that when I went to get my pre-booked 'flu jab this morning, the pharmacist was closed due to staff shortages.
No. It's because I'm thinking of teeth.  I know we all say that children grow up fast but this really is a rite of passage. Yet something else is nagging in my mind. That's it!
I get out of bed – trying not to disturb husband and dog – and find my torch…
Quietly, I open my third drawer down in the chest where I keep "special things" like precious family mementoes. And there it is!
A small pearl-shaped tooth, nestling in a pink box with some sloping handwriting. "With love from the tooth fairy!"
It dates back to the early 1990s. The handwriting (which I'd attempted to disguise because my children were a canny lot even at that age) was mine. The tooth was my daughter's first. I had left her the money under the pillow (I can't remember how much) and the note. But I'd decided to keep her tooth.
"What about my first tooth?" asks my eldest son when I tell him this.
"And mine?" asks the youngest son. "Did you keep ours?"
Oh dear. I'm not sure I did. I was probably too busy running around, trying to look after them all and writing – not to mention cleaning and doing all the other things we do.
"But I did leave you money," I say.
"We'd rather have had the letters," says my eldest. "It's a piece of history."
He's only half-joking. But I do know what he means.
So when Rose's tooth finally comes out, I might ask the parents if I can leave a note from the tooth granny.
Then – and I'm not joking – I receive a phone call from the dentist a few days later. "We wondered if you wanted to go ahead with the implant?" asks the receptionist.
She's referring to a tooth which I lost during the height of last year's virus.
"Actually, I don't think I will," I say, running my tongue around the empty space. "I've got used to it now."
I recount this to my husband. "Just imagine when Rose is your age," he says. "They'll probably have some kind of high-tech alternative for lost teeth."
I'm not sure I want to think about that. Right now, I'm going to the cash machine to get a fiver so I'm prepared for the big event. Is that enough or should I ask for change?
Does anyone have any idea what the going rate is for a first tooth? Do let me know by emailing moderngran@dctmedia.co.uk
Ask Modern Gran
Every week, we try to help you with a family problem. If  you'd like to share yours, please email us at moderngran@dctmedia.co.uk. Please let us know if you don't want us to use your name.
"I feel very selfish about this but I'd really like your advice," writes M from Newcastle. "Since restrictions have eased, my son and daughter-in-law have gone back to working outside the home. This means that I have gone back to my old routine of looking after my three-year-old granddaughter and taking the seven-year-old to school and picking her up. I did this perfectly happily before the virus but it wasn't until lockdown that I realised how tired I'd got. Now I have to drag myself out of bed every morning and I'm exhausted. My husband says I should give up. But I don't want to let them down. Although they're working, money is tight."
Jane Corry writes:
"You're not alone, M. I've heard similar stories from other grandparent friends. One of them took the plunge and had a heart to heart with her son, explaining how tired she was. He was genuinely surprised. Neither he or his partner had realised she was exhausted. They'd just assumed everything was fine because she hadn't said.
"My advice is to do the same. Talk to your grown up son and his wife. Tell them you love being with your grandchildren but that you can't do it all on your own now. It's always good to have a back-up anyway.  It doesn't mean you're bailing out altogether. It's just being realistic. Perhaps they could ask a friend to take your eldest grandchild to school and pick her up. If necessary, maybe you could help them pay for extra help in looking after your younger grandchild.  If your health suffers, it's not going to help anyone."
Grandparent of the Week – Anne, 71
Anne, 71, and her husband Peter, have one grandchild, Florrie, who lives about an hour away in Wales.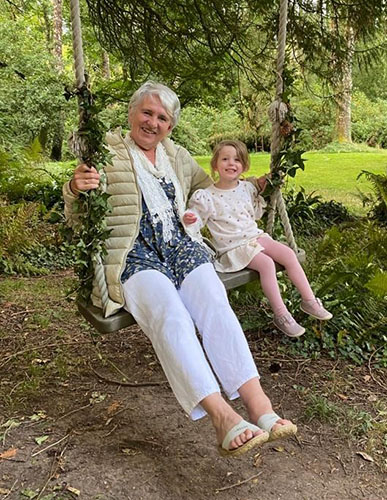 "Florrie calls me Mamgu which is one of the Welsh names for 'grandmother'. Her father, my son, is Welsh and her mother is English. My husband is Irish but can also speak some Welsh, which is helpful! I nearly always speak to Florrie in Welsh.
"We look after her every Monday while her parents are at work. It used to be from 9am to 6pm but now she goes to a Welsh-medium school in the morning. It helps that there are two of us. We often take her to a local National Trust house, Dyffryn, with a lovely garden. We can easily spend two to three hours there or at the local playground if the weather is OK. If not, we go out in our wellies or play games at home.
"It's lovely to be with her physically. During Lockdown we had daily chats on facetime which helped us to get through but it wasn't the same.
"Occasionally we have her at weekends which is an absolute joy. I never have any trouble in getting her to sleep now she's three, but it was sometimes a challenge in the past! She likes to play with my sons' soft toys which I've kept. We brought them all down from the attic and counted 55! It's lovely to know that they are still being loved.
"Florrie also enjoys 'reading'. One of her favourites is The Gruffalo by Julia Donaldson. We have the Welsh translation. She also loves many of the old favourites like Each Peach Pear Plum and Mister Magnolia, which she knows off by heart. In Welsh, Eric Hill's 'Smot' books are great favourites, still!
"Like many grandparents, we're aware of the fact that the virus can be transmitted through children. Florrie has been tested lots of times as she's been at nursery throughout the pandemic and whenever she has a cough or high temperature, all have to isolate. So frustrating for working parents!
"We love being grandparents. There's nothing like it."
If you would like to tell us about your life as a grandparent, please email us at moderngran@dctmedia.co.uk
---
Love reading?
Jane Corry's new Penguin family drama, THE LIES WE TELL, is the story of Sarah who will do anything to stop her teenage son from going to prison. Even if it means breaking the law herself. You can buy it from supermarkets, bookshops and online at https://linktr.ee/thelieswetell.