Linguine With Pesto Genovese
---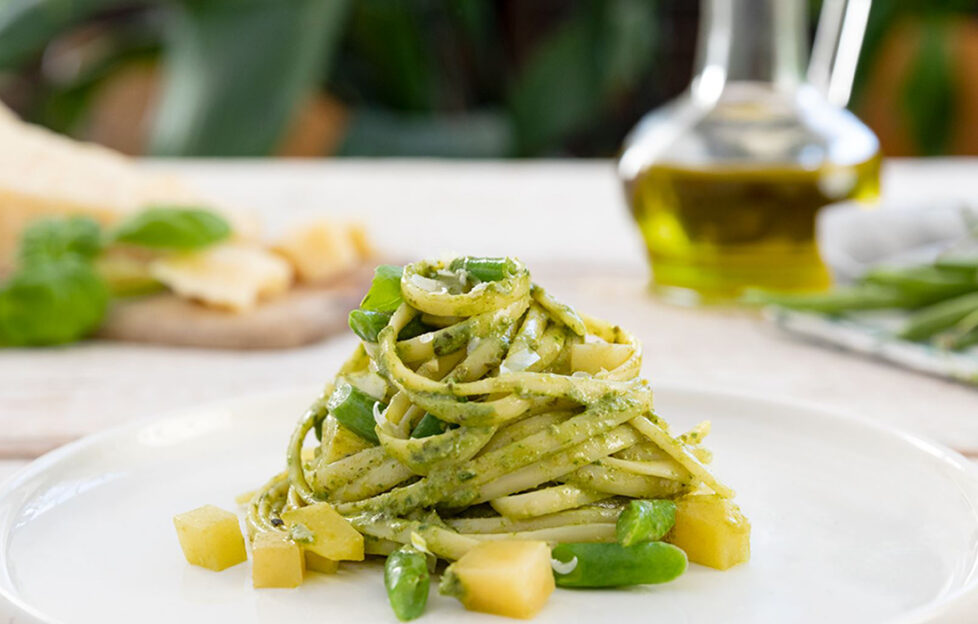 Many Italian recipes are beautifully simple yet full of flavour, and this is one of them. Potatoes and pasta? Trust us, it works!
Preparation Time: 15min
Cooking Time: 12min
Serves: 4
Peel the potatoes and cut them into 1cm cubes.
Wash and clean the French beans and cut them into 3 cm strips.
Bring water to boil adding seven grams of salt for each litre of water. Boil the Linguine for 8 minutes.
Around 4-5min before draining the pasta, add the green beans and the potatoes into the pasta pot, so that they cook together.
Drain the pasta and vegetables, reserving a little of the pasta water.
Put the Linguine in a bowl and toss with the pesto off the heat, adding a little of the cooking water to keep the pasta fluid and uniform.
Mix well to coat pasta evenly and serve.
Barilla Pesto Alla Genovese – 190g, made from basilico, cashews and Pecorino Romano DOP cheese. 
Barilla Pesto Rosso – 200g, made from Italian tomatoes, basil and olive oil. Both sauces are preservative-free.
RRP: £2.60, available from Ocado,Co-Op and Amazon as well as smaller retailers.
Barilla pasta is sold in 100% recyclable cardboard boxes.