The Poppy Appeal – A Century of Support
---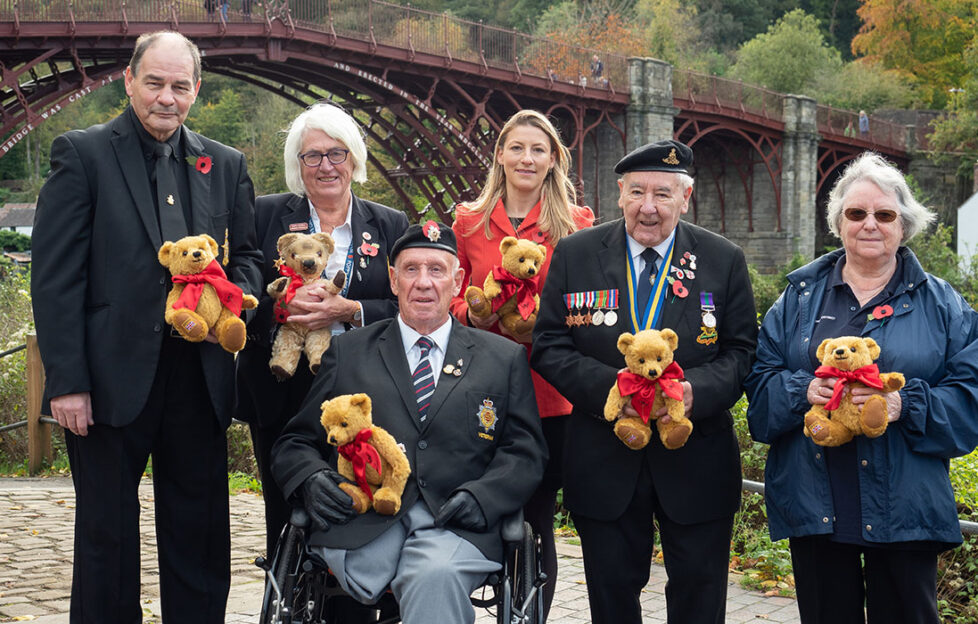 L-R: John Forster, Moira Wallace, Tony Lloyd, Sarah Holmes, Jeffrey Turley, Glenys Turley 
This year is particularly poignant for The Royal British Legion as it celebrates one hundred years of The Poppy Appeal, a fundraising campaign that has done so much to support the Armed Forces community and their families. To mark this centenary year, look our for a couple of special keepsakes…
Merrythought Teddy Bear
Merrythought, world-renowned manufacturer of the classic British teddy bear, was honoured to welcome local ex-servicemen and Royal British Legion volunteers to Ironbridge, home of the firm's new Royal British Legion Poppy Bear.
Their hand-made, limited edition bear will help to raise vital funds for serving and ex-serving members of the British Armed Forces, as well as their families and dependents, during the charity's 100th year of the Poppy Appeal.
Fourth-generation managing director Sarah Holmes met with local volunteers and veterans.
"Myself and the team here at Merrythought are honoured to be partnered with the Royal British Legion during such a milestone year. The Poppy Appeal is supported up and down the country and is hugely important to the British public, so we're immensely proud to be a part of it.
It was a privilege to meet with local Poppy Appeal volunteers, most of whom are ex-forces themselves.
"Their stories are inspiring and remind us why we wanted to work with such an important charity."
Jeffrey Turley, 84, is the current president of the Royal British Legion Oakengates branch. He said, "We've known about Merrythought and its famous bears for years as we live locally so we were delighted to hear they had chosen to support the Poppy Appeal this year during the centenary."
The Poppy Bear is crafted from the finest, soft mohair plush in a rich, antique gold colour, and features chestnut brown pure wool felt paws. He is finished with a premium red satin bow, embroidered with iconic poppies as symbols of remembrance and hope.
The bear is £145, with a minimum donation of £15 going to the charity. It's available from merrythought.com.
---
The Royal British Legion Centenary Cookbook: Cooking With Heroes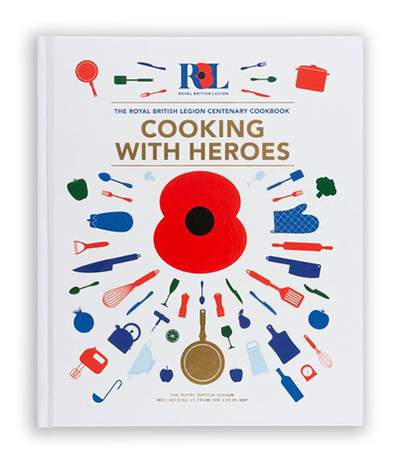 The Royal British Legion has partnered with St James's House publishing to launch a high-end cookbook celebrating a centenary of service to the Armed Forces community and their families.
Cooking With Heroes, represents 100 regions around the world in which the RBL has had a presence, with recipes from Antrim to Australia and Glasgow to the Gambia. Each regional recipe is accompanied by the story of a local hero – a service man or woman or a civilian volunteer  whose contribution to others will be remembered forever.
The beautifully illustrated book includes contributions from celebrity chefs including Rick Stein, Jamie Oliver, The Hairy Bikers, Melissa Hemsley and Cyrus Todiwala, though most of the recipes have been written by a passionate team of service and ex-service personnel.
Author, Squadron Leader Jon Pullen (retired), says,
"Having spent 36 years in the Armed Forces, I've seen first-hand the amazing work the Royal British Legion does for members of the military community and their families.
Cooking With Heroes is much more than a cookbook. With help from more than 150 serving and veteran military personnel, we have created a book which tells the story of courage and heroism from across the UK and the Commonwealth.
"It feels fitting that so many individuals from the military family have come together to mark the centenary of the RBL, a charity that, in its 100th year, continues to support, commemorate and celebrate our Armed Forces community."
Cooking With Heroes costs £19.95, with £5 from each sale going towards The Royal British Legion. It's available now from www.stjamess.org/product/cooking-with-heroes.