Mushroom Tartlets With Tracklements Onion Marmalade
---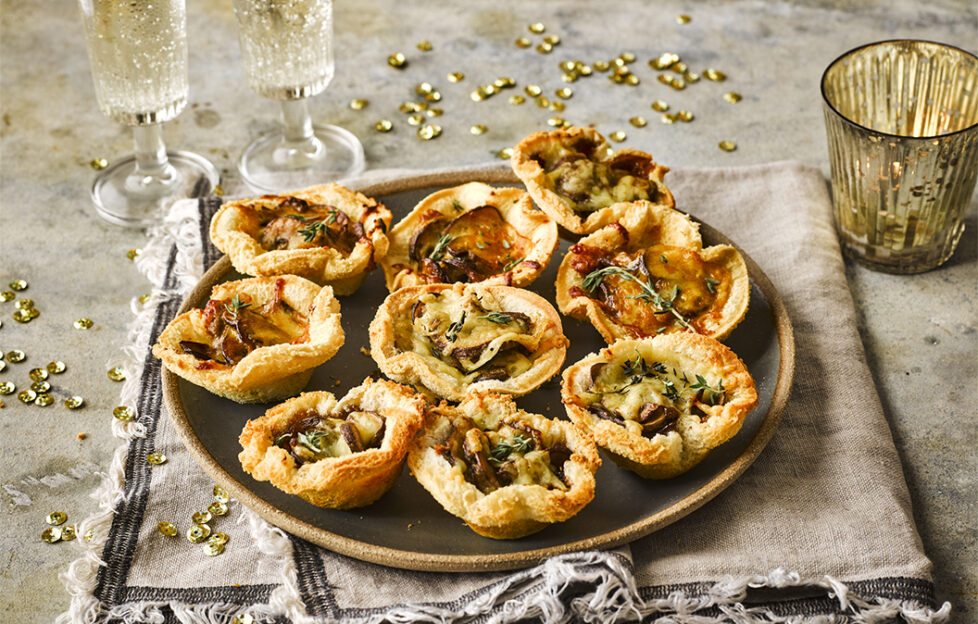 These are not your average retro mushroom vol-au-vents. Rather they are bite-sized canapés, made with bread as the base, tasty chestnut mushrooms, fresh thyme, crème fraîche and Gruyère cheese.  Just the perfect go-to drinks party food.
Preparation Time: 15min
Cooking Time: 15-20min
Makes: 12
Preheat the oven to 220°C/gas mark 7. In a frying pan, heat 1tbsp butter, add the mushrooms and stir until the moisture has evaporated and the mushrooms are golden.
Turn off the heat and stir in the crème fraiche. Add all but a sprinkling of thyme and chill the mixture in the fridge.
Cut 8cm circles out of the bread with a biscuit cutter (or a glass or a jam jar). Spread butter on one side of the circle and put it, butter side down, in a tartlet tin so that the bread creates the base and sides of the tartlet.
Add a small teaspoon of Caramelised Onion Marmalade to each tartlet, top with the mushroom mixture  and a sprinkling of grated cheese.
Bake for 10-15min until golden and bubbling. Sprinkle over the rest of the thyme and serve hot or cold.
The Tracklements range is handmade in Wiltshire, abiding by traditional recipes, and best quality ingredients sourced locally wherever possible. Tracklements have recyclable packaging, their own water treatment facility, and over 10,000 sq ft of solar panels. They don't shy away from wonky veg either!