Anthea Hosts Repair Room… For Dog Owners
---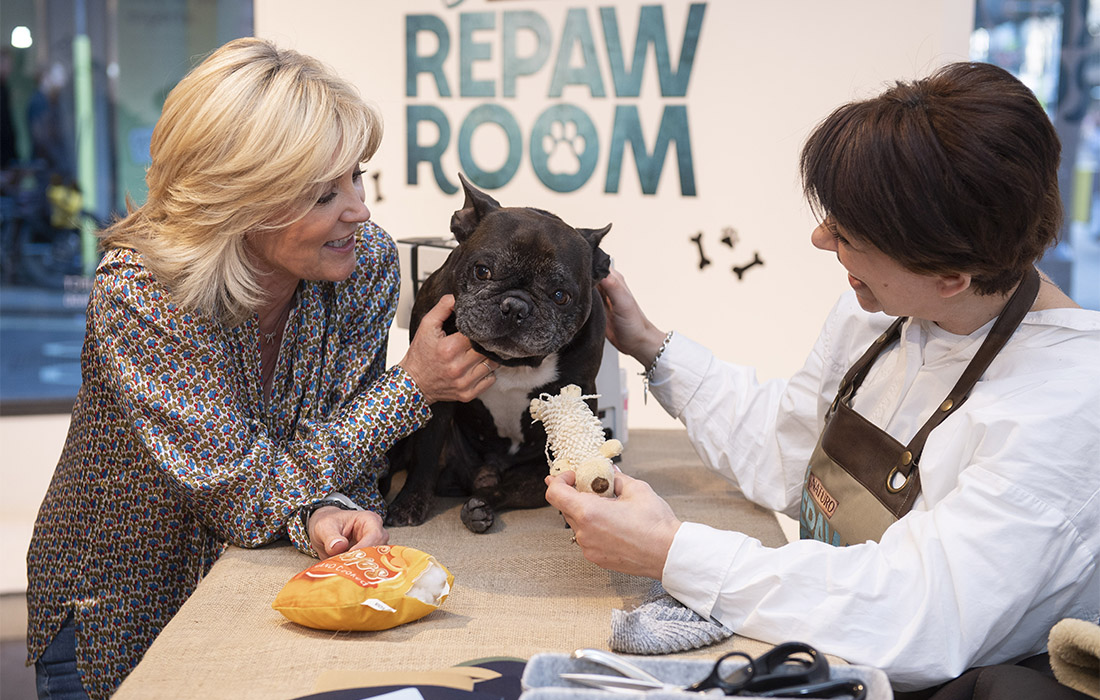 Pic: Ben Stevens
TV legend and My Weekly columnist Anthea Turner  has been doing her bit to counteract our throwaway society.
Together with her dog Soho, Anthea hosted The Naturo Repaw Room, alongside Naturo – a 100% natural pet food brand.
The pop-up dog chew repair room opened its doors in a one-day event on Oxford Street, London. Their mission: to help dog-owners salvage prized possessions ravaged by pesky pups, devilish dogs or misbehaving mutts
Experts work their magic
Naturo arranged for an array of experts – including a cobbler, seamstress and upholsterer – to provide real time repairs and consultations to help pet owners restore much-loved items to their former glory.
Also on hand was canine expert Leon Towers from Channel 4's Embarrassing Pets. Leon offered bespoke tips and advice to help dog owners put an end to destructive behavioural tendencies.
Every year it's estimated that our four-legged friends cost the nation £1.7bn in home damage. So Naturo decided to step in to limit what is one of the less glamorous aspects of pet ownership.
Natural food, healthy pets
Naturo Natural Pet Food is a 100% natural dog and cat food, processing meat to the same standards as those used for human consumption.
Since its launch in 2010, Naturo has increased its varieties from four to 31, including wet and dry food, grain-free, gluten-free and rice options, plus a grain-free range for adult cats. Available in Tesco, Asda, Morrisons, Sainsburys, Waitrose and pet stores across the UK and Ireland, as well as online.
Catch up with Anthea's lively musings, life hacks and no-nonsense opinions in My Weekly every week. Subscribe now for a great saving on the shop price!