Christmas Inspiration: 10 Wonderful My Weekly Gifts
---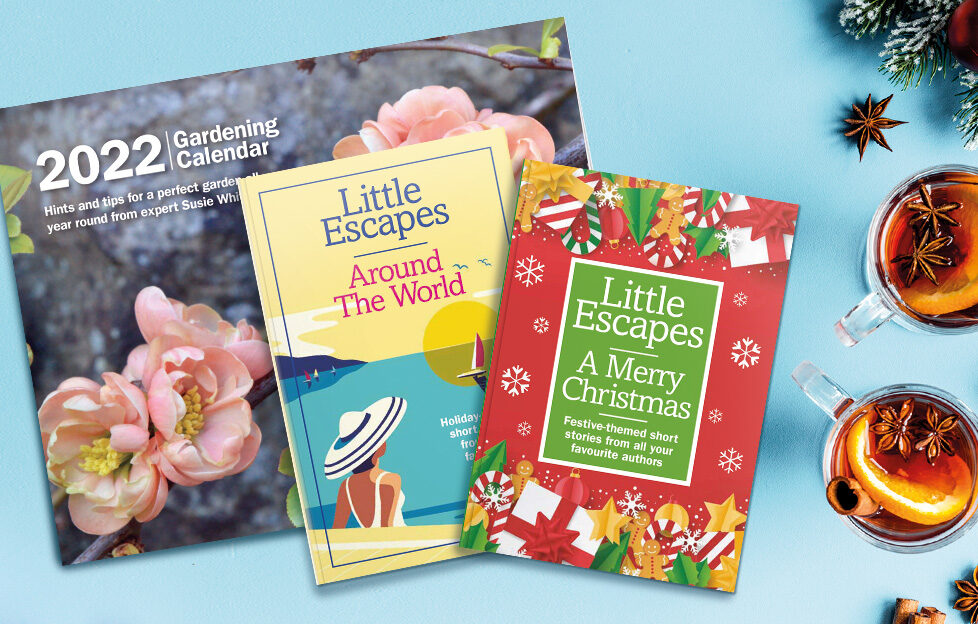 Browse a selection of gift ideas brought to you by My Weekly.
Christmas countdown well underway, stock up on some essential releases from My Weekly.
Browse some top gift ideas, starting with a book offering a memorable escape with the help of some fabulous festive fiction…
1. Little Escapes – A Merry Christmas
Find the perfect cost spot, grab a blanket, a lovely cuppa' and tuck into a feast of festive fiction with Little Escapes – A Merry Christmas.
Indulging in a wonderful selection of favourite authors is the perfect way to escape the hustle and bustle of the often extremely hectic festive season!
2. My Weekly Gardening Calendar 2022
The My Weekly Gardening Calendar is an essential month-by-month guide from columnist and gardening expert, Susie White.
Throughout 2022, you will tour Susie's garden courtesy of some beautiful photos and soak up excellent gardening advice and tips.
3. Little Escapes Around The World
An excellent gift for keen travellers, Little Escapes Around The World sends readers on a journey of excitement and drama with some excellent holiday-themed fiction.
Featuring a host of My Weekly favourite authors, this is a fabulous gift offering hours of entertainment.
Stunning destinations making an appearance include Paris, Malta, the Greek islands and the beautiful Lake District!
4. My Weekly Annual 2022
An excellent collection offering hours of entertainment, the latest My Weekly Annual is jam-packed with compelling content.
Enjoy heart-warming stories, fun puzzles, and intriguing facts. Foodies take note; the My Weekly team has also selected some wonderful recipes to try throughout the year.
5. Little Escapes Book
Packed with relaxing fiction from your favourite authors, enjoy 21 stories from Adele Parks, Milly Johnson, Helen Lederer and many more.
Little Escapes is the perfect companion for those relaxing moments, offering positive and warm fiction to enjoy throughout the year.
6. My Weekly Cookery Jigsaw Puzzle
Bright, beautiful, featuring a host of festive goodies, the My Weekly Cookery Jigsaw Puzzle is the perfect gift for foodies and anyone who loves a good puzzle!
7. Fiction Pack 2022
Tuck into a fabulous feast of fiction with our next entry. The popular Fiction Pack includes the latest annual from My Weekly and The People's Friend.
Combined highlights include 54 stories, recipes, puzzles, and beautiful watercolour paintings!
8. My Weekly Annual & Calendar 2022
2022 firmly taken care of, our final great-value pack features the latest My Weekly annual and calendar.
Enjoy, plan and make the very most of a positive year ahead with a little help from My Weekly.
9. The Daftest Rabbit Collection
Laugh out loud with a collection of Chris Pascoe's favourite columns from My Weekly!
Enjoy tales of Ted as he hops through each day in a slightly bewildered state at the mercy of his long-suffering but more intelligent partner, Billie.
10. Cooking For One and Two
An essential year-round cooking guide, enjoy delicious recipes chosen by My Weekly magazine.
Serving up delicious recipes for every season and occasion, this title features handy step-by-step instructions alongside loads of hints and tips.
Tantalising recipes to look out for include refreshing Creamy Spinach And Broccoli Soup, Salmon Tagliatelle, Naked Whisky Mac Gateau and a host of festive treats!
Browse all My Weekly Gifts